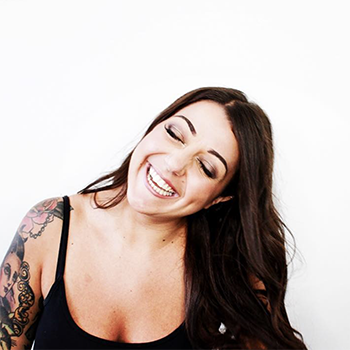 Bec Mylonas – Relationship coach
A talk with Bec Mylonas about her journey on becomming location independant
Bec is a relationship coach from Australia. She is pretty new to the location independent life and is still learning how to master the digital nomad lifestyle. As a relationship coach, she helps women to reconnect with their feminine energy and how to build better relationships.
While she is on her journey of building her online coaching business, she is also trying to get the hang of the nomadic lifestyle. She realized soon that even though living in paradise sound dream but can be very distracting too. Especially finding the right balance between being productive and building a sense of home has been challenging for her.
Bec's dream is to keep living the location independent lifestyle whilst building her online coaching business. In this article, we will speak about Bec's journey of becoming a digital nomad and her roadblocks of the first two months. Do you want to see the Facebook Live video instead? Scroll below to see the third video Digital Nomads Daily Goes Behind The Scenes.
What person changed your life and inspired you to live the digital nomad lifestyle?
'It always starts with a boy..'
Bec shares the story of her ex-boyfriend who introduced her to the nomadic lifestyle. He was traveling around Australia in his van and she joined him for a while. However, she did felt very connected to the idea of coming to Bali to explore her coaching career. She decided to take the leap and moved to Digital nomad hub Bali, Canggu. What she likes about living in Bali is the spiritual energy and the diversity of people and entrepreneurs that gather on the island.
Some good news came on Bec's path this week because she signed a new client. Her success is defined by the number of clients. Since she is at the start of her career this has been challenging an this was a great win! It takes off some pressure and feels that everything is coming together. Another positive change is that she finally starts to feel at home in Bali.
What was your main struggle last week? 
One of the on-going struggles for Bec, and many other nomads is the work-life balance. When you have a pile of work to take care of but your friends are messaging you to hang out, it's hard to say no.
Bec adds that living on a tropical island is fun but makes it hard to build and maintain a routine. Different from her previous lifestyle was that her life and days were already planned out. She shares that she used to be
A nomad hack for Bec is to actively guard her routines. By staying on top of how she spends her days and creating consistency when she plans her week. In this way, she makes that her time is committed to working, social activities and resting. Even though this sounds pretty simple, we recommend to keep an eye out because you might look track. Especially at the start of your nomad journey when you don't have friends yet and need to go out.
What is your greatest failure in your
digital nomad lifestyle so far? 
The lessons in our journey of becoming a digital nomad are important for our growth. Even though Bec doesn't have any big failures, she does reckon that dating is challenging for nomads. She is not the first nomad who talks about this. Wade also mentioned it in his Digital Nomads Daily Goes Behind The Scenes Article. Bec would love to coach female nomads.
You Like Stories?
You LOVE nomad Insights?
Subscribe to our newsletter
👏🏻    
What advice do you give yourself and others about how to live the digital nomad lifestyle?
Other than creating routine we also recommend to nomads to create 'me-time.' It's a powerful concept where you basically have some time for yourself. It doesn't really what you do, as long as you feel relaxed and dismisses any distractions.
In our chat Bec shares that she had, she had to learn to be more kind to herself. She explains that sometimes it's important to be more forgiving when it comes to meeting her own expectations. She says 'Life is gonna happen and allow it to happen. Don't beat yourself up if things don't always go the way you have planned. Flow with life and take it gracefully.
Last question: What book or podcast do you recommend?
Like many nomads in Bali, Bec is into spiritual practices like meditation. A healthy state of mind and body is important to her and she recommends two books.
Dr Joe Dispenza – breaking the habit of being yourself. He teaches you how to rewire your brain. The book also taps into different meditation practices that Bec applies into her everyday life.
The second book she names is The Power of Now by Eckhart Tolle. Great for nomad and living in the present moment and the opportunities that get presented and really important for nomads.
Key Take Aways for Nomads
✅ Always make sure to guard your work schedule and routines 
✅ The lessons in our journey of becoming a digital nomad are important for our growth 
✅ Remember to schedule "me-time" and be kind to yourself
Watch the digital nomad interview with Bec
📺
MORE NOMAD TIPS, LIFE HACKS AND STORIES ON DIGITAL NOMAD TALKS
Bec is still new to the nomadic lifestyle and shares her story of becomming location independent. Watch the whole talk to get some valuable insights about the struggles and challenges she has faced on her way.
Bec is only at the start of her digital nomad journey but ready to pursue her dreams. She is learning new things every day about how to become a digital nomad. Bali has been a great nomad city for her. If you want to learn more about the coaching program and how to reconnect your your feminine energy click here.
Read More Stories We Wrote For You
📝
Nomad Notes From The Underground
👀 

👀 

👀
You Like Stories?
You LOVE nomad Insights?
Subscribe to our newsletter
👏🏻