Meet Virginia Salas Kastilio, founder of Gini.TV and the "I Trust You Movement", a "third culture kid" and personal branding expert. Virginia has been grown up in a family of entrepreneurs. Hence, after working for five years at tech giant Apple Inc and Oracle she came to the realisation that corporate wasn't her calling in life. By dealing with high level clients and managing multi million dollar deals, she proved her worth at a young age and was ready to pursue her passion for filmmaking and content storytelling herself. The entrepreneurial focus of her upbringing had a lasting impact and made switching from corporate to the creative world of YouTube pretty easy. She has been on YouTube for 13 years now and is, as she quotes herself 'in full-time occupation to saving the earth.' 
At the Digital Nomad Bootcamp at Camp308 in Canggu she provided some valuable guidance when it comes personal branding. Here is what we learned.
Why do I need a personal branding?
Whether you know it or not, you already in some way have a personal brand. It's not just your logo or your (potential) website. It's not just about what your organization does or sells but who you are and what you stand for.
Defining your brand and truly understanding your audience should therefore be the foundation for your business and marketing strategy. Not only differentiates effective personal branding you from your competition and allows you to build trust with your audience and potential clients, but it also allows you to build your own imperium without a lot of cash at hand. You will never get a second chance to make a first impression, so making one that sets you apart and reflects who you are is crucial.
According to Virginia, there is a lot of value that can be extracted from your personal brand when switching from being behind the publication to standing in the front as a real human being. "Not everyone will be comfortable with being the face of the brand, but if you want to do it cheaper and not spend too much money on adds – you will get a lot of benefits from it." she says. It's a very practical route to go. However, if you want to save money while accelerate your business it will be worth the effort. Obviously you can have other people to do that for you but it will both be more financial costing and you won't have the same control over your own brand.
If personal branding hasn't been your focus, the first thing you can do is to define what your passion is and where you can bring value. Whatever that is, you need to declare it in your space and field so people know that your are the expert for that specific topic. According to Virginia, as soon as you become more accessible and visible to the world, people will get excited to learn from your skills and expertise.
Example: Make a video that declares your "why". What has been the "shit" that you had to overcome in order to be where you are at right now? One of Virginia's biggest lessons is, that as an entrepreneur you make a lot of mistakes and lose a lot of money in order to learn the things that you need to know. You might trust the wrong people or invest in the wrong project, but it sharpens your skills and you will never make the same mistake again. Each one of us might have a different niche or specialisation, but through sharing our stories, fuck-ups and what made you, you we can learn and share.
"The more authentically you share your learnings, people are going to be interested in doing business with you, because they are going to feel like they really know you and it's all about melting that relationship of trust."
Advice: Subtitle the video to make it easier to watch on all devices
Create and share your story unapologetic
Sharing your story can for some feel daunting. However, when it comes to social media, Virginia encourages you to see it as self-expression, not self-promotion. It might be an ego thing where you feel like "I don't want to seem like a show off, that pushes my agenda on everyone else", but according to her, that is exactly what you are supposed to do. It's about cultivating a relationship and creating a storyline of why you and your brand is important.
By not sharing your message, skillset and your capabilities, you are giving away a customer to someone else who might not even deserve it. The universe has its funny ways to give us anything we are asking for. So if we don't dare to ask for it and hide behind our talent how is anything good going to find our way?
Growth hack the f*** out of social media platforms
Declaring our zone of genius and our "why" sounds all good, but how do we get more people to see those videos? This is where it gets tricky. Many brands were absolutely rocked by the 2018 Facebook algorithm update that resulted in a nosedive of organic reach. But according to Virginia there are still ways to survive (and outsmart) the Instagram algorithm. Even though the outreach is more limited than before, she still posts on Facebook and IG as it still converts a small audience and brings more people into her tribe.
Email marketing does also work. "It's not a coincidence that people are making 8 figures from emails! It's really about creating that storyline and posting as if your writing articles and not trying to sell sell sell", she says. What she recommends is to focus more on LinkedIn and Youtube. Video is one of the most popular content formats for Social Media and Youtube is just like a huge content library. Google and other search engines tend to favour video, so sharing your video via YouTube with good titles, descriptions and tags is a great way to improve your search engine ranking.
Learn more about the nomadic lifestyle with nutrition experts Manda & Meleah Manning in our talk about creating a work/life balance as an expat. 
Learn More about the "I Trust you" movement 
I Trust You Missions is a community taking immediate action to help the Earth. Whether that is cleaning up trash, volunteering at orphanages, giving strangers hugs or feeding the hungry. Become an Ambassador to join their next mission.
Key Take Aways For Entrepreneurs
✅ Share your story unapologetically
✅ When sharing videos focus on social media platforms like LinkedIn and Youtube
✅ The more authentically you share your learnings, people are going to be interested in doing business with you
✅ As an entrepreneur you have to make a lot of mistakes in order to learn
Read More Stories We Wrote For You
📝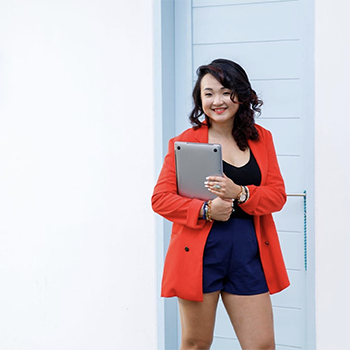 Digital Nomad Talks: The Right Time To Take The Leap
ADELINE ER –  Online COACH & DIGITAL MARKETING STRATEGIST
Nomad Notes From The Underground
👀 

👀 

👀
You Like Stories?
You LOVE nomad Insights?
Subscribe to our newsletter
👏🏻