Align, Design, and Sustain with digital nomad coach Andrae
Meet digital nomad and solopreneur Andrae. She quit her job to embark on a new journey and started her travel company Work Wanderers in 2018. It's a growing travel community for digital nomads founded in Cape Town. Due to the pandemic she had to pause her travel company. Still, she pivoted into a new online venture, a digital nomad coach to help her community plan their digital nomad lifestyle.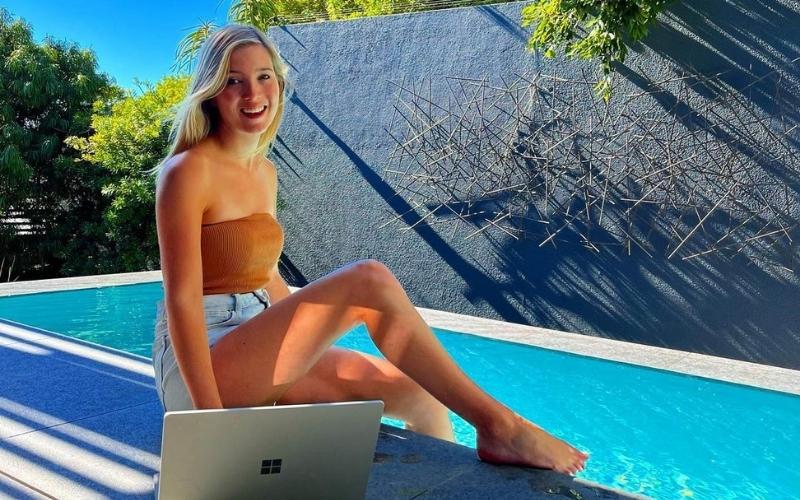 From a travel company to a digital nomad coach
With retreats to Bali and Europe, Andrae was living her dream life. Unfortunately, travel and any in-person community events were paused for almost two years during the pandemic, which also meant that Work Wanderers was put on hold. Even though she couldn't continue running her business, her entrepreneurial soul found a new way to sustain herself while helping others and pursuing her dreams.
On the Digital Nomads Daily Podcast, she shares her story and what she is working on these days. She refers to the first months of the pandemic as a dark moment as she felt completely stuck and wasn't sure about her next steps.
Andrae shares how she felt lacking clarity and had to develop a new idea to make money. Working closely with a business coach helped her pivot into her new business. Today she is helping others gain clarity and build on online business while traveling the world. As a digital nomad coach she offers online training and a special weekend program. This month, she is organizing a special Successful Digital Nomad VIP Masterclass Weekend from May 28-29.
Before launching her program, Andrae started working with people who reached out to her personally via DM. She shared her story through Facebook Live Events. She touched on the business and strategic decisions she had to make throughout her career. This information was helpful for her community, and slowly, her online program became a reality.
Plan your solopreneur journey with digital nomad coach Andrae
This month she is introducing a special come a Successful Digital Nomad VIP Masterclass Weekend from May 28-29. It's virtual events where she helps you set up a successful freelance business and how you can travel the world. Through interactive sessions, you'll learn how to reach your digital nomad goals.
Align your motivation with your career
The first step in her digital nomad coaching program is about gaining clarity and finding purpose. Without this, it's hard to understand what career path is the best fit. The exercises in the workbook that come with the program help participants understand what motivates someone and makes them get up on a Monday.
A career is a long-term path and Andrea connects this to your personal intentions. She also looks at the current skill set, previous experience and what participants could do to improve this.
Designing an online business for digital nomads
Next, participants will map out how they will make money and design their online business. Andrae walks them through different stages like creating an irresistible offer, how to attract clients and developing your one-line sales pitch. She also shares how to create a monthly 10k income planning and build passive income streams.
Sustain your travel life
Her experience as a digital nomad and entrepreneur while running a travel business has taught her a lot about travel planning. With a new online business in the pocket, participants are almost ready to start their digital nomad journey. Andrae shows her tricks on how to create a realistic travel budget. And she will give travel hacks, especially handy for newbie nomads.
Join Andrae's program and get $100 off!
We love Andrae's program because it shows you how to sustain yourself. The digital nomad lifestyle is so much more than just traveling around and living out of savings. Often it's hard work and a balance between hustling hard and enjoying your temporary home. As a digital nomad coach she helps you build a sustainable lifestyle. Andrae experienced beautiful moments but also went through a hard time when she had to stop her business. With the right mindset and through coaching, she was able to get back on track.
The nomad community is thriving. At Digital Nomads Daily, we love to support fellow nomads and entrepreneurs like Andrae. If you are looking for an interested in joining her program you can sign up here and use the code DNDAILY
And, we have a special promo and you now get $100 off! Get ready for a weekend of nomad wisdom and join the global community.