The podcast for digital nomads and online entrepreneurs.
Life advice and unfiltered stories from experienced digital nomads who share how to live the digital nomad lifestyle and working remotely successfully.
Share our podcast on your favorite channels 💌

Listen to the newest episodes:
112: The Most Magical Experiences for Mindful Digital Nomads with Maris
In this episode, Nienke Nina interviews Mindful Nomad Maris. She is an experienced digital nomad who is very experienced in designing a lifestyle where you can fully live on your own terms. Maris has organized over 30 retreats to help others do the same and in this episode she talks about how to better tap your own intuition, energy management in entrepreneurship and how to build a network of like-minded people around the globe online and in-person. 
Tune in to learn about the value of connecting with like-minded people and the power of vulnerability and authenticity in building trust. Whether you're a digital nomad entrepreneur or simply looking to make a change in your career, this episode is all about living a more meaningful and intentional life.
111: 12 Reasons You Should Have a Digital Nomad Bucket List with Nienke Nina
In this podcast episode, Nienke Nina discusses the importance of creating a digital nomad bucket list. She shares her personal experiences and reflections on her own journey as a digital nomad. Listeners will learn why having a bucket list is essential for digital nomads, how to create one, and the benefits of setting goals and pursuing unique experiences. Nienke Nina also provides practical steps for developing a bucket list and shares some of her own bucket list items, including attending the Minoma Festival. This episode is an inspirational guide for digital nomads looking to enrich their lives and make the most of their nomadic lifestyle.
110: How Digital Nomads Can Live a More Fulfilled Everyday Life with Sandra
In this episode of the Digital Nomads Daily Podcast, Nienke Nina interviews Sandra Abrouk, a UX designer who started her freelance career focused on creating inspiring co-living expriences as a freelancer. Sandra has been nomadding for three years and they talked about the challenges of uncertainty and the importance of finding a support network while living the nomad lifestyle. Sandra shares her personal experiences with mentorship, coaching, and self-development, emphasizing the importance of becoming comfortable with oneself when facing uncertainty. The conversation also covers unexpected, beautiful experiences, including a silent retreat where Sandra unexpectedly found connection with others through vulnerability and authenticity and this episode shares behind-the-scenes insights into the ups and downs of the digital nomad lifestyle and the different ways to cope with its challenges.
109: How to Deal with Loneliness for Digital Nomads with Nienke Nina
Nienke Nina shares valuable insights on how to combat loneliness as a digital nomad. She delves into the distinction between personal and professional loneliness, emphasizing the need to address both. Nienke Nina advises on ways to avoid loneliness, from joining digital nomad groups and co-working spaces to leveraging online communities and volunteer opportunities. This episode will give the listeners guidance and encouragement to embrace the digital nomad lifestyle while forming meaningful connections and taking care of their emotional well-being. If you're curious about the digital nomad journey and how to conquer loneliness, this episode is a must-listen.
108: How to Build a Work-From-Anywhere Culture Successfully with Adrian, Head of Culture at Safetywing
Nienke Nina interviews Adrian, Head of Culture at Safetywing. Adrian shares insights into Safetywing's mission to create the first country on the internet that ensures equal freedom and equal opportunity. He takes us behind the scenes of how Safetywing created a thriving remote-first culture by hiring talent globally. Listen to this episode to learn about the importance of having clear and actionable values, hiring great people (including digital nomads), and being compassionate with each other in a remote work environment.
107: How to Manage Your Digital Nomad Expenses and with Nienke Nina
Nienke Nina candidly shares her insights on the often overlooked aspects of the digital nomad lifestyle, focusing on how to handle expenses efficiently while maintaining financial security and peace of mind. She breaks down the difference between fixed and dynamic costs, giving listeners a clear understanding of where their money might go. With personal anecdotes and practical tips, Nina emphasizes the importance of having a safety net, setting realistic money goals, and avoiding the trap of limiting financial habits. Tune in to discover how to navigate the financial aspects of the digital nomad lifestyle and achieve a balanced, enjoyable, and secure approach to money management while living your dream adventure. Whether you're a seasoned digital nomad or just starting out, this episode offers valuable insights into managing your finances while on the move.
106: Must-Haves for Working Remotely Around the World with Nienke Nina
Nienke Nina lists her workspace essentials for all the digital nomads out there. She spills the beans on the essential tools and gadgets that have made her work remotely like a pro, whether she's sipping coconuts on a beach in Southeast Asia or typing away in a bustling European café. From must-have apps and nifty tech gear to ingenious ways to stay productive and keep yourself comfortable, Nienke's got you covered. So, if you want to breeze through your digital nomad adventures without stressing over missing loads and loads of work, tune in now and get ready to pack like a pro for your next remote work escapade!
105: The Benefits of Staying in Co-livings for Digital Nomads with Leah
Nienke Nina interviews a co-living consultant and co-founder of Co-Living Compass Leah. They cover the benefits of staying in co-living spaces for digital nomads and share insights on what makes an ideal co-living community like a built-in community and how high-quality workspaces look like. Leah emphasizes the importance of community managers who facilitate rather than host events and parties only. They also discuss the different types of people who can benefit from co-living spaces, including entrepreneurs, remote workers, and people on sabbatical or who want to kickstart a new project and need an uplifting, comfortable and productive environment. If you ever considered staying in a co-living but have doubts, this episode covers everything you need to know, look out for and how you can get the best experience in co-livings around the world.
104: How To Live a More Fulfilling Digital Nomad Lifestyle with Bianca
In this episode of the Digital Nomads Daily podcast, Nienke Nina interviews Bianca who has been living the digital nomad lifestyle for five years. Bianca is the author of the book "Soul Truth" which focuses on finding and living in alignment with your truth. This digital nomad conversation covers various topics related to the digital nomad lifestyle, including sustainability, inclusivity, and authenticity. Bianca shares her experiences and tips on how to approach a more long-lasting digital nomad lifestyle and how to be authentic in your content creation.
103: Multi-Passionate Content Freelancer with digital nomad Han
How do digital nomads manage their time? And how can you create successful income streams with online content? In this episode of the Digital Nomads Daily podcast, host Nienke Nina chats with Han, a freelance marketer and content creator, about her day-to-day life as a multi-passionate entrepreneur. Han shares her journey from starting as a blogger to developing multiple income streams and plans for passive income. We cover topics such as managing time effectively, setting boundaries, prioritizing tasks, and delegating responsibilities. Han also discusses the challenges of working remotely and finding a work-life balance. Don't miss this episode to gain valuable insights and tips that can help you in your own entrepreneurial journey.
102: 6 Key Takeaways for Digital Nomad Families with Digital Nomad Erin
We interviewed digital nomad mom Erin who is a digital nomad traveling the world with her family while working online as a recruiter and freelance writer. In this interview, Erin shares her experiences as a nomadic family and discusses the challenges and perks of the lifestyle. She talks about managing family time, choosing locations that meet their family's needs, and providing enriching experiences for her kids. Erin also shares her preference for staying in places with bike parks, skate parks, and great bike infrastructure. Her insights and stories provide a unique perspective on the digital nomad family life. Listen to the full episode for more tips and inspiration.
101: The Power of Digital Nomad Travel Groups with Daniel from Noma Collective
Ever thought about joining a travel group but unsure if it's really for you? Or are you new to the digital nomad lifestyle and want to get an amazing experience but don't know how? In this episode, we interview the co-founder of Noma Collective Daniel Thomson to talk about the benefit of travel groups for digital nomads. Traveling is fun and we love the digital nomad lifestyle but isn't it nice that someone can just do all of the nitty-gritty for you? Many digital nomads spend hours of time and heaps of energy searching for new locations, booking flights and finding the perfect accommodation. Travel groups are great opportunities to not only save yourself some time and energy but also meet new people and experience local activities that aren't a tourist trap. Noma Collective has organized dozens of trips for working professionals and digital nomads and Daniel shares the power of traveling with a group and some of the most epic Noma experiences you don't want to miss out on!
100: Saved by The Digital Nomad Community with Nienke Nina
We are celebrating episode number 100 of the Digital Nomads Daily podcast! As you know, we only talk about the daily real-life stuff happening in the travel and work-from-anywhere lifestyle. In this episode, Nienke Nina opens up about her recent breakup and how the digital nomad community has helped her get through this. From joining the largest conference about remote work, to co-living with digital nomads in Spain to online support – Nienke Nina shares the impact of community when things aren't going as planned. Tune in for an inspirational episode with tips and behind-the-scenes stories about the digital nomad lifestyle. This episode also includes many tips about how you can build a supportive community both virtual and in-person. Tune in for a behind-the-scenes story and let's celebrate the 100th episode together!
99: How Dance Can Improve Your Daily Self-Confidence with Digital Nomad My
How do you build confidence? And have you ever thought about incorporating dance into your daily routines? Digital nomad My is passionate about dance and joined the podcast to talk about digital nomads can feel more confident through dance. While the digital nomad lifestyle is fun it's also challenging with many uncomfortable confrontations. My shares how dance can help you boost your confidence and improve your well-being. Get ready for behind-the-scenes digital nomad tips and a 30 min chat about boosting your confidence on the road!
98: From Office Job To Full-Time Travel Content Creator With Monika
How can you shift from a full-time office job to becoming a full-time traveling online entrepreneur? In this episode, we chat with digital nomad Monika who turned around her life completely and shifted from a 5 year career in investment banking to a full-time traveling content creator. Get ready to go behind the scenes and find out the steps to a successful lifestyle change with Monika.
97: How To Land a Remote Job Much Faster and Easier With Michelle from Remote Rebellion
What are the key steps to finding a remote job in 2023? And how can you land a 100% remote job much faster and easier? We brought back digital nomad and remote job expert Michelle Coulson. She is the founder of Remote Rebellion and helps remote job seekers land a remote job. In a past life, Michelle worked as a recruiter for over 9 years and when her company called her back into the office – she quit! Michelle didn't give up and decided to share her skills and experiences as a recruiter to help remote job seekers find a fully remote job so they can live their dream lifestyle. She shared in episode 53 how remote job seekers can create a winning CV resume and in this episode she is sharing more tips on where to find remote jobs, tips to apply and really stand out from other remote job seekers.
96: The Digital Nomad Freedom Booster LIVE Q&A With Kirstin Vierra
Listen to the recap of the LIVE Digital Nomad Freedom Booster Q&A with digital nomad Kristin Vierra! The digital nomad lifestyle looks sexy on Instagram, but we all know that the reality is slightly different. On this podcast, we cover the daily challenges digital nomads face and ask experienced digital nomads and remote workers HOW they do it! We love this and recently added a new format to the podcast where Nienke Nina shares her personal digital nomad stories and tips. Since getting so many questions on Instagram and want to make sure we answer all your burning digital nomad questions, we decided to add a NEW format to the podcast. Every month, Nienke Nina will be LIVE with a digital nomad so you can ask your questions in the chat. 
95: Packing Tips for Full-Time Digital Nomad Life with Nienke
How do digital nomads pack when traveling across the globe full-time? And what are common digital nomad packing struggles? In this episode, Nienke Nina takes you behind the scenes of her packing and unpacking life. She has been nomadding for 5 years and with trial and error became a master in packing for her daily digital nomad life. Her suitcase is basically, her whole household and she also shares top packing tips for digital nomads who want full-time travel and work from anywhere. Enjoy an episode with a lot of practical packing tips and real digital nomad talk.
94: The Future of Work by Embracing Corporate Nomadism with Q (Ex-Airbnb)
What is corporate nomadism? And how did Airbnb successfully design and implement its global Live & Work Anywhere program? This week we have Q (Ex-Airbnb) on the podcast who ideated and incubated Airbnb's Digital Nomad and recently turned full-time people leader in the corporate world. He is on a mission to make corporate nomadism the norm so that travel folks and freelancers can experience this lifestyle and remote workers too. We discuss the risks and challenges of supporting employees who want to work remotely from different countries. Q also shares the benefits for companies about investing in their employees followed by practical insights. We end this episode with a behind-the-scenes peek at how Airbnb's formal Live & Work Anywhere program in 2022 was built.
93: Why The Digital Nomad Lifestyle Is A Growth Booster with Nienke Nina
Are digital nomads really thriving? And what is it that makes this abroad lifestyle so life-changing? In this episode, your host Nienke Nina shares 3 ways on how the digital nomad lifestyle is boosting her daily life. She shares real-life examples and takes you behind the scenes of some daily digital nomad learnings. Keep listening to the end for top digital nomad tips on how to start your digital nomad lifestyle without selling all your stuff.
92: How Co-Living Communities Can Enrich Your Life with Marc
What is a co-living space and why do digital nomads and traveling entrepreneurs choose co-living accommodations over private apartments? We interviewed digital nomad Marc who is passionate about community building and entrepreneurship. His travel lifestyle gave him a deeper sense of belonging and he loved meeting like-minded people from all over the globe. It inspired him to build his own co-living accommodation in his city Barcelona called Karisma
91: Tips For Finding Clients For Your Online Freelance Business With Nienke Nina
How can you find clients for your business much easier? And how can you be effectively online without burning yourself out? In this episode, Nienke Nina shares 5 top tips she learned from the interviews with successful digital nomad entrepreneurs. These tips are great for small business owners, freelancers and solopreneurs and are super easy to implement in your online business today.
90: How to Create A Profitable Creative Online Business with Paige
How do you build a successful online creative business? And how do you pick the right marketing strategy and find clients? Digital nomad and mega successful course creator Paige joined the podcast to share tips and tricks for building a successful online creative business. She started as a Squarespace website designer and once she was fully booked out constantly, she shifted to another business model which she also grew into a thriving business. In this episode, Paige takes you behind the scenes of your day-to-day business and doesn't shy away from sharing what worked and didn't.
89: Profitable Digital Products To Sell Online In 2023 with Nienke Nina
How can you transform your passions, skills and experiences into profitable digital products? And what type of digital product can you create in 2023 and sell online? Side hustles and passion projects are topics that Nienke Nina loves to chat about. Starting your own business and doing what you love sounds easier than it sounds and that's why her advice is to start small. In this episode, Nienke Nina shared 30+ digital product ideas to monetize your wheelhouse. If you want to start building passive income streams but are not clear about your ideas, this episode definitely gives you clarity and actionable steps.
88: How To Travel On A Budget For Digital Nomads with Samara
How can you live a digital nomad budget lifestyle? And what do some of the daily digital nomad struggles within a digital nomad budget lifestyle? All digital nomads have their unique way of living the digital nomad lifestyle. This week, we interviewed Samara, currently in her budget travel/digital nomad year. She didn't want to be stuck in her 9-5 job anymore and instead explored the world and living life on her own terms. We asked Samanara how she organizes her day-to-day life and the pros and cons of a budget lifestyle. She also shares tips on how to find budget-friendly accommodation, has unique experiences and manages her work life.
87: Actionable Tips To Measure Your Daily Success Nienke Nina
Do you ever end the day with this feeling, UGH, I didn't do anything today? Or even worse, you are completely worn out and so tired but don't feel satisfied with what you achieved. This happens to many digital nomads who are solopreneurs and freelancers and it's a sucky feeling. In this episode, Nienke Nina shares a simple technique you can apply daily to feel better about yourself and what you have achieved. She has been experimenting with this for a few weeks and can already see the result and her daily success image looks and feels much more positive.
86: Embracing The Challenges Of Online Entrepreneurship With Jolien
How can you motivate yourself when you see others rocking it and you feel stuck? And how do other digital nomads plan their day-to-day life? Meet digital nomad and multi-passionate entrepreneur Jolien. In this episode, we talk about mindset and wellness rituals Jolien learned from 5 years of living abroad. We also go deep into how to embrace the challenges and messiness of online entrepreneurship and doing your own thing. Get ready for an episode with motivation boosters so you can embrace your process, be kind to yourself, and celebrate your growth.
85: How To Get Back Into Your Flow When Feeling Stuck In Life With Nienke Nina
Are you feeling stuck in life? Or unsure what your next steps are? It's a misconception that digital nomads always live healthy and happy life. This lifestyle brings its own challenges and it's normal to feel stuck in life. In this episode, Nienke Nina shows her vulnerability and shares some life events that made her feel insecure and question her next steps. To overcome this and feel less stuck in life, she recently had a clarity week and practiced a well-being ritual that has helped her to stay positive and feel more confident about her feelings and decisions. It might not look like this, but the digital nomad lifestyle is not a cure for happiness and everyone needs a self-nurturing strategy to thrive in life and at work.
84: How To Supercharge Your Brand With Compelling Copy With Nicole
Why do digital nomad entrepreneurs and businesses copy? And how can you write compelling messaging to get your brand across? In this episode, we brought back digital nomad Nicole to the podcast to talk about her professional specialty, Messaging Strategy for small businesses. With so many entrepreneurial vibes in the digital nomad community, how can you create a compelling copy when you have little time, recourses, or experience? Nicole talks about her two main ingredients in building a strong messaging strategy focused on connecting with your audience and converting them so your business can thrive. Get ready for a digital nomad entrepreneurial episode and grab your notebooks to learn how to write effective brand copy.
83: How To Find Your Perfect Digital Nomad Home with Nienke Nina
Where do digital nomads typically live? And are the must-haves and nice-to-haves for digital nomad homes? Searching for the right home isn't a challenge and can be very time-consuming and frustrating, especially when you need to do this every other month. In this episode, Nienke Nina shares behind-the-scenes tips to help you find better digital nomad-proof homes and a checklist you can use for every search. She also shared personal success stories, her Airbnb negotiating tactics to lower the rent and typical failures that can happen to anyone. Tune in for a super insightful digital nomad episode.
82: Daily Digital Nomad Struggles And How To Overcome Them With Pat & Maddie
What are the typical digital nomad challenges? And how do you overcome these challenges as a digital nomad couple? In this episode, digital nomads Pat and Maddie share their experiences of traveling the world and working online. Their dream was to travel just for one year and then return to their normal lives, but once they got the touch of travel vibes, they knew this was their new way of life. Make it work. They started working online for themselves. This episode includes inspiring behind-the-scenes stories and helpful tips for digital nomads. Get ready for some not-so-sexy, but everyday stuff digital nomads experience and walk away with inspiration and valuable tips!
81: Why You Should Network And Join Communities With Nienke Nina
Why is networking so important for digital nomads? And how can you build your network from anywhere in the world? Your host Nienke Nina loves networking and in this episode, she is going to share all the benefits that this can bring to your personal life, business and life opportunities. She also shares personal success stories of her journey and how her network landed her new clients and connections. Tune in for an inspirational and motivational episode that will help you start connecting with people around you and that will open many doors to your future!
80: How Web3 Can Be Part Of Your Digital Nomad Life With Lars
What is web3? And how can digital nomads and creators utilize this in their day-to-day life? Lars is a digital nomad and Web3 & Tech Strategist who joined the podcast to talk about how he has used web3 in his personal and professional life. Curiosity is one of the personality traits of digital nomads and we love connecting with like-minded people. The strong community vibes are exactly what Lars inspired to design a new event focused on immersive experiences that bring the digital nomad and remote first community together. His event, called Vivel, is about building deeper connections and embracing the freedom lifestyle utilizing web3.
79: How Side Hustles Boost Your Freedom Lifestyle Goals With Nienke Nina
Why do many digital nomads love side hustles? And what type of side hustles can you do online? Your host Nienke Nina loves side hustles, and in this episode, she will share some of the most common side hustles for online entrepreneurs. She also shares the benefits of having a side hustle because making a quick buck or achieving your financial freedom goals are not the only reasons you want to start a side hustle too! Tune in for inspiration and an insightful episode about doing the work you love from anywhere in the world and achieving your freedom goals with side hustles.
78: Is Remote Work Facing its Most Fruitful or Scariest Year With Liam
Is remote work a myth of really the future of work? And what is the mindset shift leaders, managers and companies need to adopt to make remote work successful? Successful entrepreneur, author and slomad Liam joined the podcast to talk about the elephants in the room about remote work. He not only built software companies with fully remote operating teams, he also has become a leading expert on remote work leadership and building remote-first companies. In this episode, he talks about opportunities and threats and which mindset shifts we must fight for to make remote work stay. Liam has been a digital nomad for over a decade and one of the pioneers in the digital nomad and remote work space. He is the organizer of the largest conference about remote work and this year we will join him and 50+ experts at Running Remote. Tune in to listen to an inspirational and powerful conversation about the future of work.
77: The 5 Key Questions Before Starting A Side Hustle with Nienke Nina
How do you start a side hustle with confidence? And how can you ensure your side hustle is actually helping achieve your freedom goals and fits into your current day-to-day life? Nienke Nina is a multi-passionate entrepreneur with many side hustles and income streams. It's common for digital nomads to work on multiple projects and even remote employees often have a side hustle.
In this episode, Nienke Nina shares 5 key questions she asked herself before starting The Digital Nomads Daily podcast to evaluate if this was the right move. She gives practical tips with real examples on building a strategy and making her podcast successful without going crazy.
76: Grow Rich By Embracing Cultural Diversity With Nadia Harris
How do you know you belong somewhere? And how can companies benefit from curious-minded people like digital nomads? Nadia Harris is a remote work advocate who has been living the digital nomad lifestyle since 2018. While she loves traveling, Nadia describes herself as a part-time digital nomad because she has a place she calls home in Poland. Growing up as a 3rd culture child, she struggled to have a strong sense of belonging. Today, Nadia is utilizing her experiences to help companies adopt remote work from an operational and cultural perspective. In this episode, she shares valuable tips for digital nomads and companies on embracing cultures and growing richer from the inside.
75: The Life-Changing Benefit Of Living Abroad With Nienke Nina
How did you start your digital nomad journey? And why is living abroad be so life-changing? Those are common questions Nienke Nina gets asked and in this episode, your podcast host Nienke Nina, is sharing how she became a digital nomad. Her journey started in 2016 when she studied abroad for six months in Denmark. This experience changed the course of her entire life and was the stepping stone to the digital nomad lifestyle she lives today. Since then, a lot has changed and Nienke Nina talks about the differences between becoming a digital nomad back then and in 2023. Tune in for nomadic behind-the-scenes moments with Nienke Nina and get tips from your digital nomad expert.
74: Building The Ultimate Freedom Lifestyle With Jon
What does it mean to live a freedom lifestyle? And how do you build one successfully? Jon isn't a heavy traveler like many other digital nomads, but he works online and designs his personal and work life around his values. He lives on the beautiful island of Saaremaa, situated on the west coast of Estonia. His way of freedom was building his own ideal home from scratch by hand with sustainable materials. His entrepreneurial vibes are clearly seen in how he lives, but they also come to life in his remote entrepreneurship journey. A key ingredient for his success is healthy habits. In this episode, Jon shares tips on building habits and sticking to them. He also shares some thoughts about creating a positive mindset, even when things aren't going the way you want.
73:Why Choosing To Become A Digital Nomad Freelancer with Dianni
Is the freelance lifestyle better than running a business or a steady remote job? And how do you fit work and travel into one lifestyle? Meet digital nomad Dianni, who became a freelancer so she could travel the world while working online. In this episode, we talk about her six months journey to becoming a digital nomad where she focused on building a solid foundation first before hitting the road. We also discussed how she started her freelance career and how it has worked out for her. Listen to the end of this episode because Dianni and Nienke Nina share must-know behind-the-scenes life advice for digital nomads.
72: Why Digital Nomads Love Living in Chiang Mai with With Evelina
Is Chiang Mai a good hub for digital nomads? And what makes a digital nomad really great for digital nomads? Evelina started her digital nomad journey living in Chiang Mai and absolutely loves it there. In this episode, we talk about why she decided to become a digital nomad and her life as a freelance digital marketer. We also dive deep into what Chiang Mai has to offer and why she chose this as the first digital nomad hub.
71: Digital Nomads Aka The Early Adopters Of Remote Work With Mitko
How can companies feel more confident working remotely? And why are digital nomads the early adopters of the remote-first work life? We interviewed Mitko, who started his digital nomad journey in 2016 and is a operations and remote work expert. In this episode, he shares his thoughts on the first steps to becoming a remote-proof company. He is a big sci-fi fan and has an interesting take on why remote work isn't just something sexy now but part of the economy. We talk about the impact of digital nomads and how they and freelancers are the early adopters in this transformation that is already happening.
70: Why You Want To Create Your Personal Brand With Marina
Why is it essential to build a personal brand in 2023? And is this really important for my online business? Digital nomad and personal branding expert Marina joined the podcast to share her thoughts on why building a personal brand is a great investment in yourself and your business. We also talk about how she built her online business as a creative and important lessons learned from her journey. If you are an (aspiring) digital nomad or currently hitting the road and building an online freelance business or side hustle, this is your episode!
69: Making Remote Work Actually Work With Iwo
How can you bring remote work to life in your personal and work life? And what can companies do to attract more digital nomads and build healthier remote-first work environments? Digital nomad and remote work expert Iwo shares his thoughts about making remote work not just a sexy slogan but the new way of working in 2023 and beyond. He is the founder of Remote How, the leading marketplace for remote experts to help companies with remote & hybrid work challenges. In this episode, Iwo shares the skillsets and mindsets both companies and individuals need to master to become successful in the remote world. Get ready for an episode with good vibes and future thinking thoughts!
68: How Digital Nomads Can Benefit From A Home Base with Nicole
Are you still a digital nomad if you keep a home base? And why do many digital nomads consider keeping a home base? We interviewed digital nomad entrepreneur Nicole to talk about how she designed her digital nomad lifestyle so she could work from anywhere while keeping a home base. We talk about the benefits of coming home to a place and how she feels at home when she does travel. Nicole is a copywriter passionate about words and languages and speaks 5 languages. She shares helpful tips on how to learn a new language, including more foreign languages like Arabic. Tune in for a fun episode and real-life tips with digital nomad entrepreneur Nicole.
67: 7 Digital Nomad Tips For Facing Cultural Challenges with Mirjam
How can digital nomads feel grounded while living and working from anywhere? And how can you become more open-minded and embrace cultural challenges? Multi-cultural digital nomad. Growing up, she was already exposed to cultures worlds apart and her German, Balinese and Arabic backgrounds gave her many life-lessons early on. In this episode, she shares tips about embracing cultural challenges while living and working abroad and connecting with all kinds of people. She also shares helpful practices to make meaningful connections and feel more grounded for digital nomads.
66: Finding Your Dream Remote Job With Ikigai & LinkedIn with Kenneth
How do you find your dream remote job? And how can you build a network and personal brand on LinkedIn? We interviewed remote work advocate Kenneth to talk about his unique process of finding his dream job. After a rough breakup shortly after relocation to Spain, Kenneth felt unsure about his future. One of his ways to find clarity and more fulfillment in life is the Japanese practice, Ikigai. Kenneth shares his journey and unique and innovative approaches to becoming an expert in remote work and finding his dream job. LinkedIn has been an important platform in his redefined future. Kenneth shares how he built his personal brand and used the platform to find a remote job. Make sure to tune in AND for those who want to go to Malaga, we have a sweet digital nomad discount at the end of the episode!!
65: How to Travel the World As A Digital Nomad Couple with Dom and Jo
How do you balance work and travel life as a digital nomad couple? And what can you do to keep your relationship exciting? We interviewed digital nomad couple Dom and Jo. They have been traveling for 7 years and also run an online business. Dom and Jo share tips on how to keep the spark up in the digital nomad lifestyle and how to stay focused on the business all at the same time. Spending 24/7 together and working on the same business is challenging, but the couple found ways to make it work, and we are excited to share these behind-the-scenes digital nomad couples tips with you!
64: Tips For Organizing Your Daily Digital Nomad Life with Eddie
How do you know the best way to start your day? And can you stay focused and productive during the day and maintain healthy well-being? Digital nomad and efficiency consultant Eddie is passionate about routines and has designed his career around his passion. Eddie often travels for work and creating habits to increase focus and productivity is essential to building a successful digital nomad life. It sounds easy but maintaining good routines is challenging. In this episode, we get a sneak peek into Eddie's digital nomad daily life and some of his favorite tech tools he uses to manage his work and travel life. Get ready for an episode full of digital nomad daily life tips.
63: Navigating Through Life When It Goes Upside Down With Daisy
How do digital nomads deal with breakups after spending 24/7 together? And how do you shift from a steady remote job to a creative solopreneur? These questions have been keeping digital nomad Daisy busy for the past months. She joined the podcast in 2022 to share how she started her digital nomad lifestyle and a lot has changed since then. Daisy is now a female solo-traveling digital nomad entrepreneur facing many typical digital nomad challenges. In this episode, we dive deep into how she navigates her new lifestyle and she shares some behind-the-scenes life advice about gaining confidence in herself and her entrepreneurship skills. Get ready for an inspiring and motivating episode with digital nomad Daisy!
62: Digital Nomad Nightmare: When All Your Work Gear Gets Stolen with Matan
What if all work gear gets stolen while nomadding? This happened to digital nomad Matan during Nomad Fest in Bansko and while his story is painful, it ended with an unexpected outcome. In this episode, we talk about the power of community and how he navigated through one of the biggest digital nomad nightmares. Matan shares how he regained the courage to continue his digital nomad journey. We also chat about balancing life with a remote job, and traveling while monetizing his passion project about travel photography.
61: How Creatives Can Build Multiple Online Income Streams With Bri
How can creatives make money online using their passion and creativity? And how can freelancers make enough money when you are a multi-passionate creative? Digital nomad Bri is a busy bee and has built a successful career over the past 4 years. Instead of focusing on one income stream, Bri developed multiple ways to make money to work on projects and with clients she loves working with. In this episode, we uncover all her different ways of making money online and how she started her freelance journey. She also shares behind-the-scenes tips that worked for her and entrepreneurship life lessons. Get inspired and motivated in this electric episode with digital nomad Bri
60: The Benefits Of A Remote Job In A Remote-First Company With Vincent
What are the benefits of working remotely? And what are the typical challenges of the first 6 months of living the digital nomad lifestyle? In this episode, we talk about how digital nomad vincent found his remote job. He is a newbie nomad and loves this lifestyle but also faces some of the typical challenges of the digital nomad lifestyle all digital nomads go through. Some of these hurdles are easy to overcome and he shares how. Vincent also goes deeper into how he tries to solve the larger challenges. It's an open conversation about the digital nomad lifestyle with a lot of mindset and practical tips for all digital nomads regardless of how long you have been nomadding. So get ready for a deep dive and nomadic reality check with Vincent!
59: How To Feel At Home In Your Next Digital Nomad House With Julie
What do digital nomads typically pack? And how can you work from anywhere and live out of your suitcase? Julie started her digital nomad lifestyle 2 years ago and loved it so much that she decided to 100% live location independently without a home base. In this episode, she has a full-time remote job as a software developer and shares how she convinced her employer to let her do her job remotely. We also dive into some practical tips on how she finds her next location and digital nomad-proof home. Get ready for an insightful episode with handy tips all digital nomads should hear and enjoy our chat!
Explore all episodes about how to become a digital nomad, overcome your fears and start your nomad remote life today.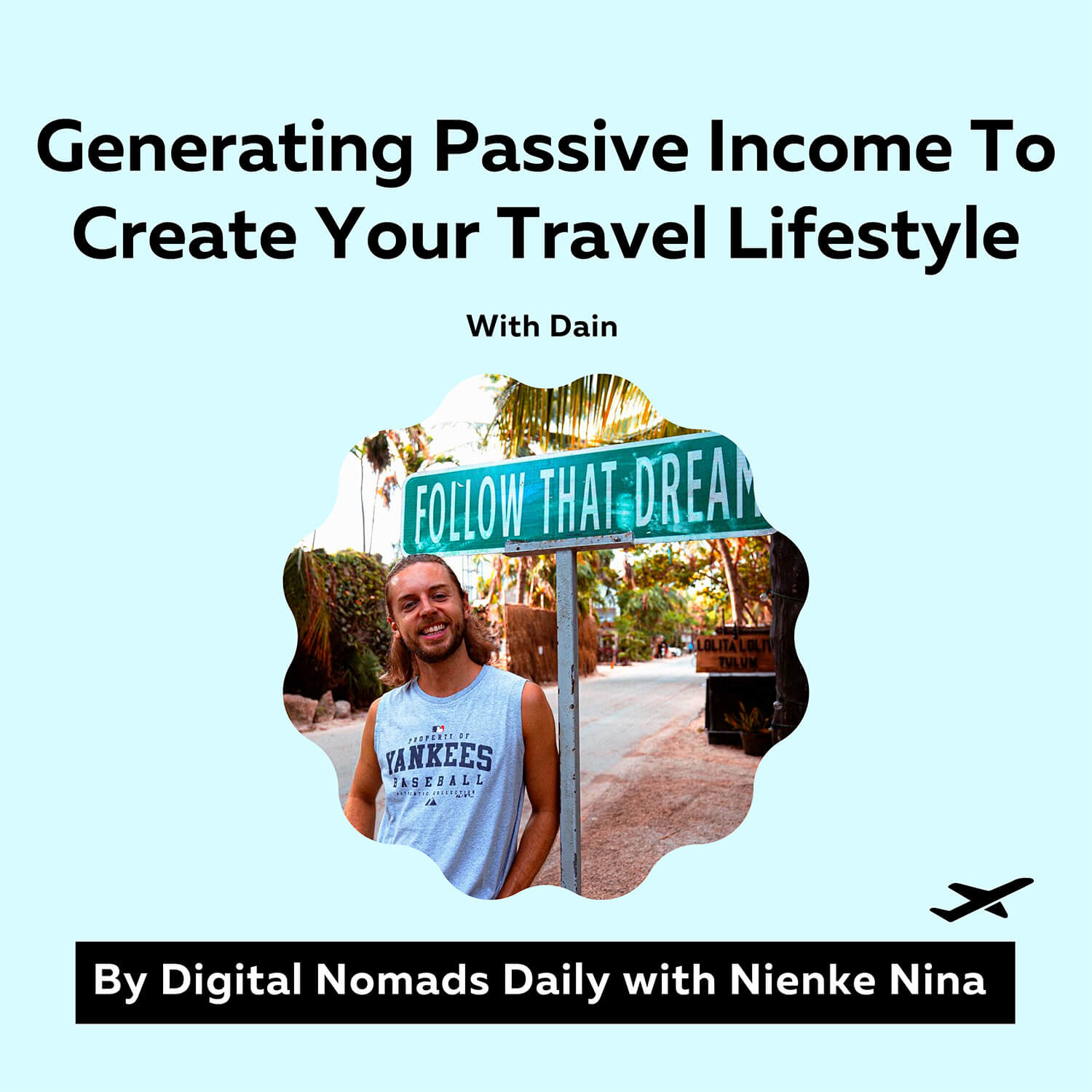 58: Generating Passive Income To Create Your Travel Lifestyle with Dain
What are the solo travel and digital nomad experience like for a guy? And how do you plan your digital nomad lifestyle and build multiple income streams? We are answering those questions with slowmad Dain from the UK. He currently lives in Australia and trades his normal lifestyle for a travel life where he works online. It's his own way of living and slowly transitioning while building multiple passive income streams. Dain also talks about the differences between male and female solo travelers and shares typical misconceptions he experienced himself. Tune in for an exciting episode with travel learnings and new ideas!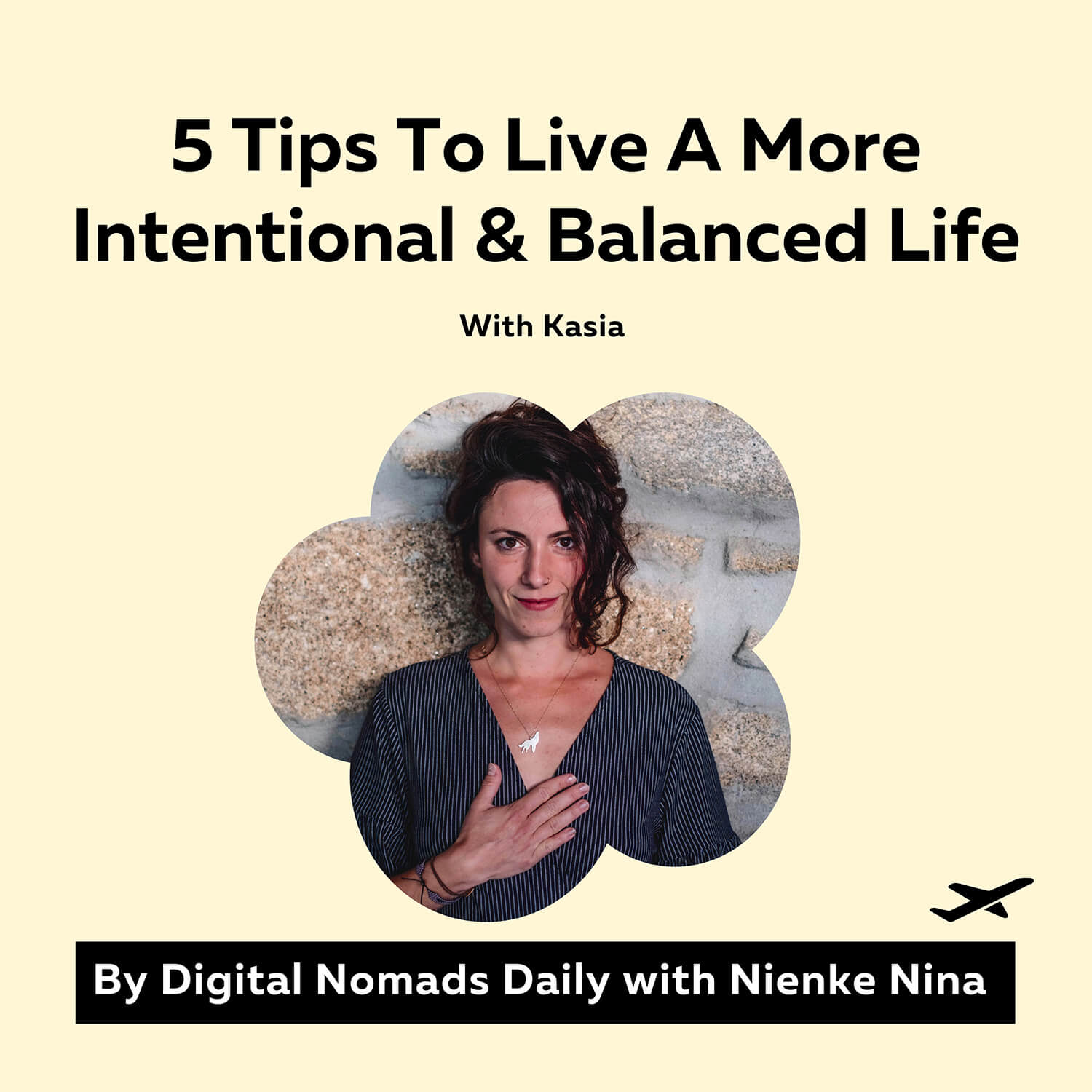 57: 5 Tips To Live A More Intentional And Balanced Life with Kasia
What do you tell yourself every day? And can you nurture your well-being as a digital nomad? We interviewed Kasia who has been nomadding for over 3 years. She is currently slowmadding and passionate about living life with more intention and finding balance. In this episode, we talk about simple tips and practices you can implement today. Many digital nomads use small routines to nurture themselves and we are so happy that Kasia shares practical and life-chaning tips in this episode. Get ready for a calming and beautiful episode and live your digital nomad lifestyle with more intention!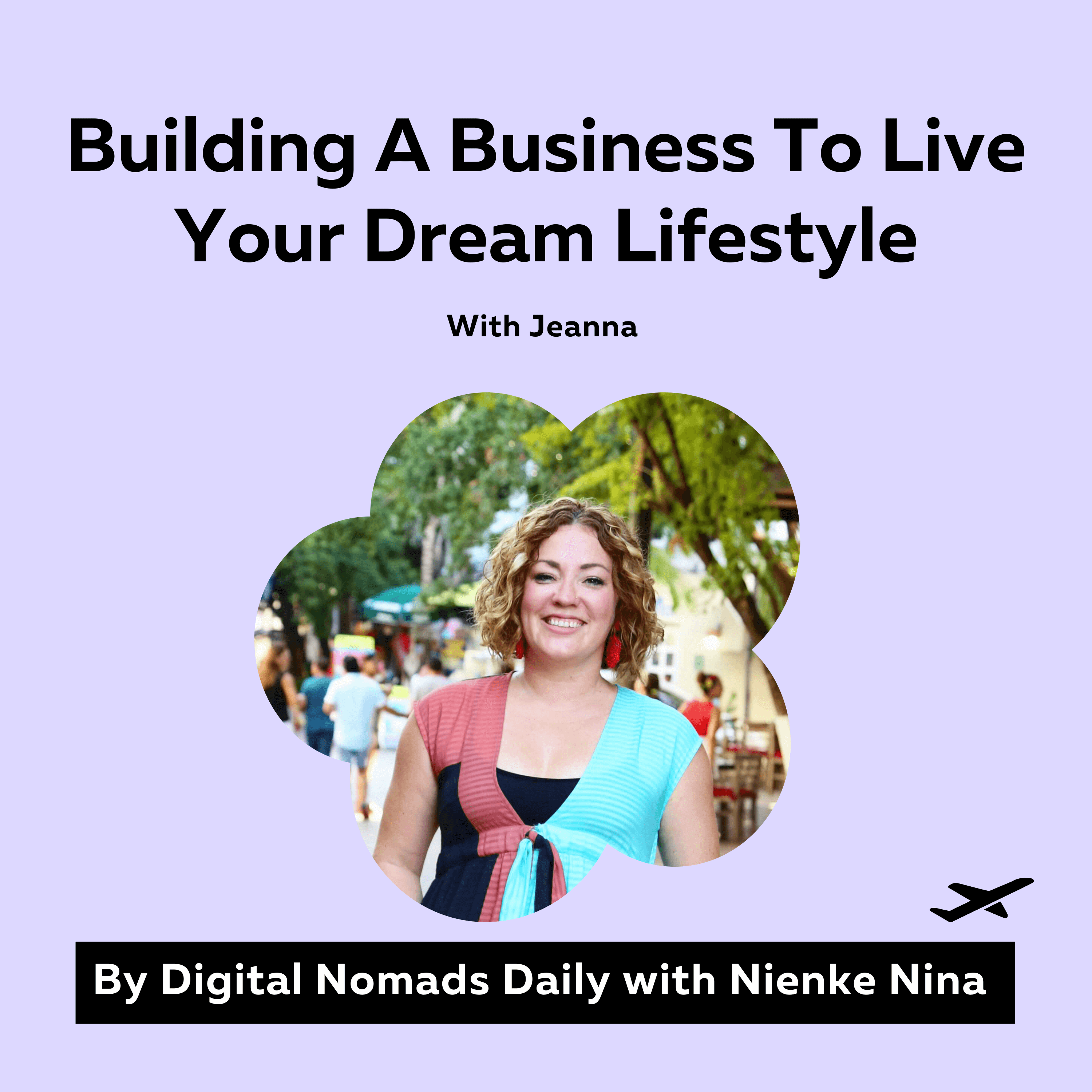 56: Building A Business To Live Your Dream Lifestyle with Jeanna
How to build an online business that operates from anywhere? And how do you stay balanced and while becoming a successful entrepreneur? Digital nomad Jeanna is a female entrepreneur sharing her story about building her business to live her dream life. She gives a sneak peek behind the scenes of her travel and remote entrepreneur life. We talk about how she intentionally designed her lifestyle and adapted some of the mindsets to become fully location-independent. It took her a while to learn her own workstyle to work remotely successfully and Jeanna shares her routine and what works for her. Listen to this episode to learn how successful entrepreneur Jeanna lives her digital nomad lifestyle.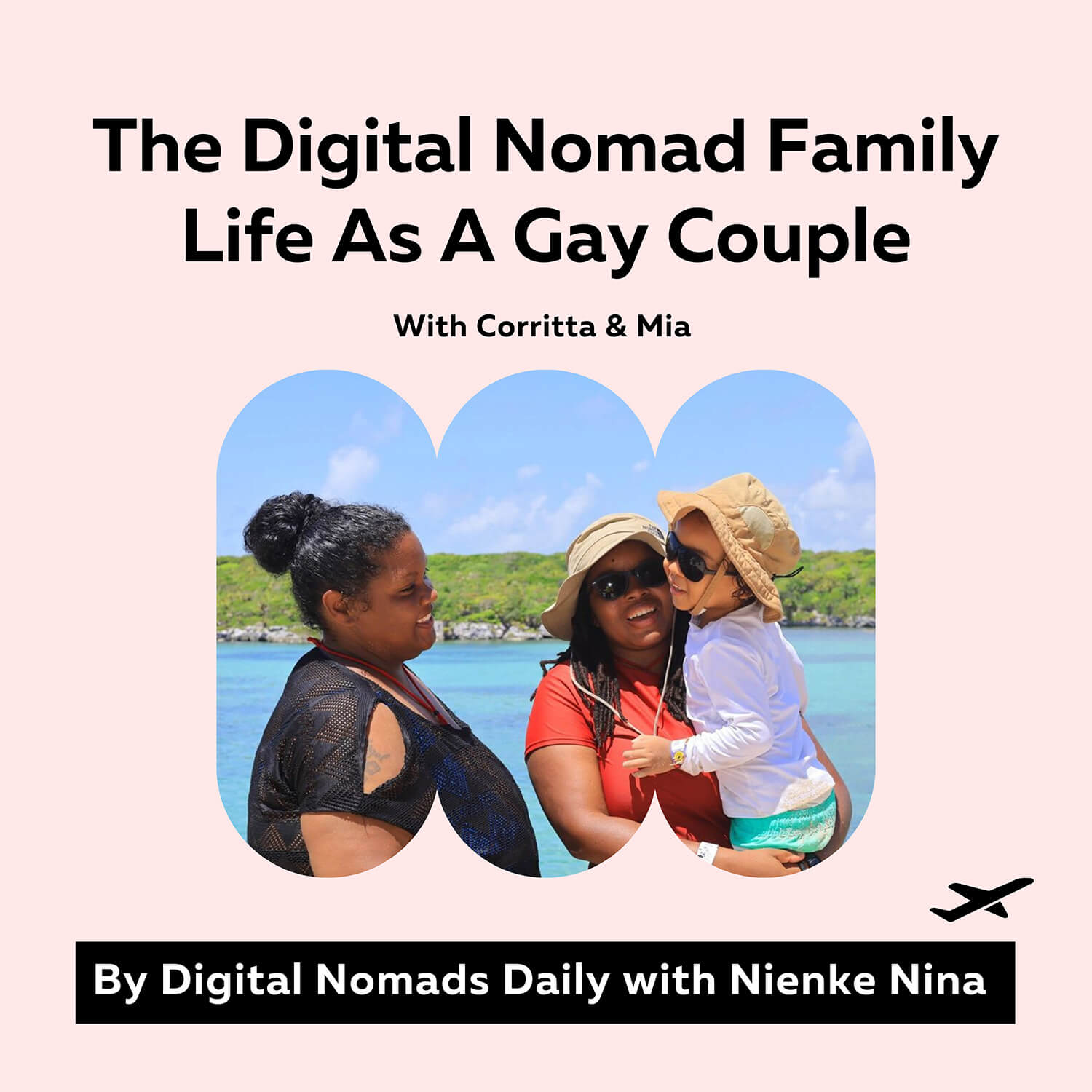 55: The Digital Nomad Family Life As A Gay Couple
Digital nomads have a lot to think about, but how is that for a digital nomad family? And even more so if you are a traveling gay couple with a toddler? In this episode, we are interviewing Corritta and Mia about what it takes to live a successful digital nomad family life. The couple shares practical tips from choosing their next location, balancing work life and parenting to finding community. Corritta and Mia are a gay couple of color and we also chat about what challenges they encounter and how to overcome them. It's an eye-opening conversation full of handy advice and inspiring stories.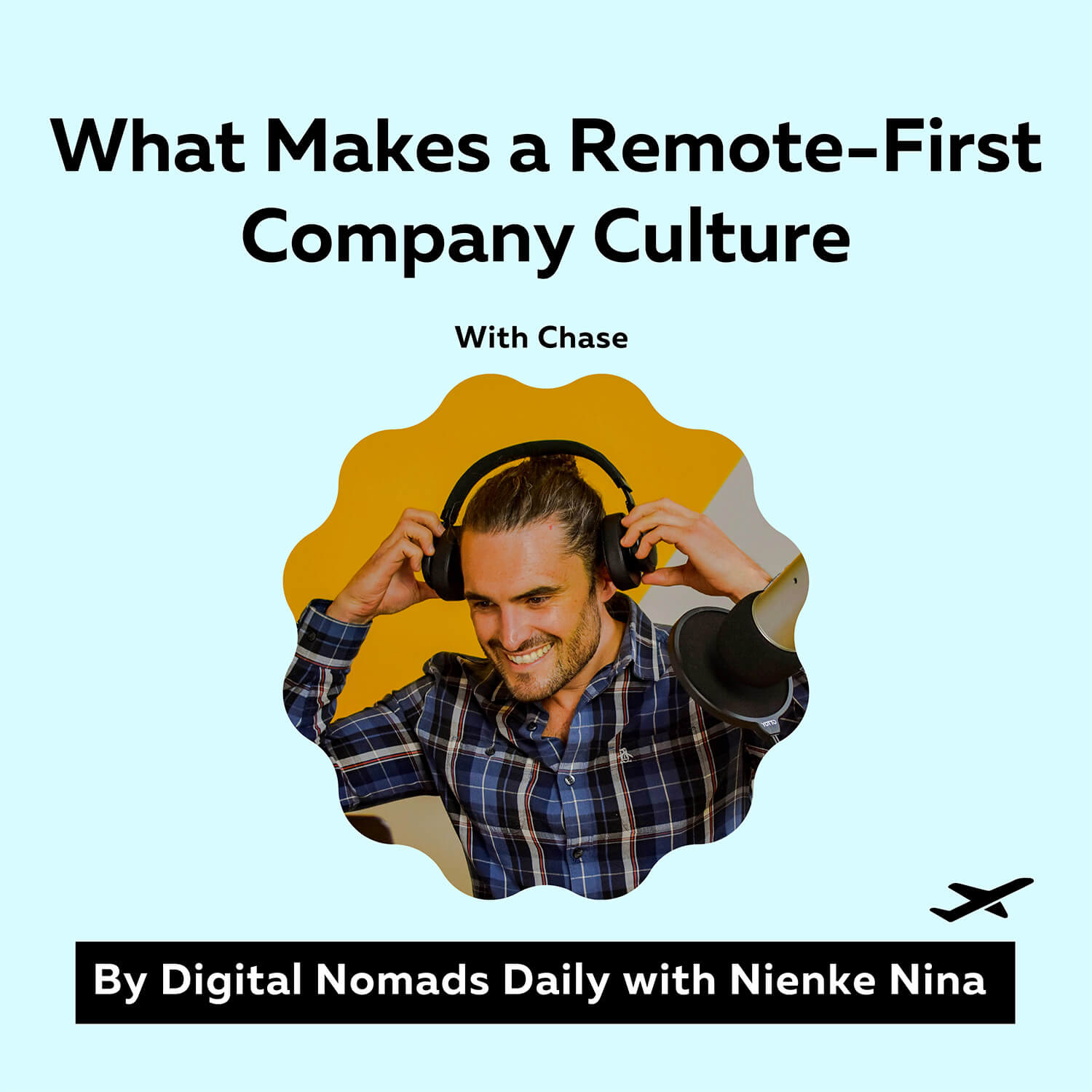 54: What Makes a Remote-First Company Culture with Chase
How can organizations create a remote-first work environment? And what pillars are essential in a remote company culture? Digital nomads make money online through freelancing and entrepreneurship and some nomads have remote jobs. In this week's episode, we are speaking with the head of remote of Doist, Chase Warrington. It's a remote-first software company that prioritizes the well-being of its people and this is exactly what Chase's role is all about. He is a remote traveling worker himself and loves the slomadding lifestyle with his wife and dog Koda. Chase shares important pillars to create a remote-first culture and tune in for an inspiring and insightful conversation.
Go to this episode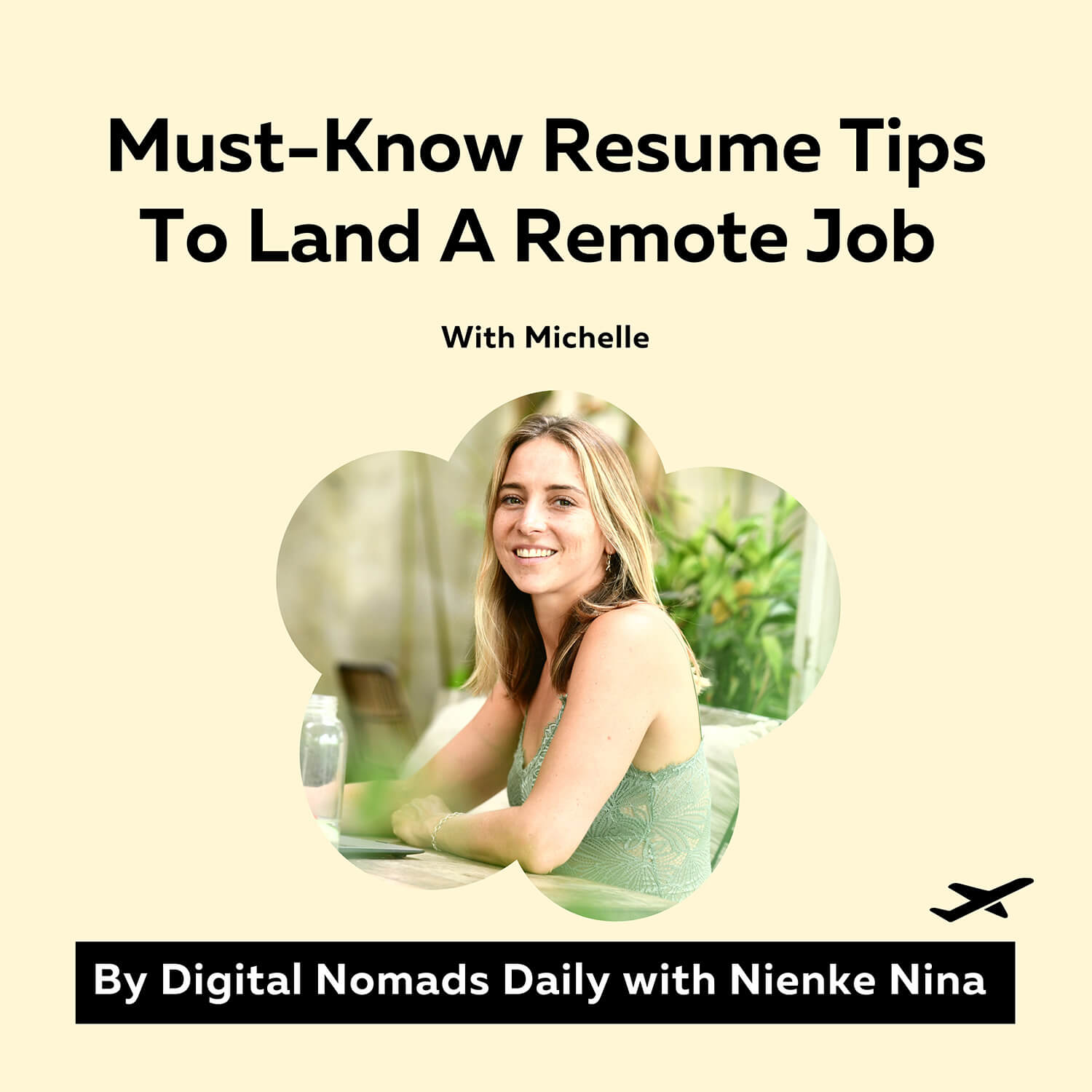 53: Must-Know Resume Tips To Land A Remote Job with Michelle
Do you want to land a remote job? And do you know what to add to your resume? Digital nomad Michelle has been a recruiter for 8 years and has seen many resumes. In this episode, she gives tips and ideas on structuring your resume to land your next dream job. She built a community called the Remote Rebellion and guides people to land a remote job that fits their personal and professional desires. Michelle shares how to effectively structure your resume and update your LinkedIn profile to find your next remote job faster. Tune in for a vibrant conversation full of brilliant analogies and learn how to stand out from the crowd.
Go to this episode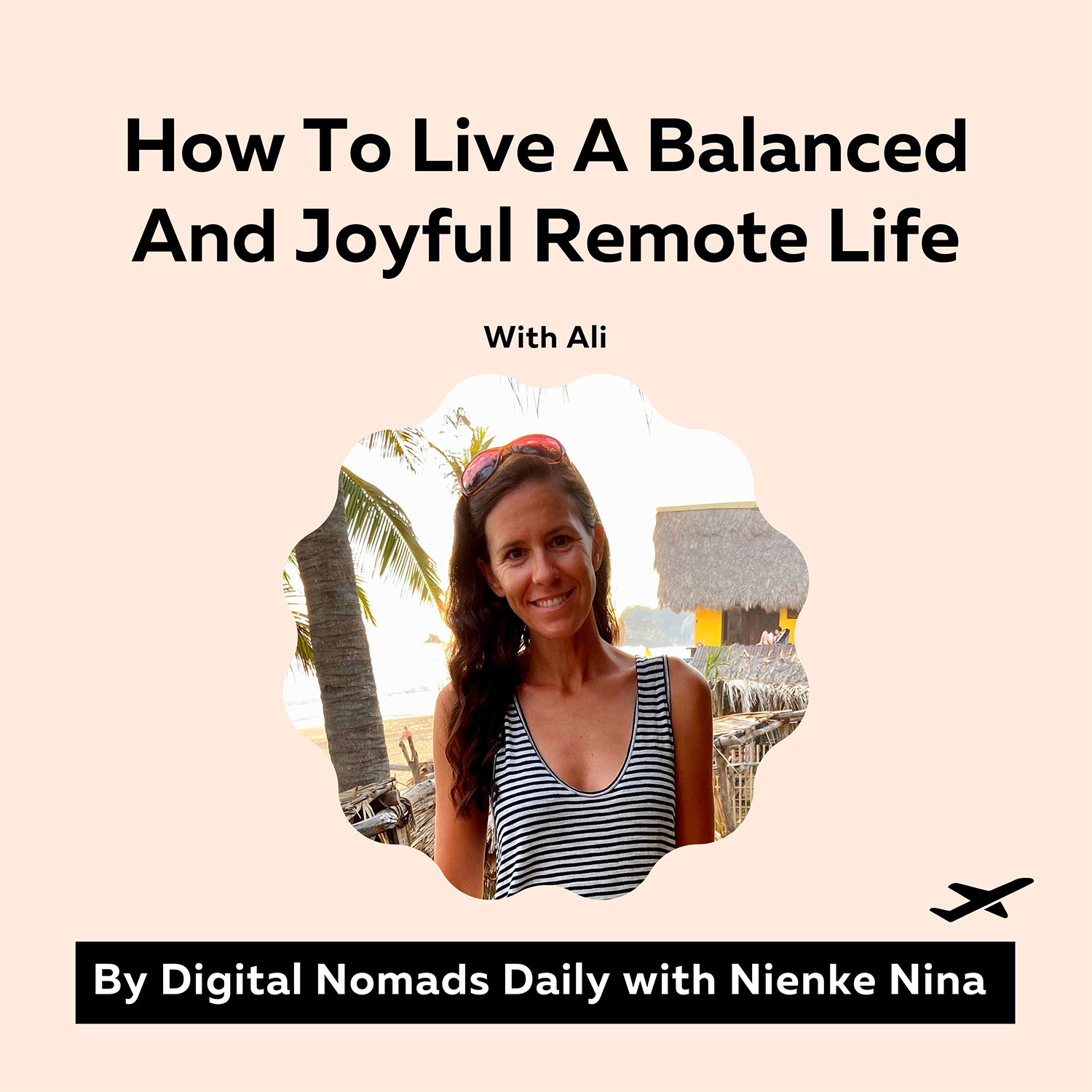 51: How To Live A Balanced And Joyful Remote Life With Ali
What did you like doing as a child? And how do you sprinkle joy into your day-to-day life? Digital Nomads and entrepreneurs tend to be high achievers and taking a break from work can be challenging. In this episode, we talk about finding balance in your day-to-day with digital nomad Ali. Going through burnout herself, Ali had to learn how to clear her life from stress and redesign her life. She shares that the key to success is finding balance and this is different for everyone. She gives us a walkthrough of her daily practices and what it truly means to live your life in alignment with your core values. Get ready for an episode with simple but life-changing tips you can apply in your life today.
Go to this episode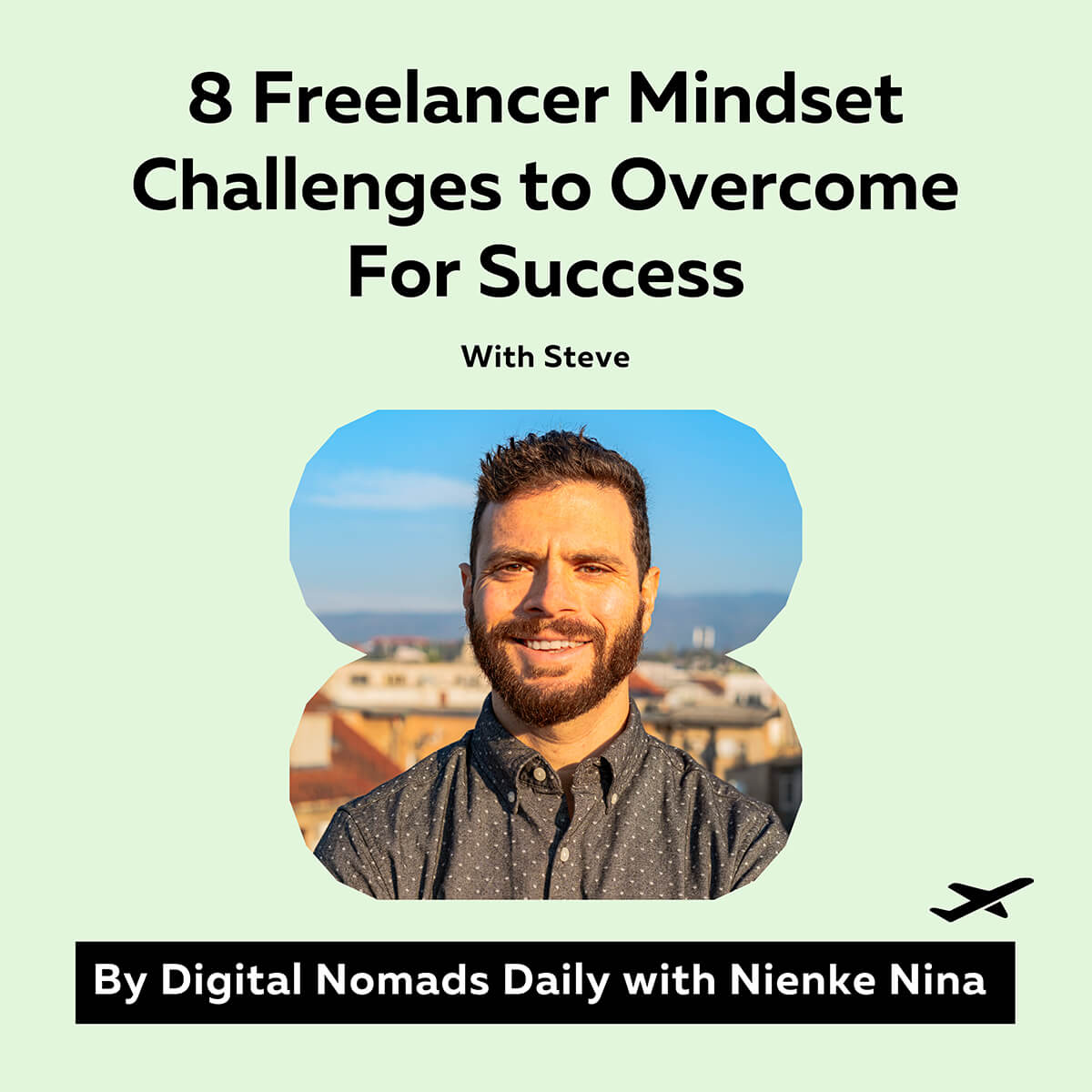 49: 8 Freelancer Mindset Challenges to Overcome For Success With Steve
Changing your career and starting a new freelance journey? Sounds challenging right?! Digital nomad Steve joined the podcast to share his story on how he shifted careers and began his freelance writing career. We cover 8 common challenges he faces and what he did to overcome them. These are typical challenges many freelancers face and even more so the digital nomad freelancers folks. Tune in for a fun episode with practical tips and a ton of life advice for digital nomad entrepreneurs.
Go to this episode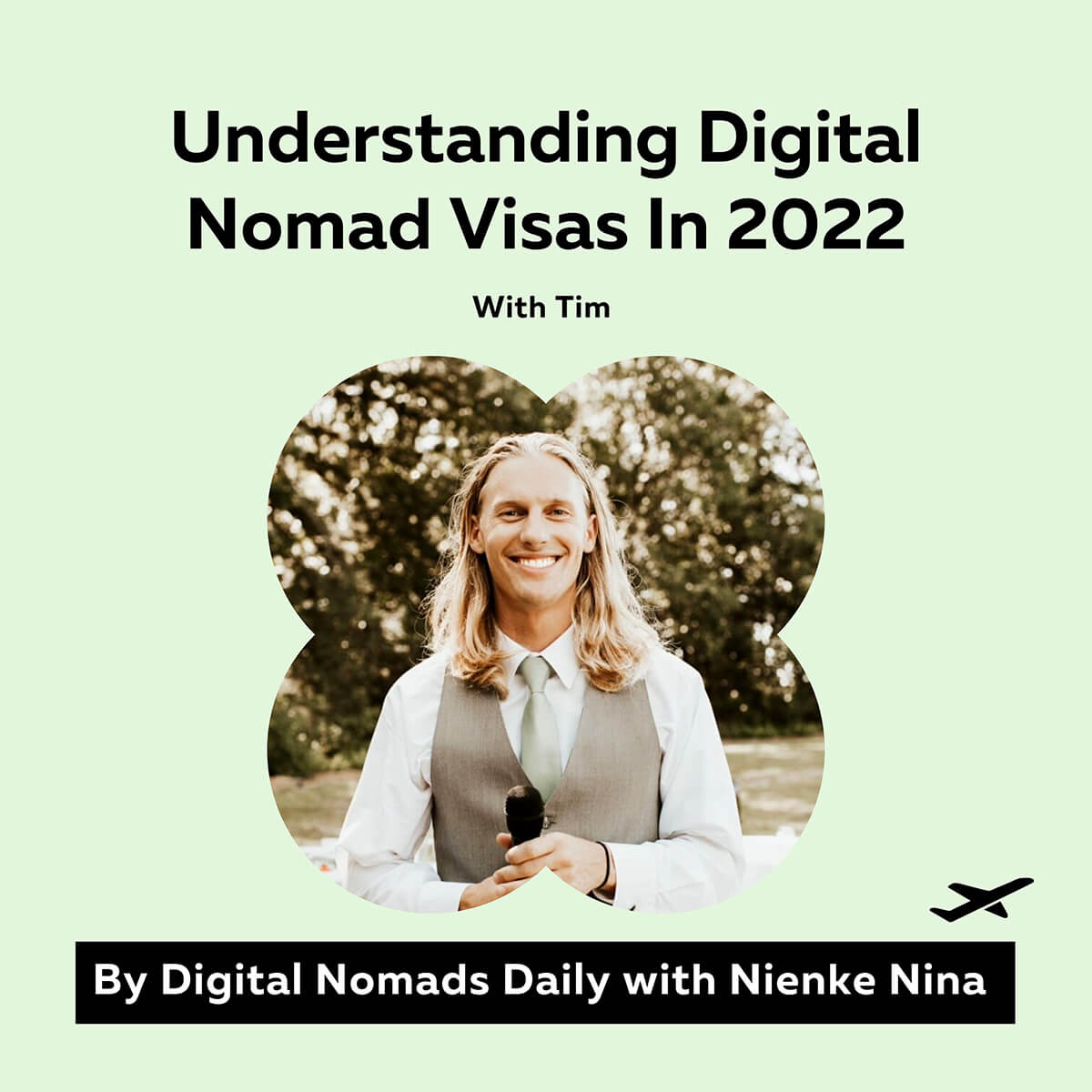 40: Understanding Digital Nomad Visas In 2022 With Tim
Why are there so many remote citizens and digital nomads but is living this lifestyle still so challenging? In this episode, we talk about what it takes to live this lifestyle for the long run with slowmad Tim. He started his journey in Scotland and co-founded a company called Citizen Remote. One of the biggest challenges is staying in a country for longer. Even though we see digital nomad visas in 2022 popping up like mushrooms, it's not as great as it seems. He and his team are helping digital nomads from all over the world with visa-related questions and focusing on easing the process of visa applications. In this episode, we discuss the future of digital nomad visas and brainstorm the ideal digital nomad visa.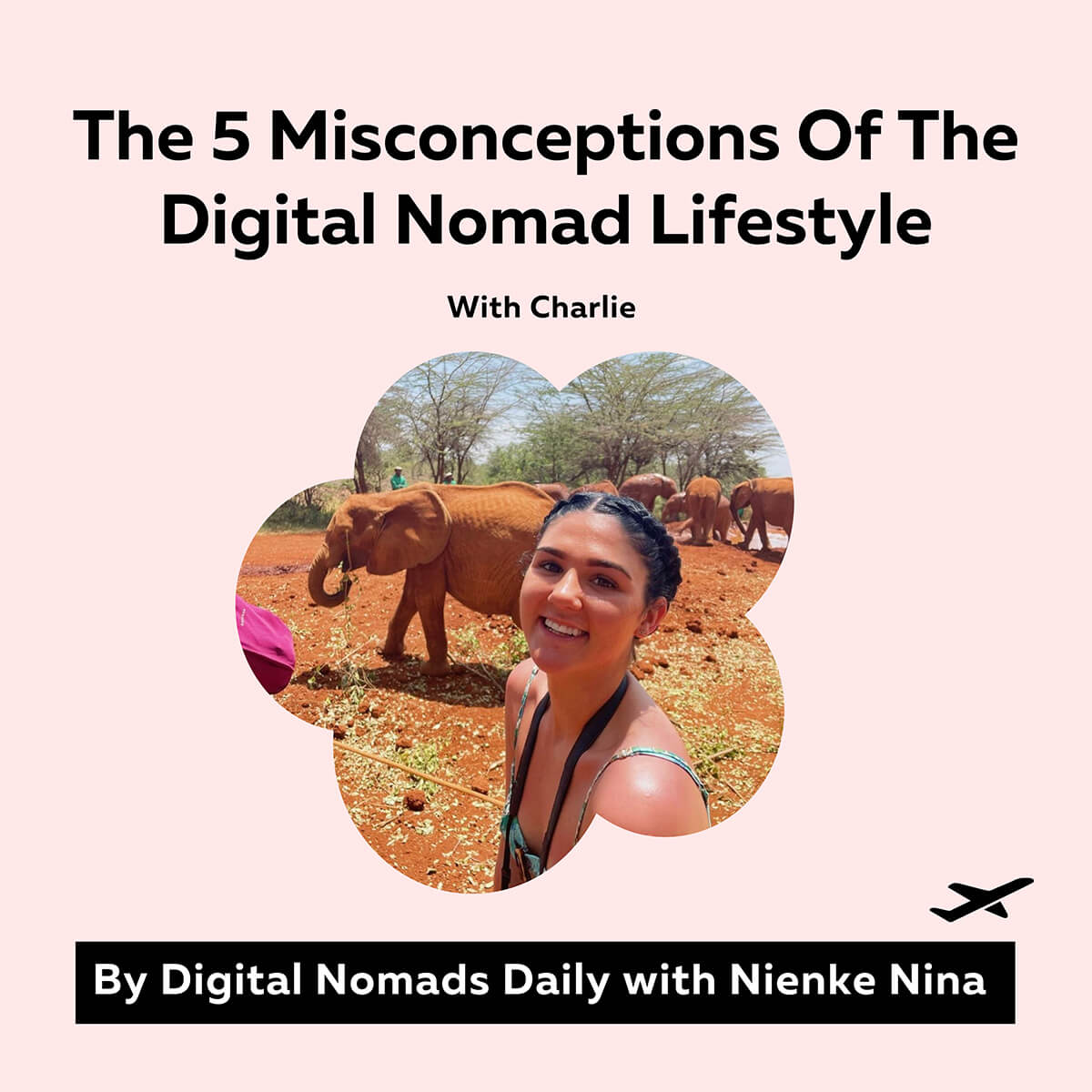 39: The 5 misconceptions of the digital nomad lifestyle with Charlie
Digital nomad Charlie only dipped her toes into the digital nomad lifestyle a couple of months ago. She started her journey with a remote job and enjoyed the perks of steady income while living in one of the most popular digital nomad hubs, Bali. While working online and traveling looks so glamorous on Instagram. Charlie experienced the first typical misconceptions like finding the right balance between having fun and staying productive and working across different time zones. After she quit her remote job, new challenges crossed her path. In this episode, we chat about these and more challenges and what she does to tackle them. Get ready for a reality check and behind-the-scenes episodes with Charlie!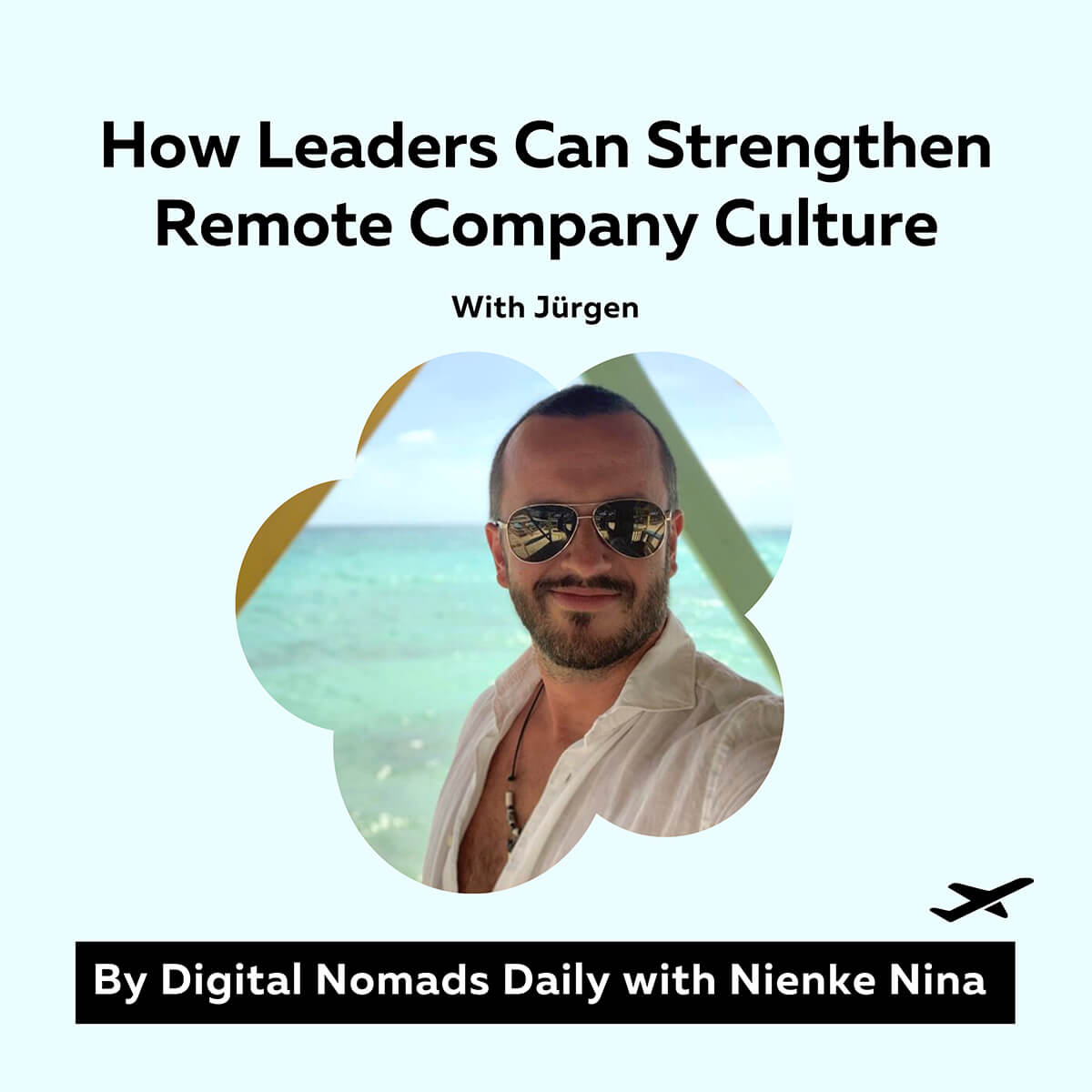 38: How Leaders Can Strengthen Remote Company Culture With Jürgen
How to create a remote-friendly company and lead digital nomads? In this week's episode, we answer these questions with entrepreneur and startup founder Jürgen Pretsch. He has been nomadding for over six years and has experience leading teams remotely. He is launching his new startup Shap and his entire team is working remotely. We go deep into leadership skills for remote organizations, build trust and talk about how leaders and employees can deal with micro-management. Jürgen sees the remote lifestyle as a mindset. It requires a lot of trial and error to be successful in your personal and work life, so experimenting and having conversations with your people are key. Tune in for an inspiring episode for all digital nomads, leaders and entrepreneurs.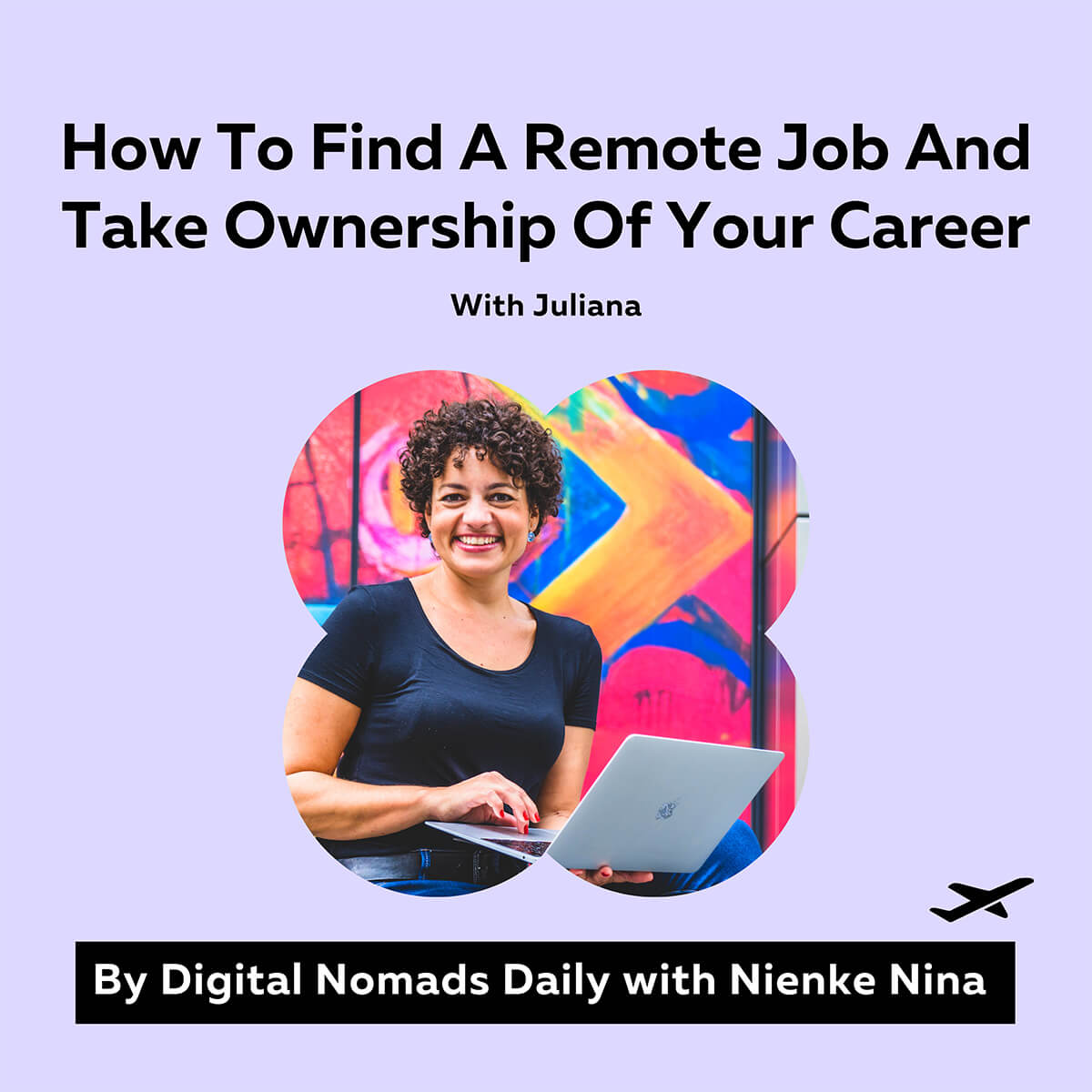 37: How To Find A Remote Job And Take Ownership Of Your Career With Juliana
More people want to work remotely but finding a remote job isn't easy. In this episode, career coach Juliana shares how to find a remote job matching your values and land a job faster. Juliana is an experienced recruiter and knows what companies look for. Today she helps job seekers to take ownership of their careers by providing guidance and tools to land their dream job. She shares some of job seekers' most common mistakes and how to avoid them. So if you're looking for a remote job or shifting careers, make sure to tune in!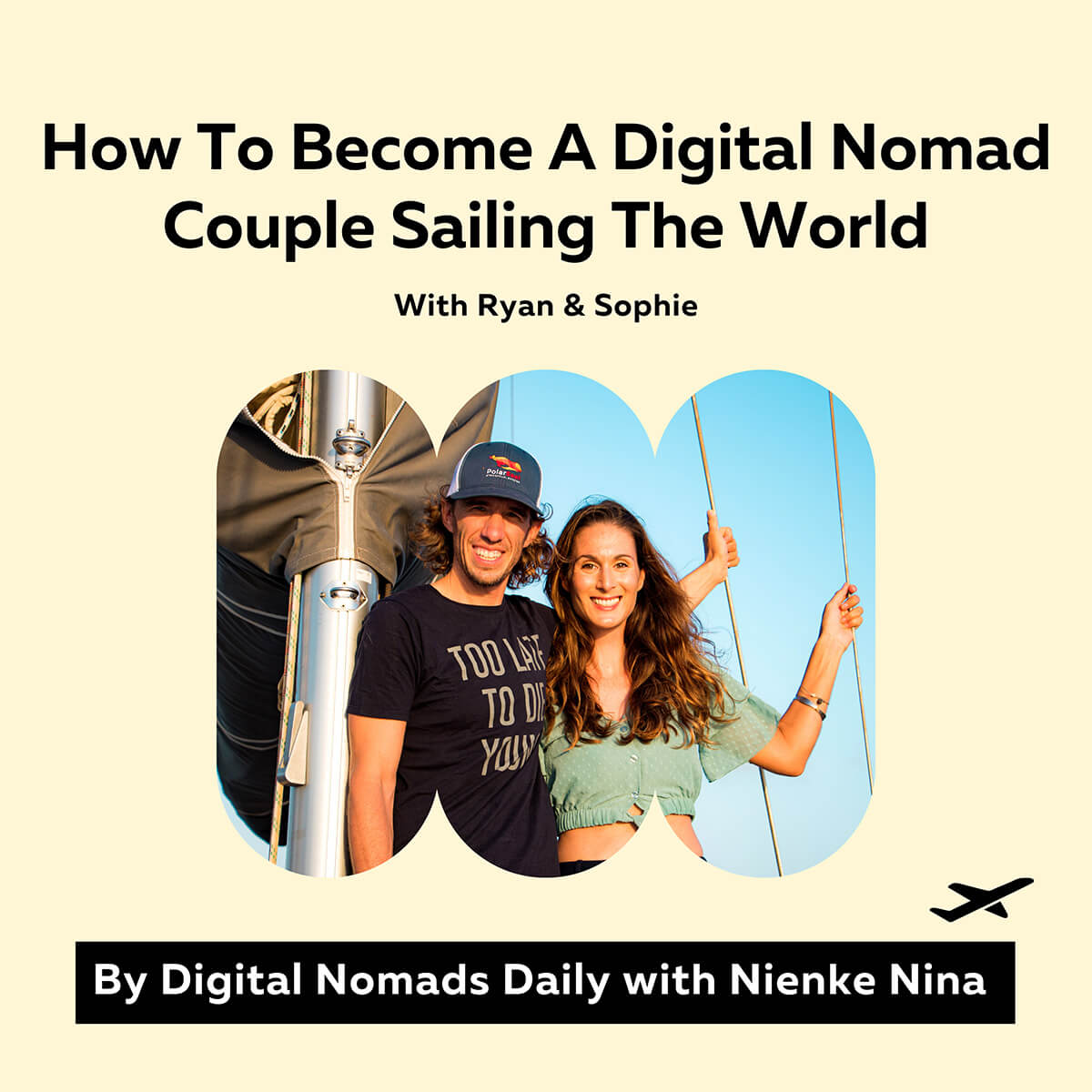 36: How To Become A Digital Nomad Couple Sailing The World
This week we have a nomadic tinder love story on the podcast! Shortly after Ryan and Sophie met, they left their corporate lives behind and bought a sailboat to kick off their journey and become a digital nomad couple sailing the world. Fun fact, the couple did not know how to sail and had to learn everything from scratch. In this episode, we talk about the daily challenges of digital nomad couples and what their day-to-day life looks like. While the digital nomad lifestyle and the boating life look glamorous online, the couple shares what it truly takes to become a successful digital nomad couple. Tune in for life advice for digital nomad couples and enjoy an episode full of tips and funny stories!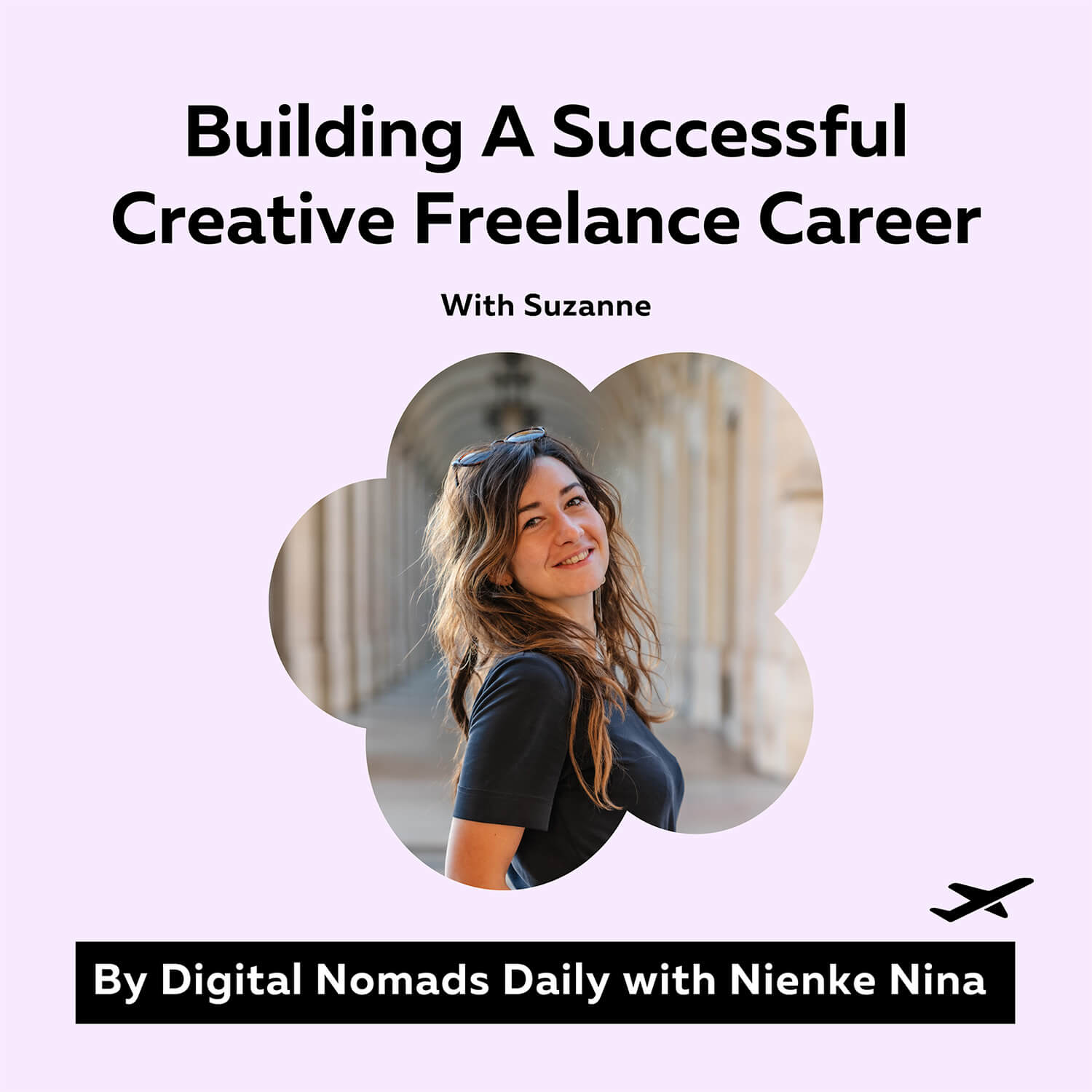 35: Building A Successful Creative Freelance Career With Suzanne
Suzanne is a creative entrepreneur who has traveled the world for five years. Today she's talking with us from her home country the Netherlands about how she successfully built her freelance career as a creative. Suzanne has seen many difficulties in this process, but she overcame these challenges and shares helpful tips for digital nomads and creative freelancers. We cover behind-the-scenes insights about Suzanne's freelancing journey like how to find clients, tips for networking as a nomad and tips to get the most out of co-working spaces. Tune in for an episode full of tips and inspiration for digital nomads.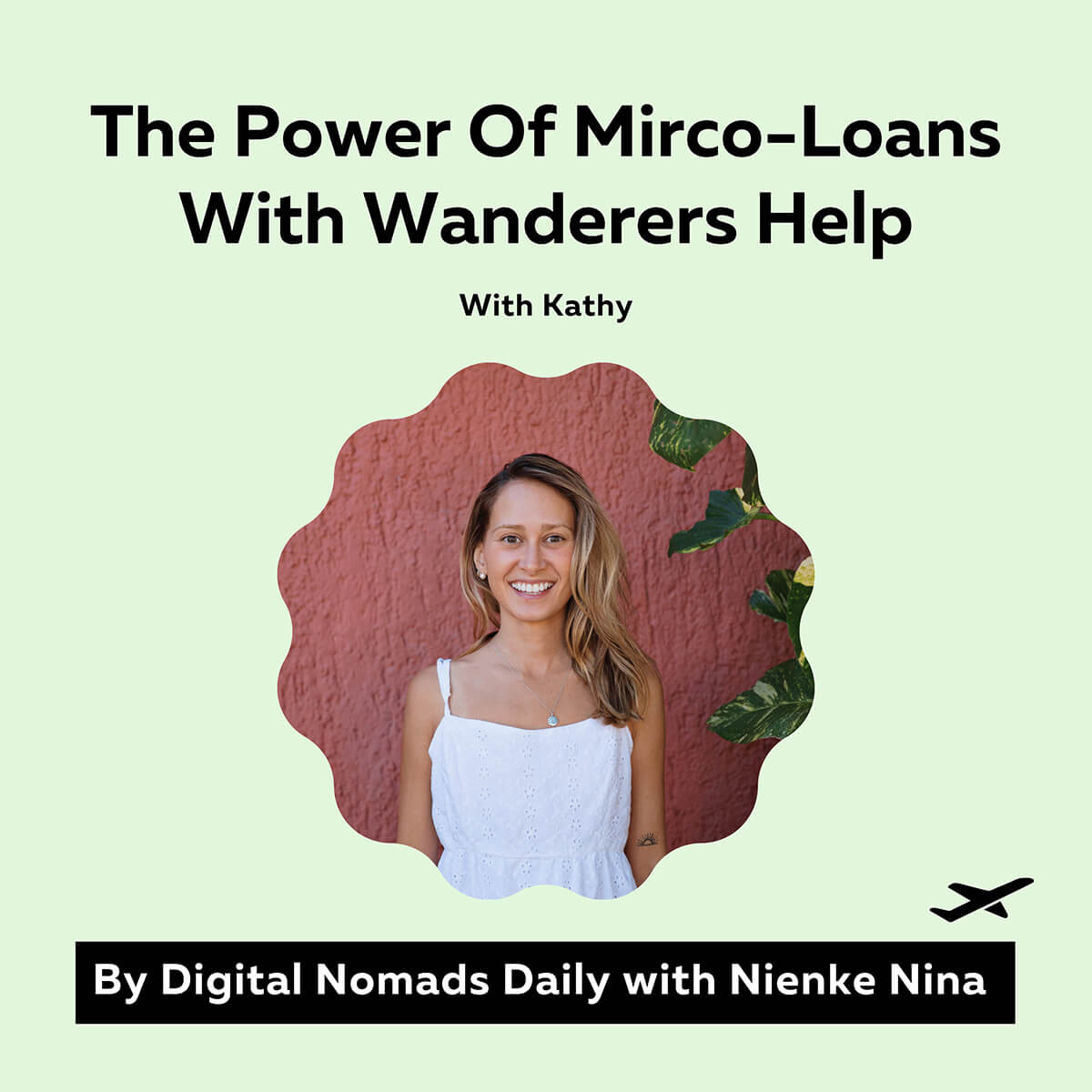 34: The Power Of Mirco-Loans With Wanderers Help
Tune in to listen to an inspiring episode with Kathy. She is known as the tax consultant of the digital nomad community and the founder of Wanderers Wealth. Kathy shares her inspiring travelpreneur success story and how she gives back to a local community in Uganda. Together with a team of experts they build a project that provides micro-loans to help local small business owners, think about farmers or motor taxis. But this is not a new thing for her; the idea of helping others has always been present in Kathy's life and after working for years, her dream project is finally a reality. Don't miss out on this episode full of inspiration and how you can make a contribution as a digital nomad.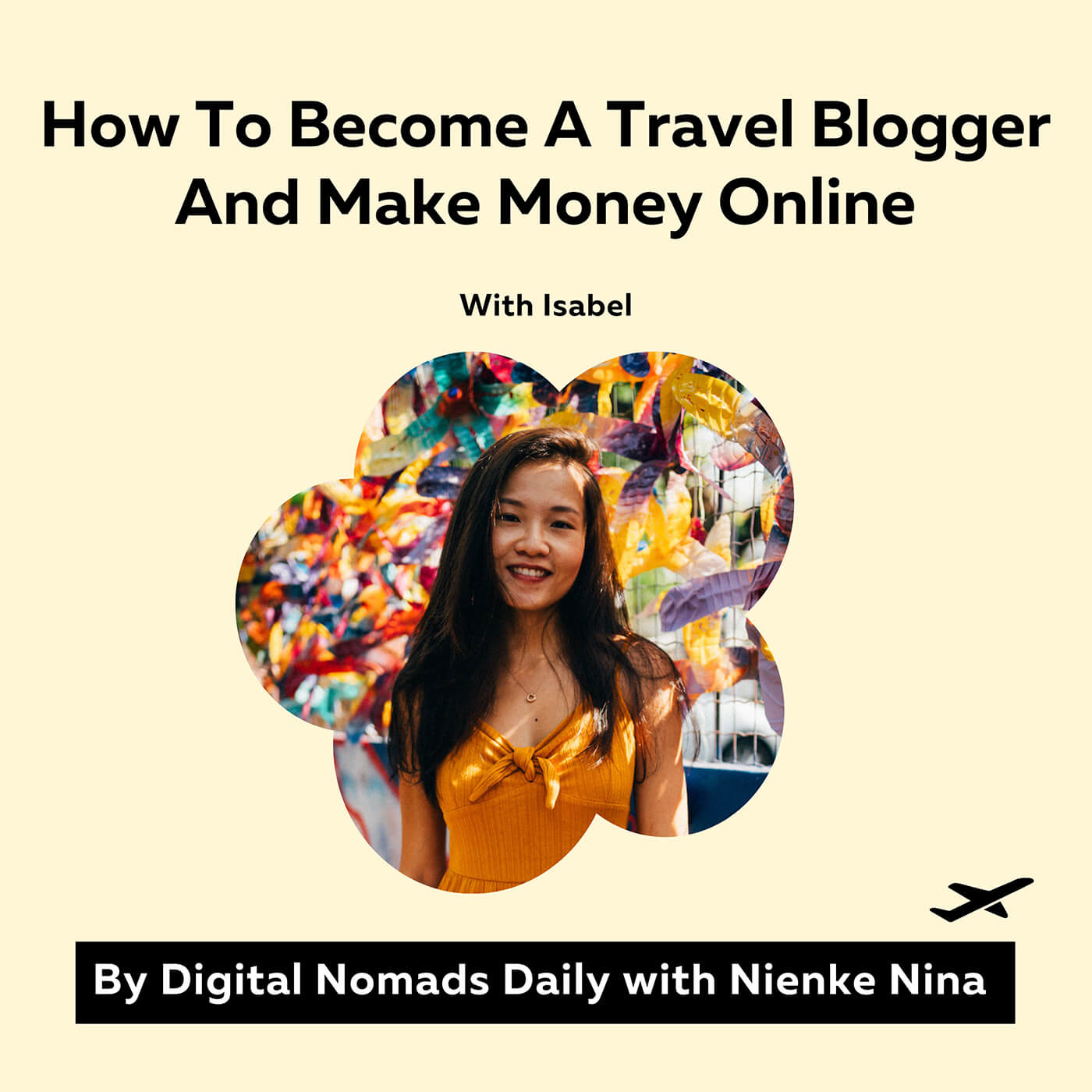 32: How To Become A Travel Blogger And Make Money Online With Isabel
Have you ever dreamed of blogging about what you see, what you eat, the culture of the country and all your experiences while traveling the world? Travel blogger Isabel started her blog as a hobby and transformed it into a money-making machine that let her continue to travel the world. In this episode, she talks about her travel blogging journey and becoming a digital nomad. We dive into her daily life and answer questions like how her blog makes money, finding the right balance between adventure and work and what it takes to become a successful travel blogger. She shares tons of tips for aspiring content creators and digital nomads! Don't miss out on an exciting conversation about this dream lifestyle!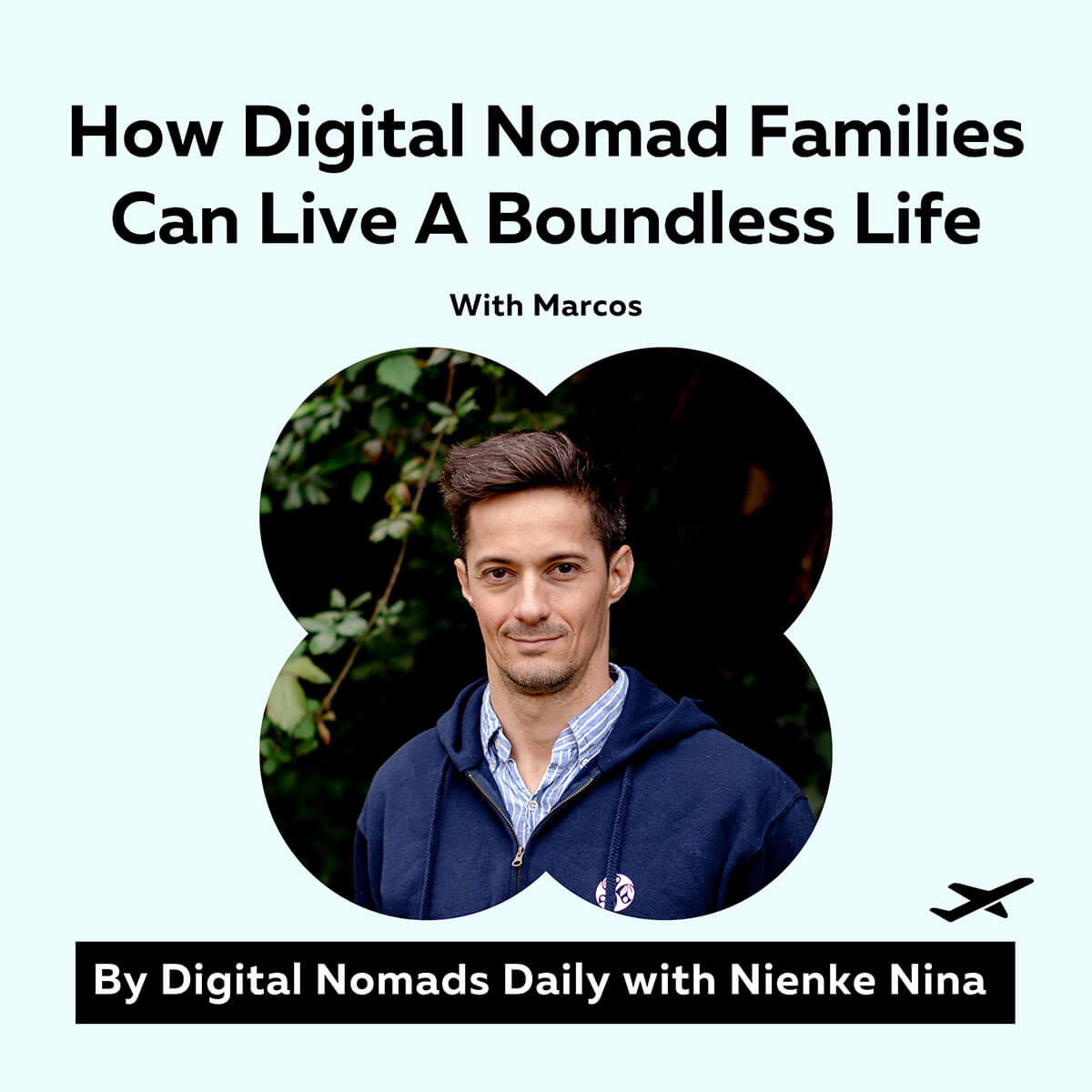 33: How Digital Nomad Families Can Live A Boundless Life With Marcos
World citizen and entrepreneur Marcos Carvalho shares his story and the mission of one of the many companies he has co-founded, Boundless Life. It's a purpose-driven initiative helping digital nomad families to overcome the practical obstacles of the digital nomad lifestyle. Boundless Life organizes cohorts across the globe and offers a combination of traveling, co-working and transformative education. If you are a digital nomad family and want to live a well-balanced lifestyle and connect with like-minded families, or think about your future family life, this is your episode!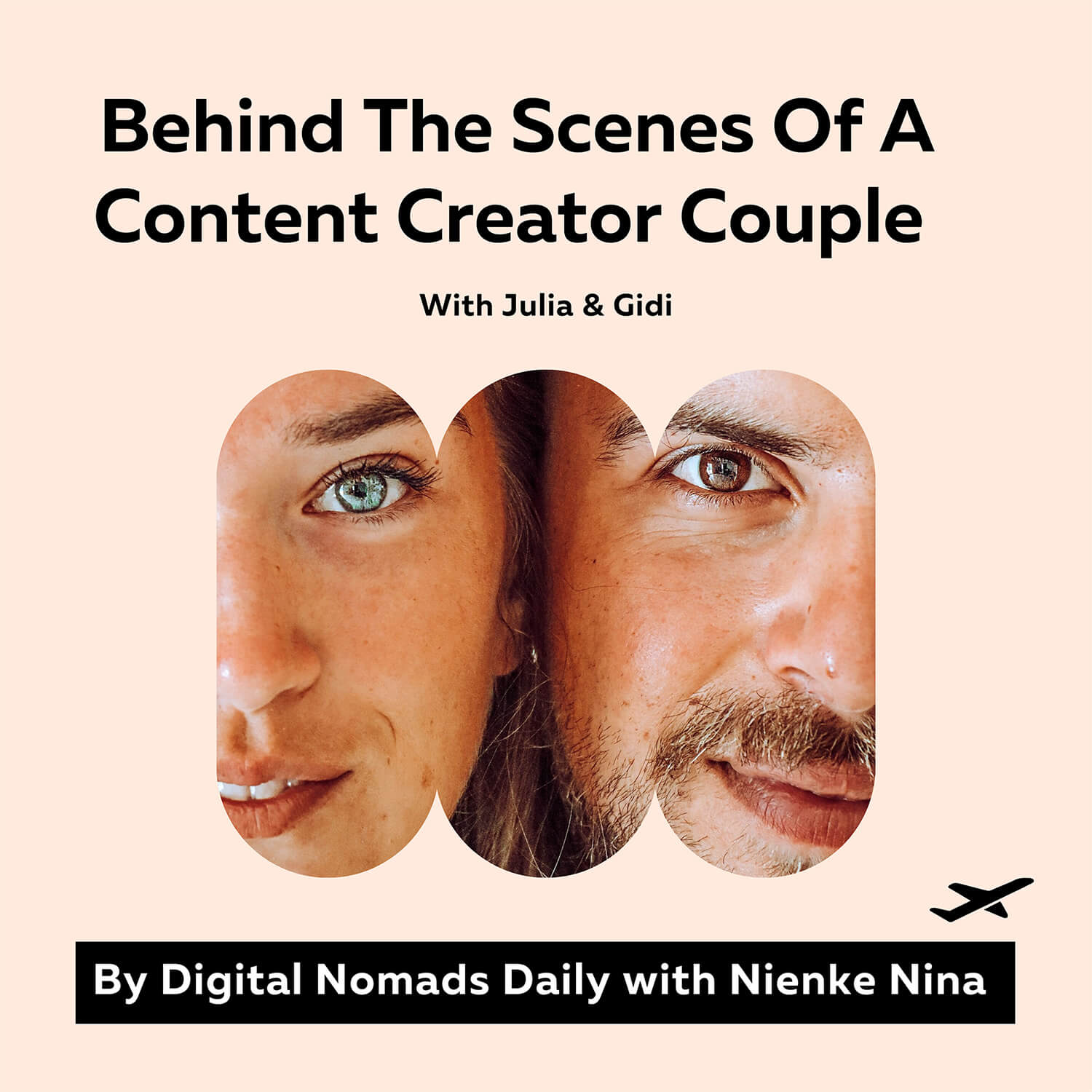 31: Behind The Scenes Of A Content Creator Couple With Julia & Gidi
Have you ever thought of traveling the world with your partner? Digital nomad couple Julia & Gidi turned their skills and passion into their dream life and are currently traveling the world as content creators. In this episode, they talk about their journey and the steps to becoming a digital nomad. We also dive deep into living the digital nomad lifestyle as a couple and they share helpful tips about maintaining a healthy relationship while traveling. Get life advice from this inspiring entrepreneurial couple and learn how to start your content creator travel journey.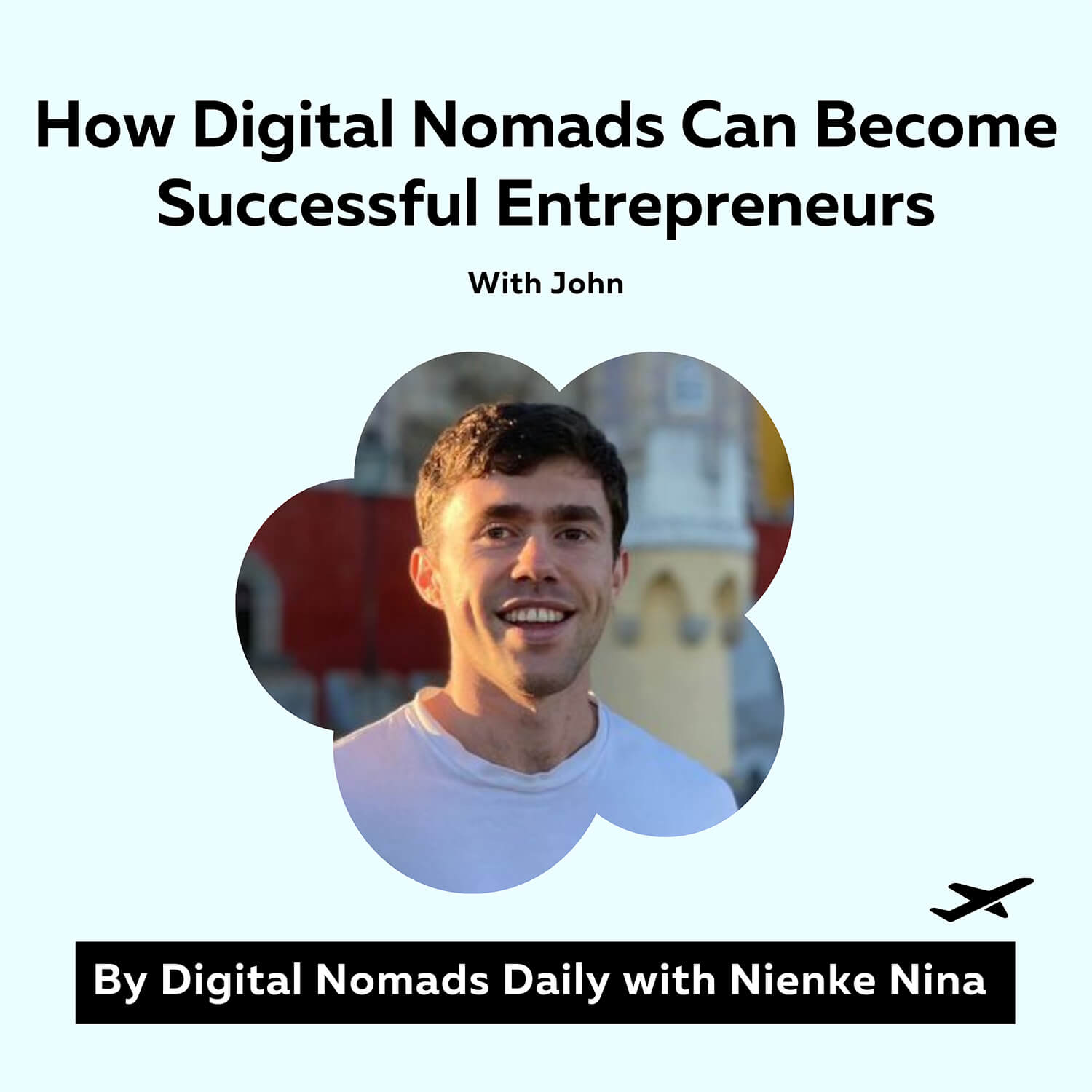 28: How Digital Nomads Can Become Successful Entrepreneurs With John
Get ready for an episode with digital nomad entrepreneur John. He started his journey dreaming of a career in crypto trading but quickly realized that getting a sustainable income would be tough so instead, he focused on copywriting. His career kicked off by accepting low-paying projects but today, he is running a 5-people content agency specializing in crypto and fintech. In this episode, he shares success methods for building his business from scratch. We love John's fresh perspective on becoming a successful entrepreneur and if you're a digital nomad entrepreneur, freelancer or have a side hustle – make sure to listen to this episode.
Go to this episode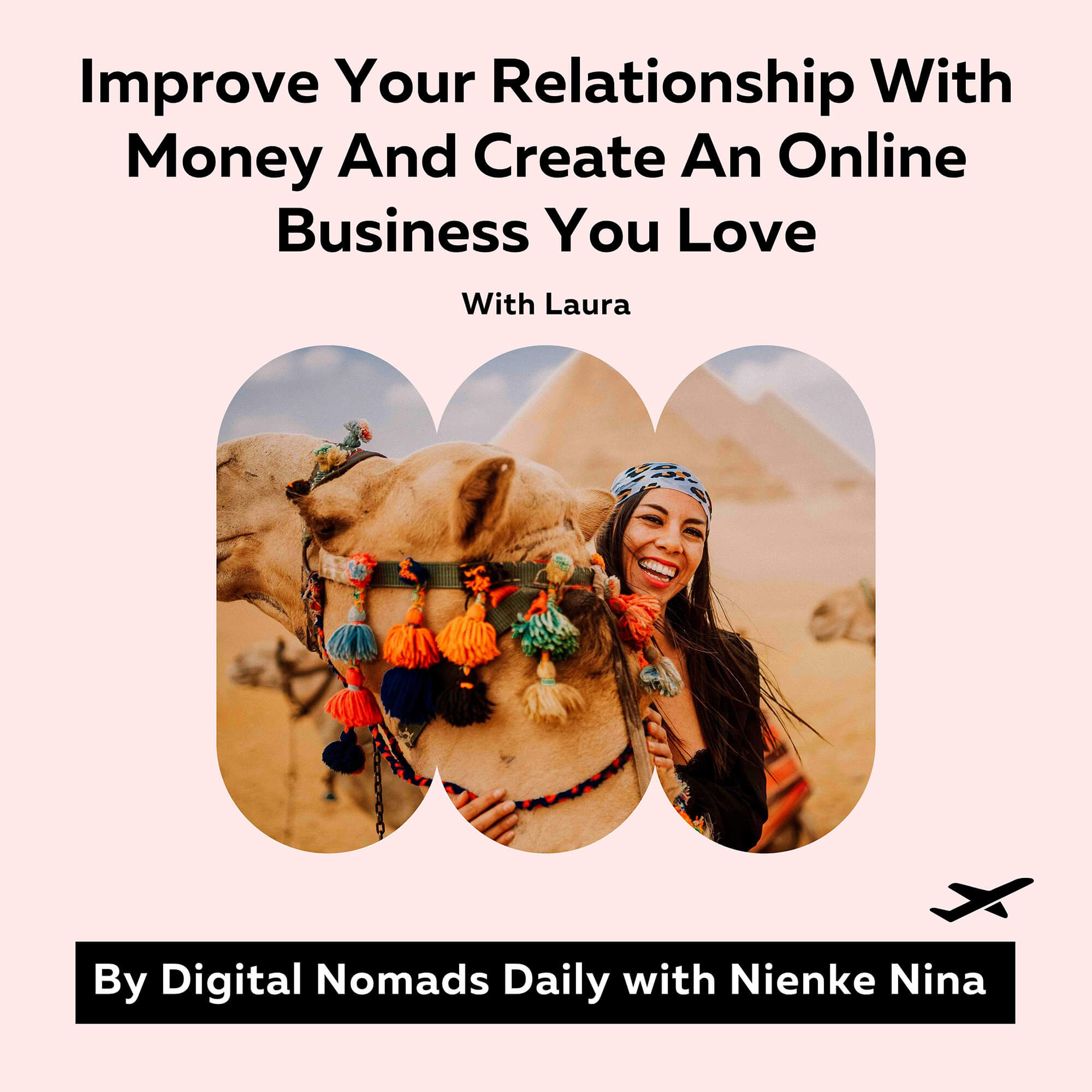 27: How To Improve Your Relationship With Money And Create An Online Business You Love With Laura
Building a business from scratch is challenging, especially if your relationship with money doesn't speak confidence. Digital nomad entrepreneur Laura takes us on her journey from making money as an online English teacher to running a 5-figure business. In this episode, we dive deep into what she did to shift her mindset so she could build a business she loves and hit her financial goals and beyond. Get ready for digital nomad insider tips and an exploding of high energy and motivation.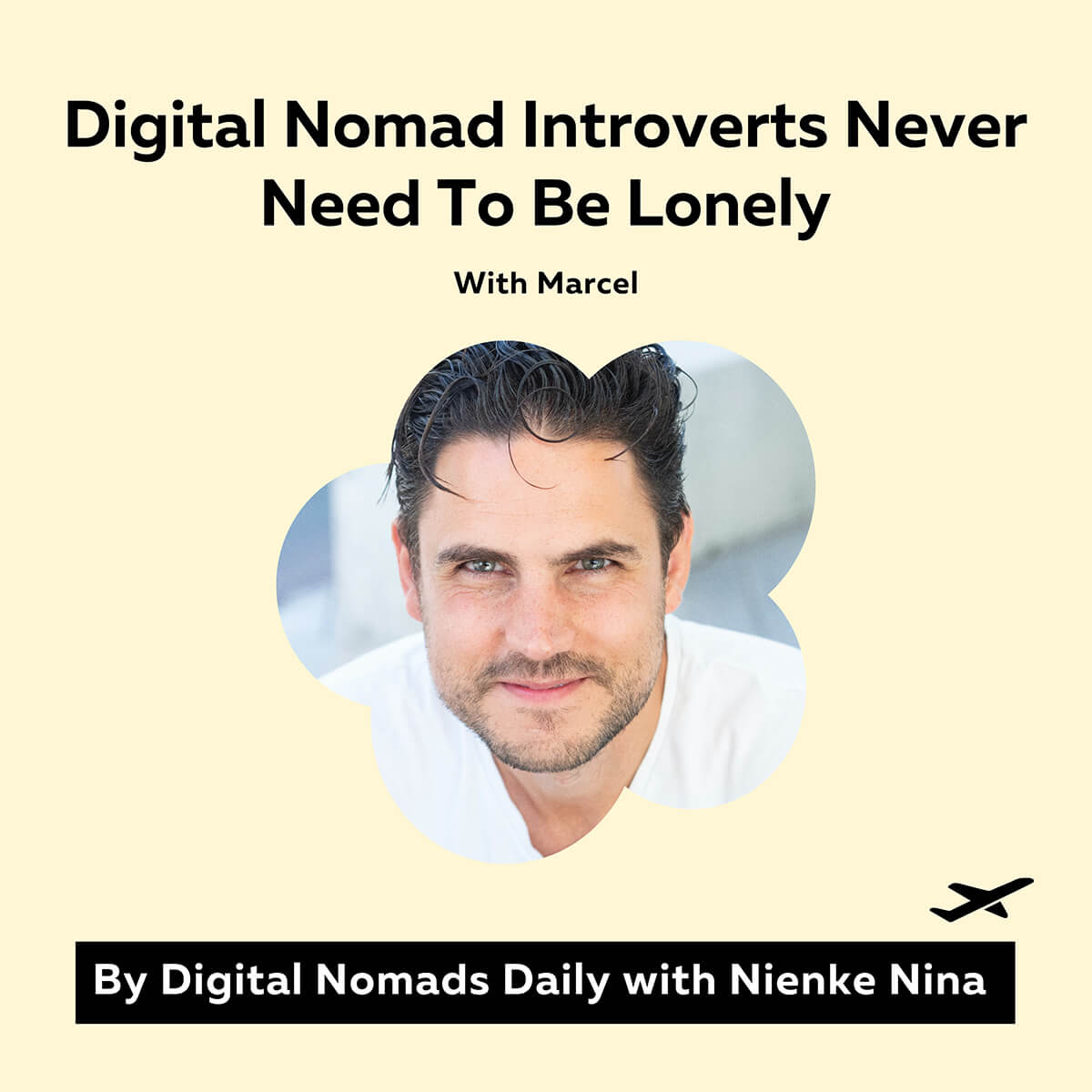 26: Digital Nomad Introverts Never Need To Be Lonely With Marcel
Wondering how traveling introverts make meaningful connections all around the globe? Marcel started his digital nomad lifestyle in 2016 and fully transitioned into a full-time digital nomad in 2019. He identifies himself as an introvert and shares his story about how he built a global community for himself. This episode talks about his biggest learnings in overcoming typical digital nomad challenges such as loneliness. We also dive into hacks on how to create new friendships and overcome shyness. So if you want to make meaningful connections with like-minded people this episode is for you!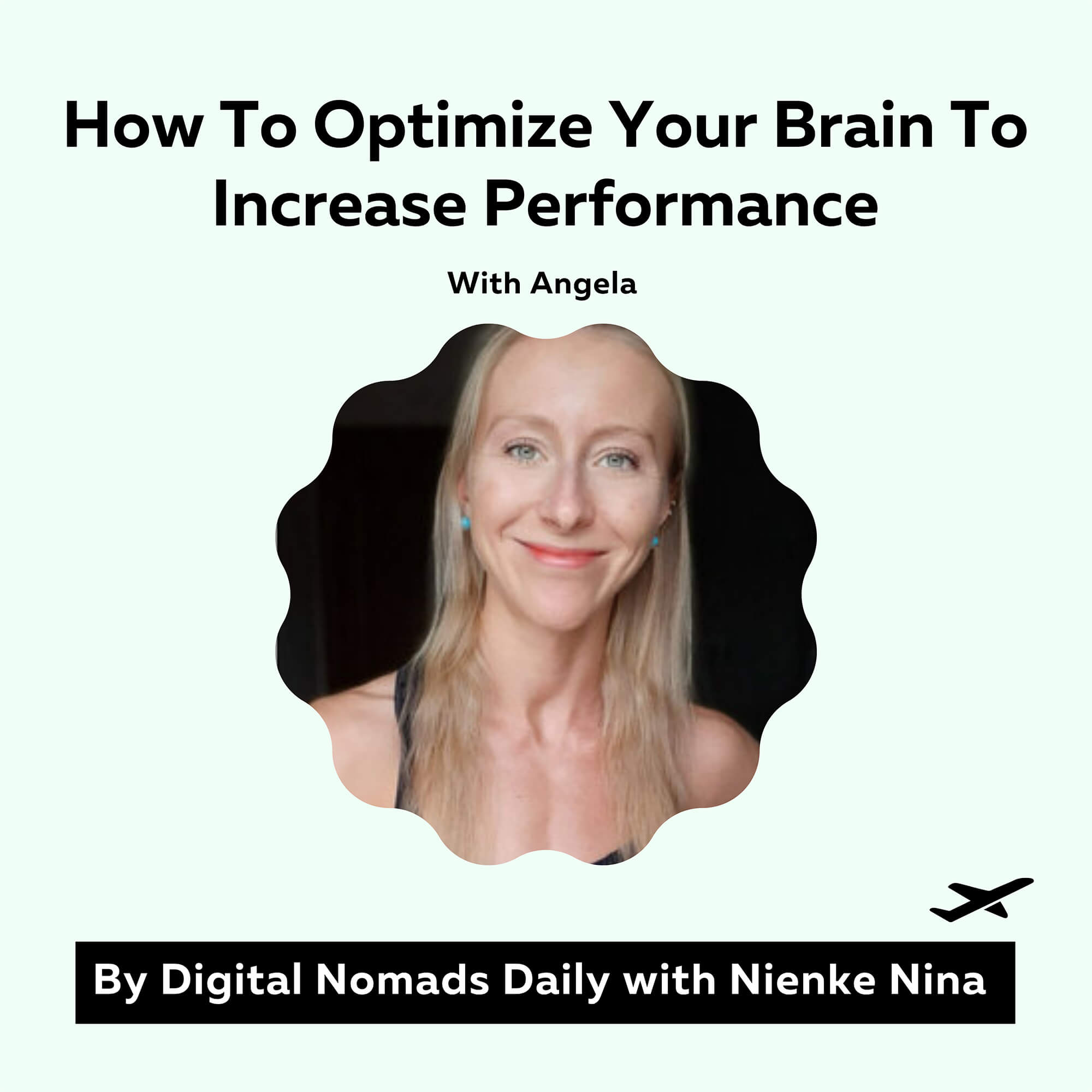 25: How To Optimize Your Brain To Increase Performance with Angela
Digital nomads face many small uncertainties and must always make decisions. Think about where to go next, from finding your home to creating a new workspace. With so many changes this lifestyle can be challenging. Still, there are ways to decrease the feeling of being overwhelmed. Hence, you get to live the digital nomad lifestyle with more confidence. In this episode, digital nomad and brain performance coach, Angela, shares how digital nomads and entrepreneurs can improve their brains and feel their best selves every day. She shares simple brain hacks from routines to nutrition that are super beneficial for those who travel and work from anywhere.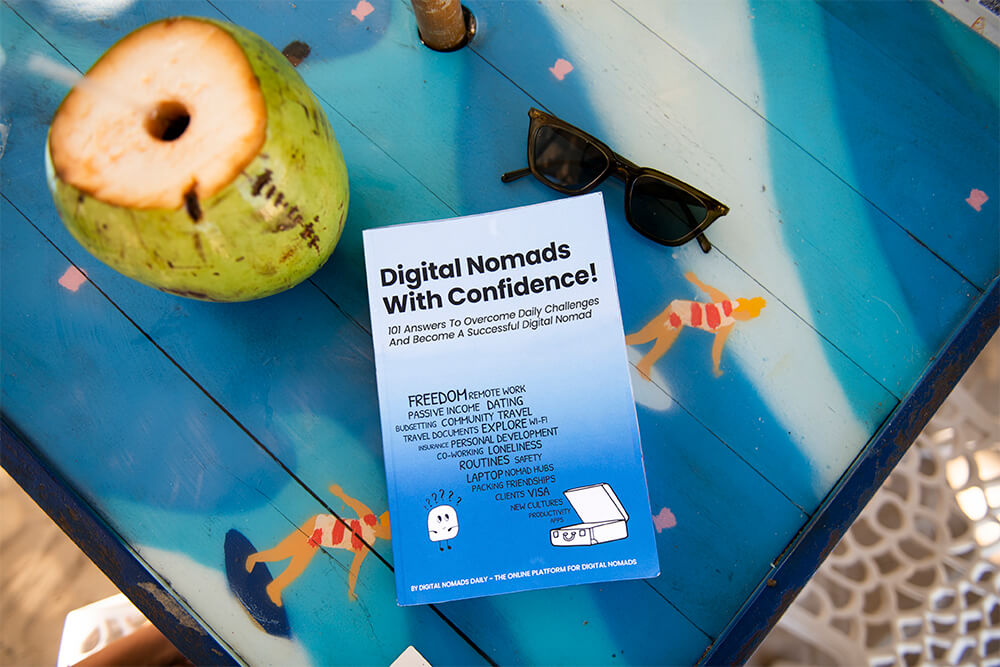 The newest digital nomad book is now availble!
Learn from 22+ experienced digital nomads how to live a successful digital nomad lifestyle with confidence! This book covers 101 typical questions digital nomad freelancers, remote workers and online entrpreneurs have.