The podcast for digital nomads.
Life advice and unfiltered stories from experienced digital nomads who share how to live the digital nomad lifestyle and working remotely successfully.
Share our podcast on your favorite channels 💬

Listen to the newest episode:
39: The 5 misconceptions of the digital nomad lifestyle with Charlie
Digital nomad Charlie only dipped her toes into the digital nomad lifestyle a couple of months ago. She started her journey with a remote job and enjoyed the perks of steady income while living in one of the most popular digital nomad hubs, Bali. While working online and traveling looks so glamorous on Instagram. Charlie experienced the first typical misconceptions like finding the right balance between having fun and staying productive and working across different time zones. After she quit her remote job, new challenges crossed her path. In this episode, we chat about these and more challenges and what she does to tackle them. Get ready for a reality check and behind-the-scenes episodes with Charlie!
Explore all episodes about how to become a digital nomad, overcome your fears and start your nomad remote life today.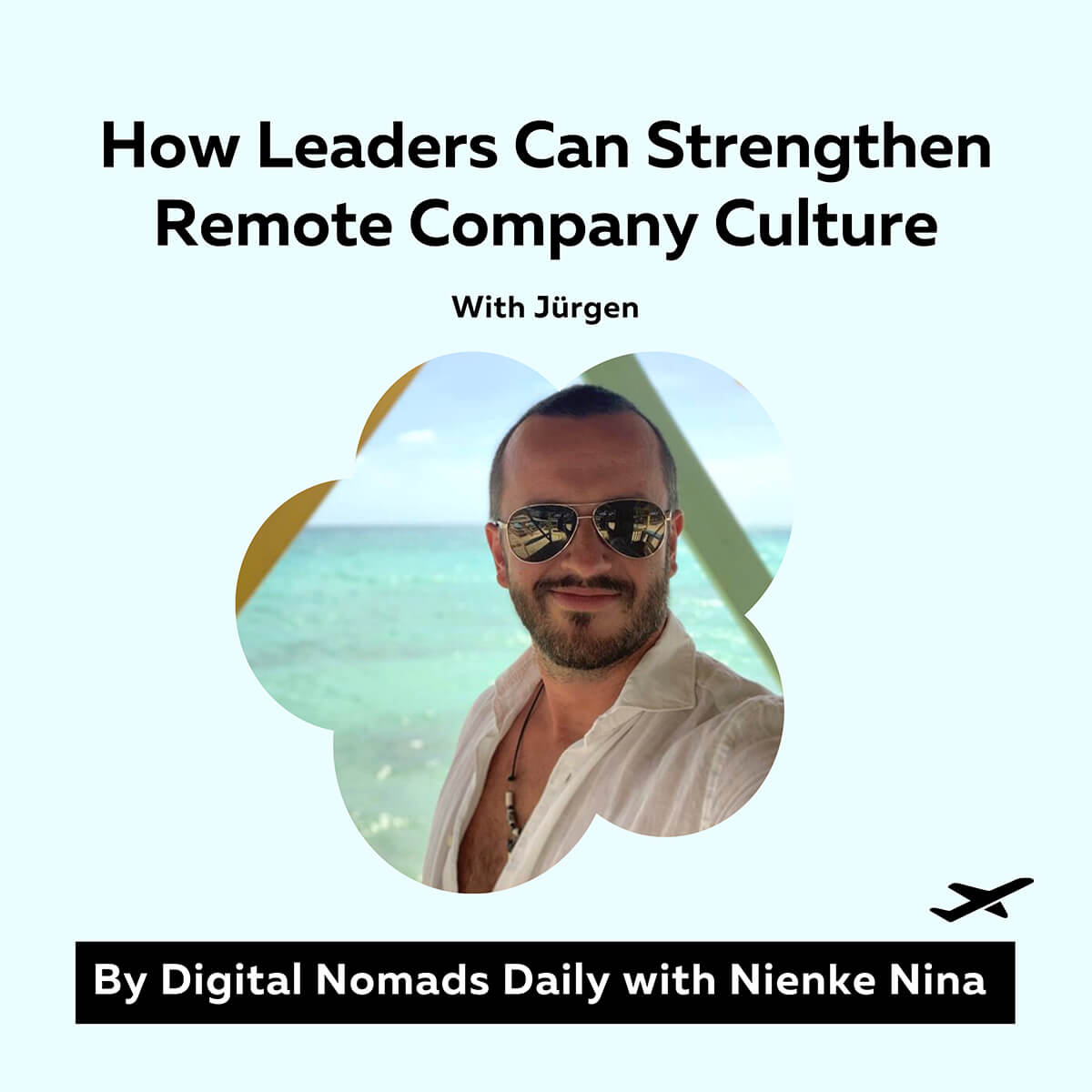 38: How Leaders Can Strengthen Remote Company Culture With Jürgen
How to create a remote-friendly company and lead digital nomads? In this week's episode, we answer these questions with entrepreneur and startup founder Jürgen Pretsch. He has been nomadding for over six years and has experience leading teams remotely. He is launching his new startup Shap and his entire team is working remotely. We go deep into leadership skills for remote organizations, build trust and talk about how leaders and employees can deal with micro-management. Jürgen sees the remote lifestyle as a mindset. It requires a lot of trial and error to be successful in your personal and work life, so experimenting and having conversations with your people are key. Tune in for an inspiring episode for all digital nomads, leaders and entrepreneurs.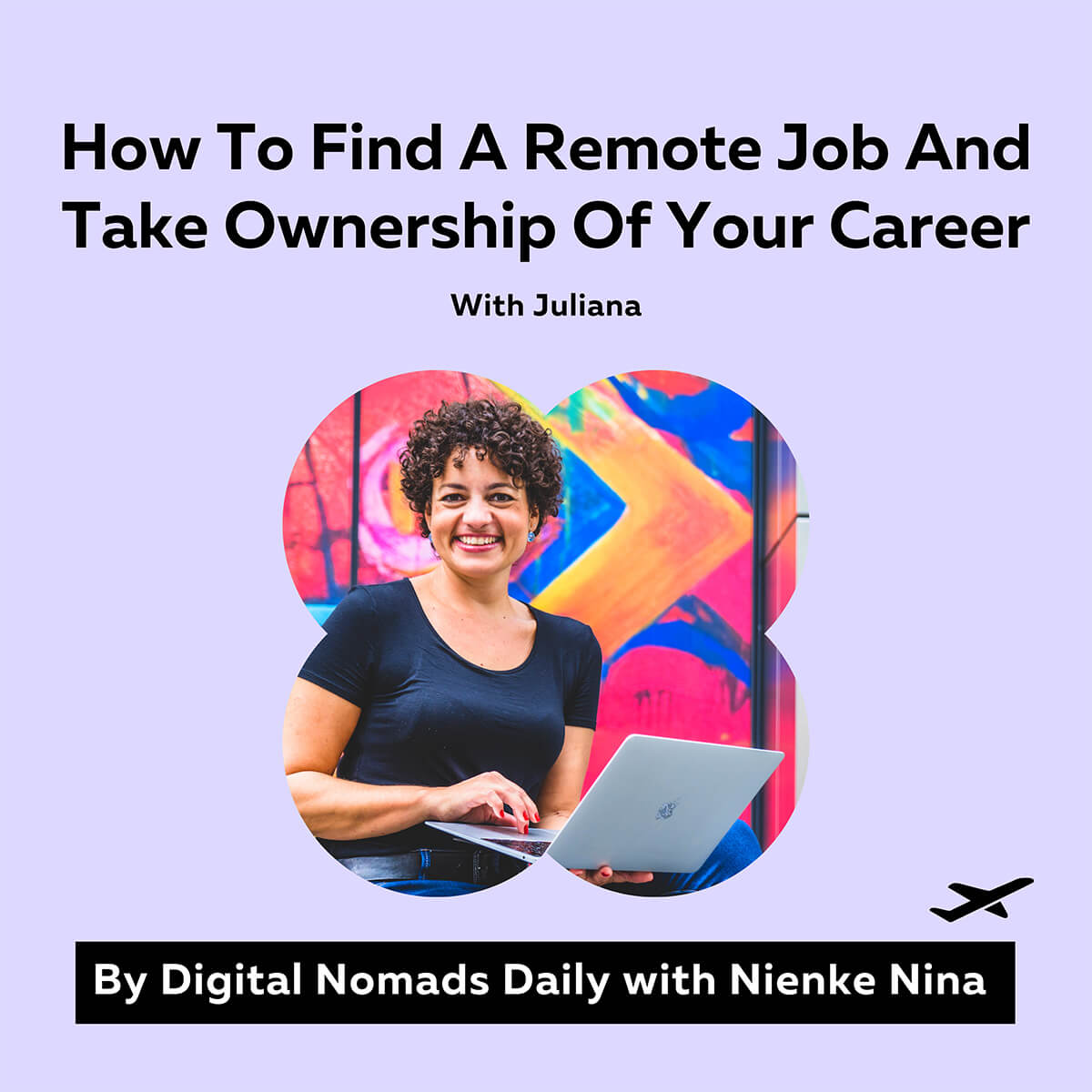 37: How To Find A Remote Job And Take Ownership Of Your Career With Juliana
More people want to work remotely but finding a remote job isn't easy. In this episode, career coach Juliana shares how to find a remote job matching your values and land a job faster. Juliana is an experienced recruiter and knows what companies look for. Today she helps job seekers to take ownership of their careers by providing guidance and tools to land their dream job. She shares some of job seekers' most common mistakes and how to avoid them. So if you're looking for a remote job or shifting careers, make sure to tune in!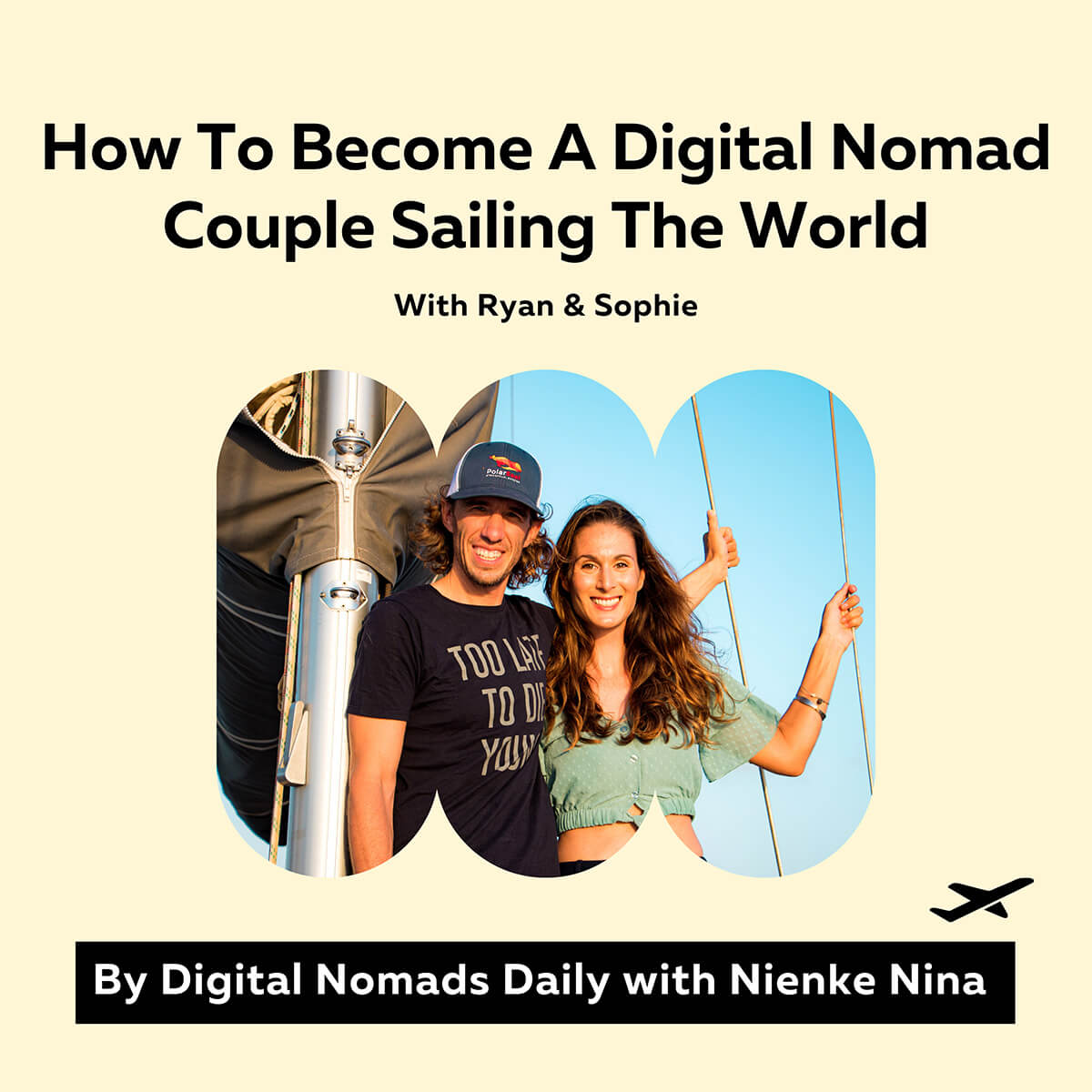 36: How To Become A Digital Nomad Couple Sailing The World
This week we have a nomadic tinder love story on the podcast! Shortly after Ryan and Sophie met, they left their corporate lives behind and bought a sailboat to kick off their journey and become a digital nomad couple sailing the world. Fun fact, the couple did not know how to sail and had to learn everything from scratch. In this episode, we talk about the daily challenges of digital nomad couples and what their day-to-day life looks like. While the digital nomad lifestyle and the boating life look glamorous online, the couple shares what it truly takes to become a successful digital nomad couple. Tune in for life advice for digital nomad couples and enjoy an episode full of tips and funny stories!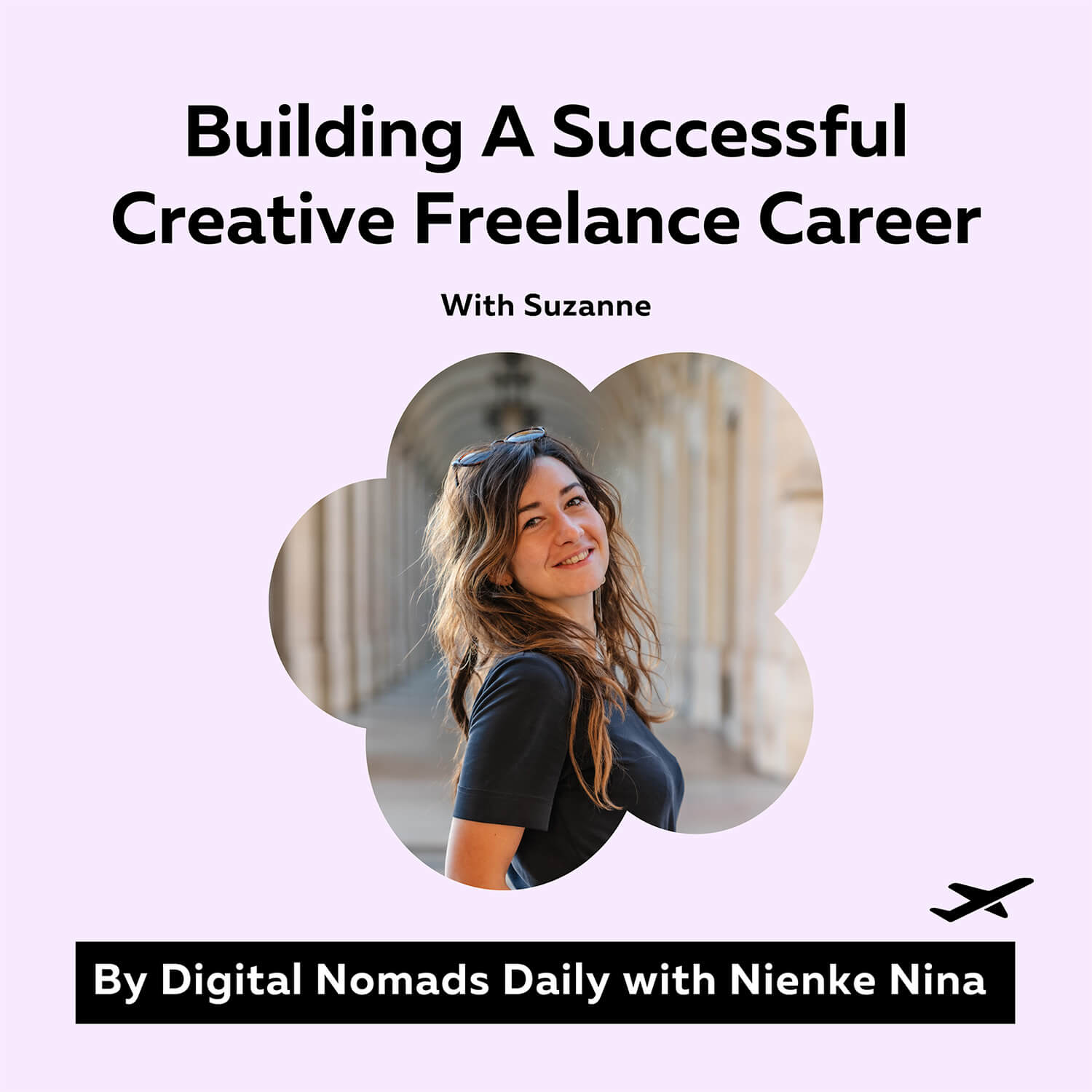 35: Building A Successful Creative Freelance Career With Suzanne
Suzanne is a creative entrepreneur who has traveled the world for five years. Today she's talking with us from her home country the Netherlands about how she successfully built her freelance career as a creative. Suzanne has seen many difficulties in this process, but she overcame these challenges and shares helpful tips for digital nomads and creative freelancers. We cover behind-the-scenes insights about Suzanne's freelancing journey like how to find clients, tips for networking as a nomad and tips to get the most out of co-working spaces. Tune in for an episode full of tips and inspiration for digital nomads.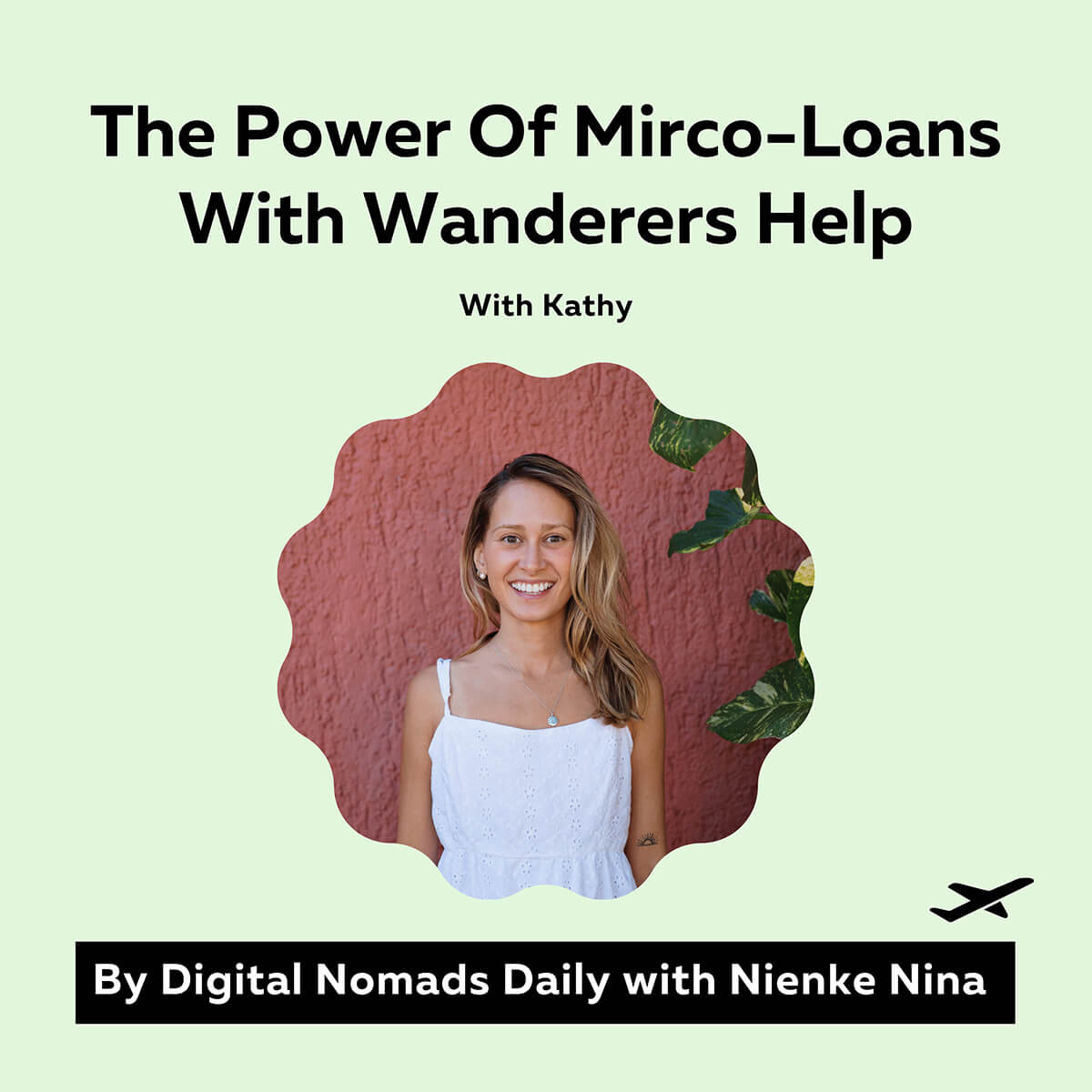 34: The Power Of Mirco-Loans With Wanderers Help
Tune in to listen to an inspiring episode with Kathy. She is known as the tax consultant of the digital nomad community and the founder of Wanderers Wealth. Kathy shares her inspiring travelpreneur success story and how she gives back to a local community in Uganda. Together with a team of experts they build a project that provides micro-loans to help local small business owners, think about farmers or motor taxis. But this is not a new thing for her; the idea of helping others has always been present in Kathy's life and after working for years, her dream project is finally a reality. Don't miss out on this episode full of inspiration and how you can make a contribution as a digital nomad.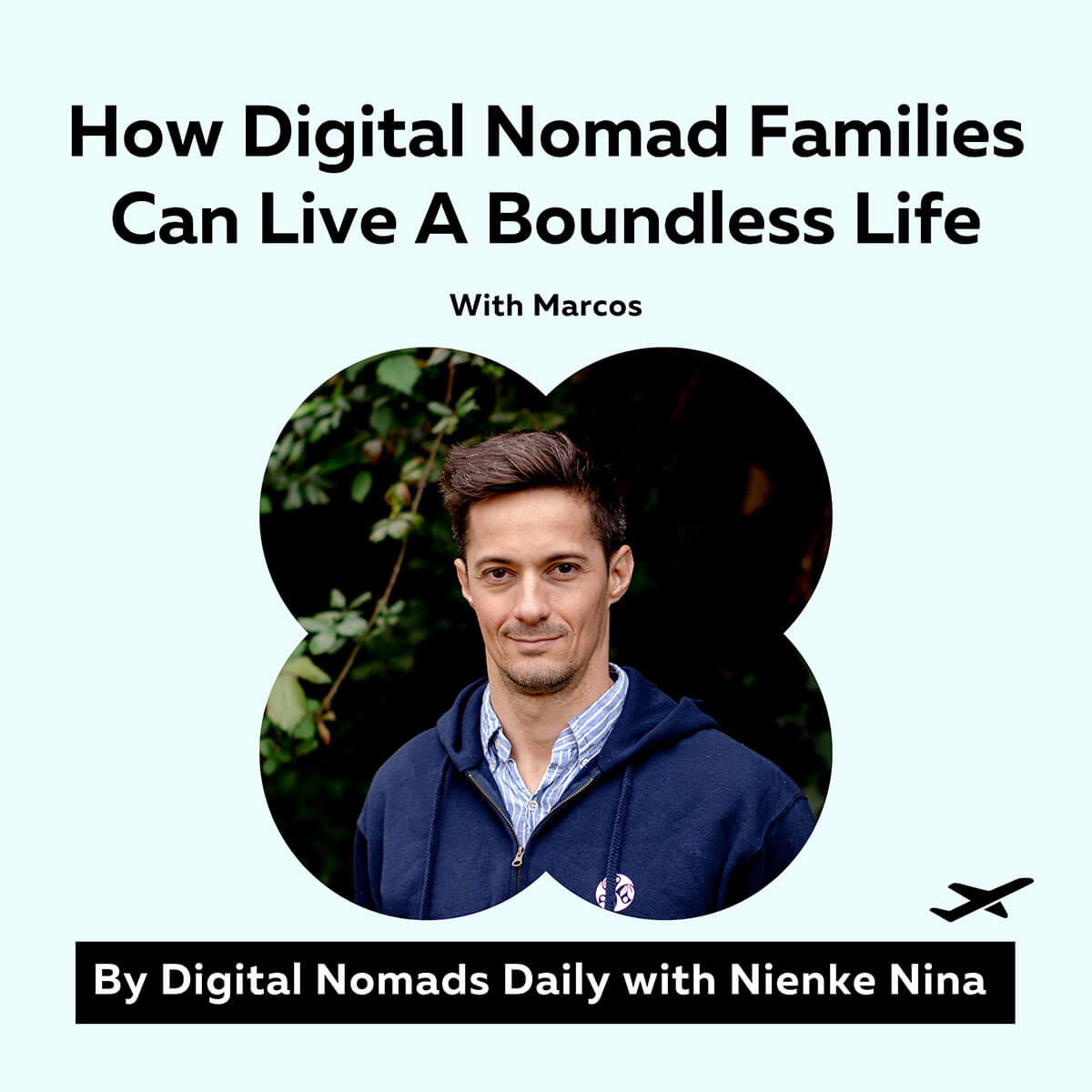 33: How Digital Nomad Families Can Live A Boundless Life With Marcos
World citizen and entrepreneur Marcos Carvalho shares his story and the mission of one of the many companies he has co-founded, Boundless Life. It's a purpose-driven initiative helping digital nomad families to overcome the practical obstacles of the digital nomad lifestyle. Boundless Life organizes cohorts across the globe and offers a combination of traveling, co-working and transformative education. If you are a digital nomad family and want to live a well-balanced lifestyle and connect with like-minded families, or think about your future family life, this is your episode!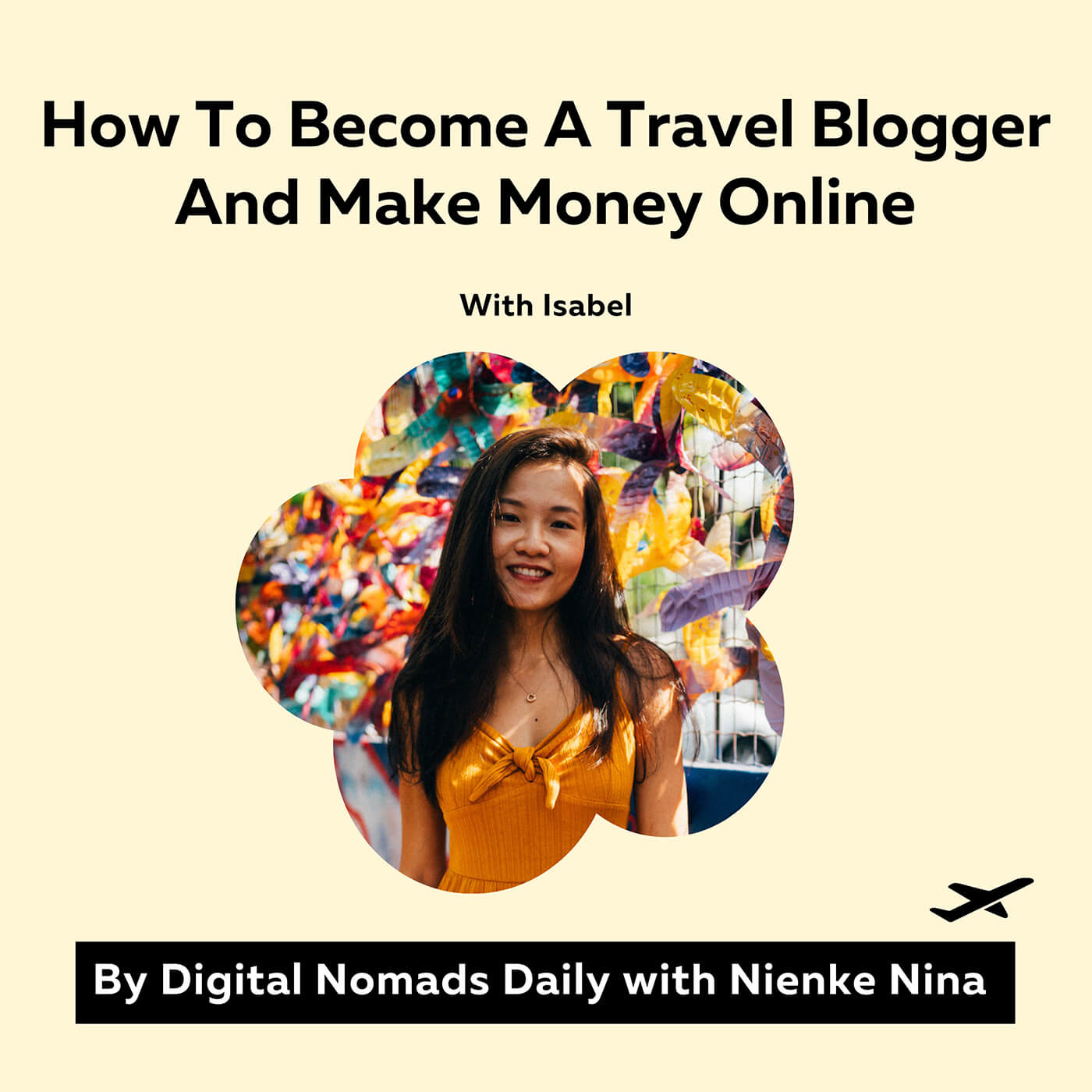 32: How To Become A Travel Blogger And Make Money Online With Isabel
Have you ever dreamed of blogging about what you see, what you eat, the culture of the country and all your experiences while traveling the world? Travel blogger Isabel started her blog as a hobby and transformed it into a money-making machine that let her continue to travel the world. In this episode, she talks about her travel blogging journey and becoming a digital nomad. We dive into her daily life and answer questions like how her blog makes money, finding the right balance between adventure and work and what it takes to become a successful travel blogger. She shares tons of tips for aspiring content creators and digital nomads! Don't miss out on an exciting conversation about this dream lifestyle!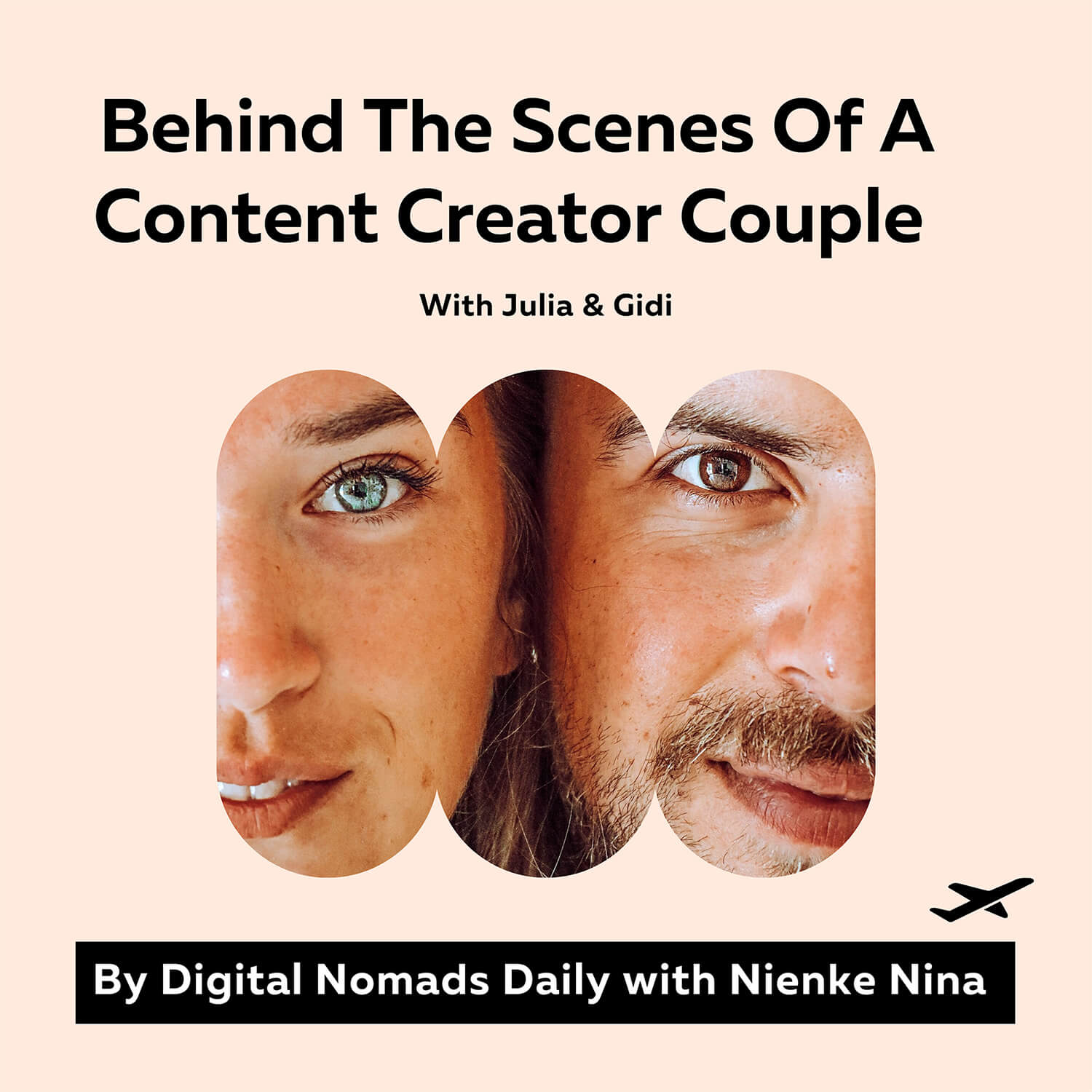 31: Behind The Scenes Of A Content Creator Couple With Julia & Gidi
Have you ever thought of traveling the world with your partner? Digital nomad couple Julia & Gidi turned their skills and passion into their dream life and are currently traveling the world as content creators. In this episode, they talk about their journey and the steps to becoming a digital nomad. We also dive deep into living the digital nomad lifestyle as a couple and they share helpful tips about maintaining a healthy relationship while traveling. Get life advice from this inspiring entrepreneurial couple and learn how to start your content creator travel journey.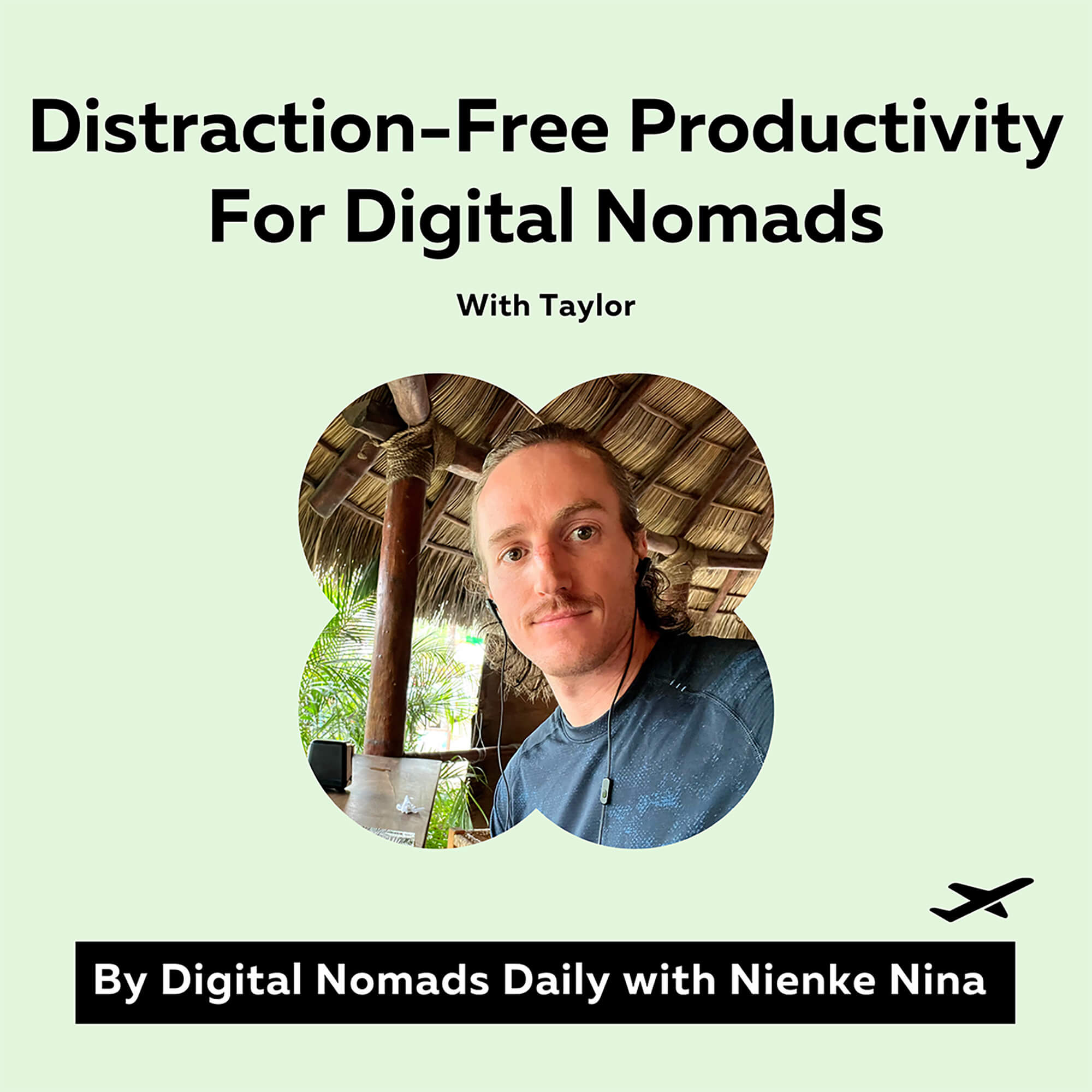 30: Distraction-Free Productivity For Digital Nomads With Taylor
We love the digital nomad lifestyle but with so many distractions around us, it's hard to get yourself into focus mode. Digital nomads aren't on a never-ending holiday so focus is essential for productivity and a successful lifestyle. In this episode, we chat with digital nomad entrepreneur Taylor. He is the Founder & CEO of Focusmate, a virtual coworking that helps you get things done. His own focus and productivity suffered when he started working remotely and he got laid off. Focusmate came on his path as he was solving his own pain point and today thousands of people in 193 countries worldwide sit side-by-side via video to keep each other company and cheer each other on. If you're in for some inspiration and encouragement, make sure to tune in!
Go to this episode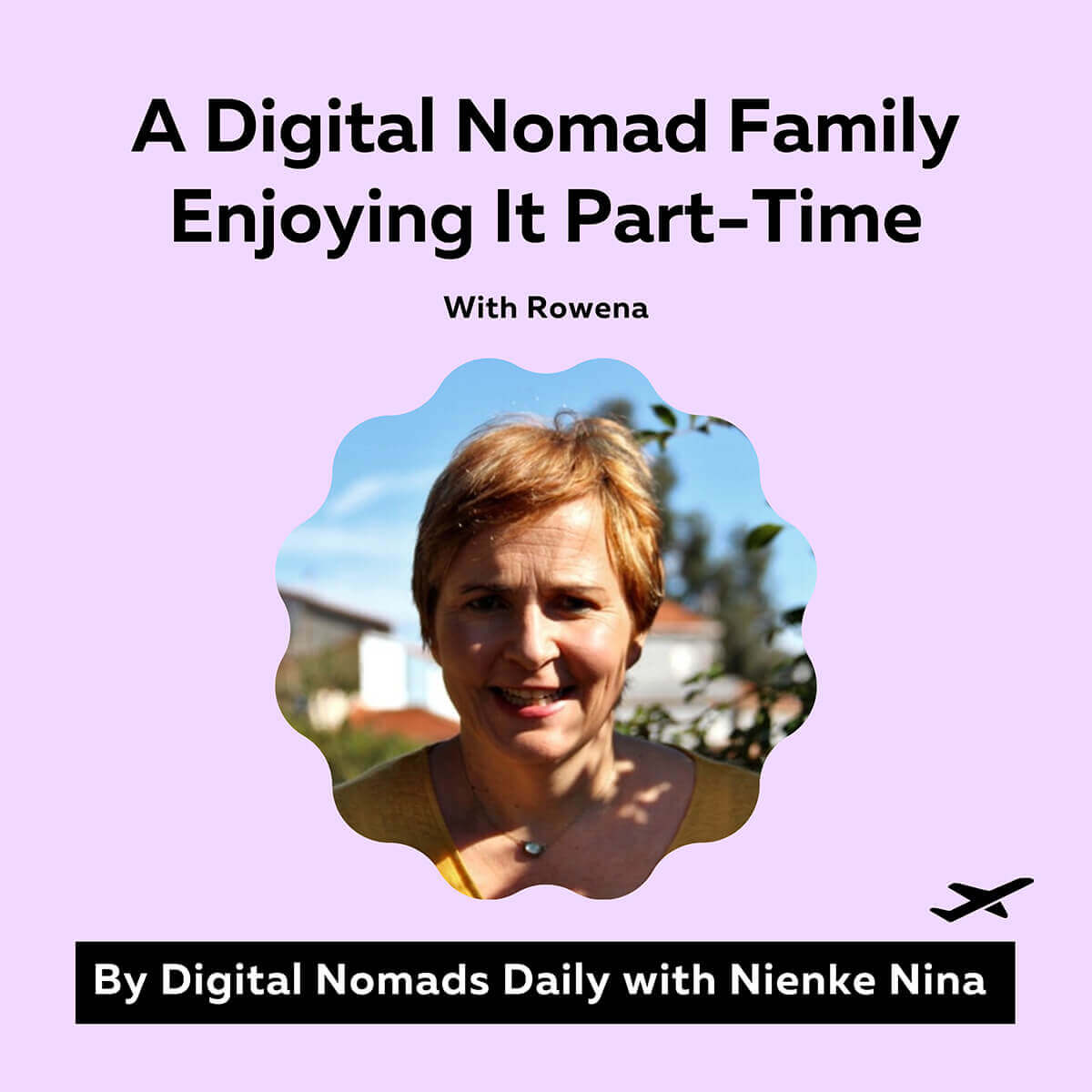 29: A Digital Nomad Family Enjoying It Part-Time with Rowena
This week we speak with digital nomad Rowena Hennigan. She is considered one of the world's experts on remote work and lives the digital nomad lifestyle part-time with her family. Rowena sees remote work as a lifestyle. She is currently talking from Sintra, Portugal, where she is currently staying with a community for digital nomad families called Boundless Life. In this conversation, we talk about the different ways of defining nomadism, how to achieve work-life balance and spending time with your family.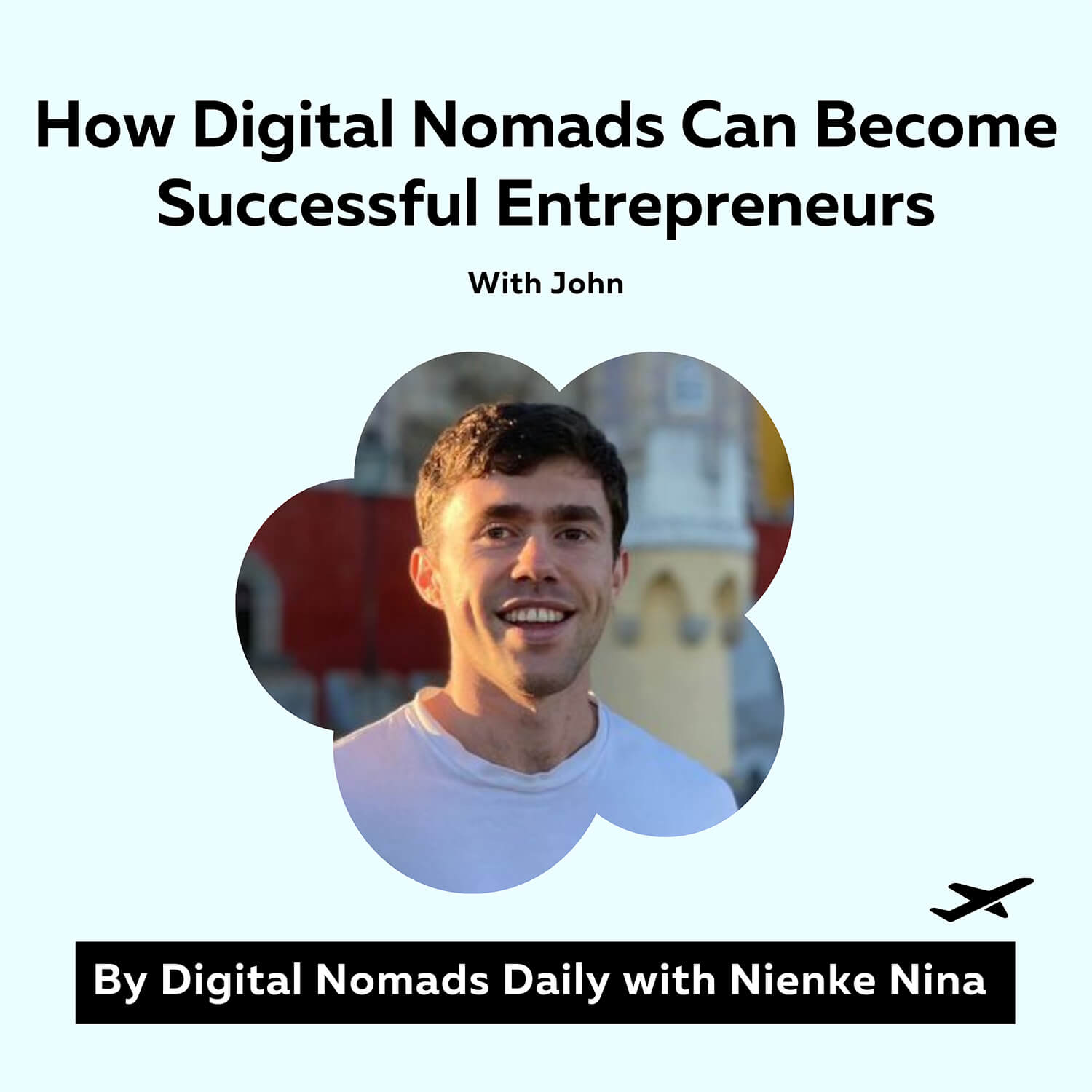 28: How Digital Nomads Can Become Successful Entrepreneurs With John
Get ready for an episode with digital nomad entrepreneur John. He started his journey dreaming of a career in crypto trading but quickly realized that getting a sustainable income would be tough so instead, he focused on copywriting. His career kicked off by accepting low-paying projects but today, he is running a 5-people content agency specializing in crypto and fintech. In this episode, he shares success methods for building his business from scratch. We love John's fresh perspective on becoming a successful entrepreneur and if you're a digital nomad entrepreneur, freelancer or have a side hustle – make sure to listen to this episode.
Go to this episode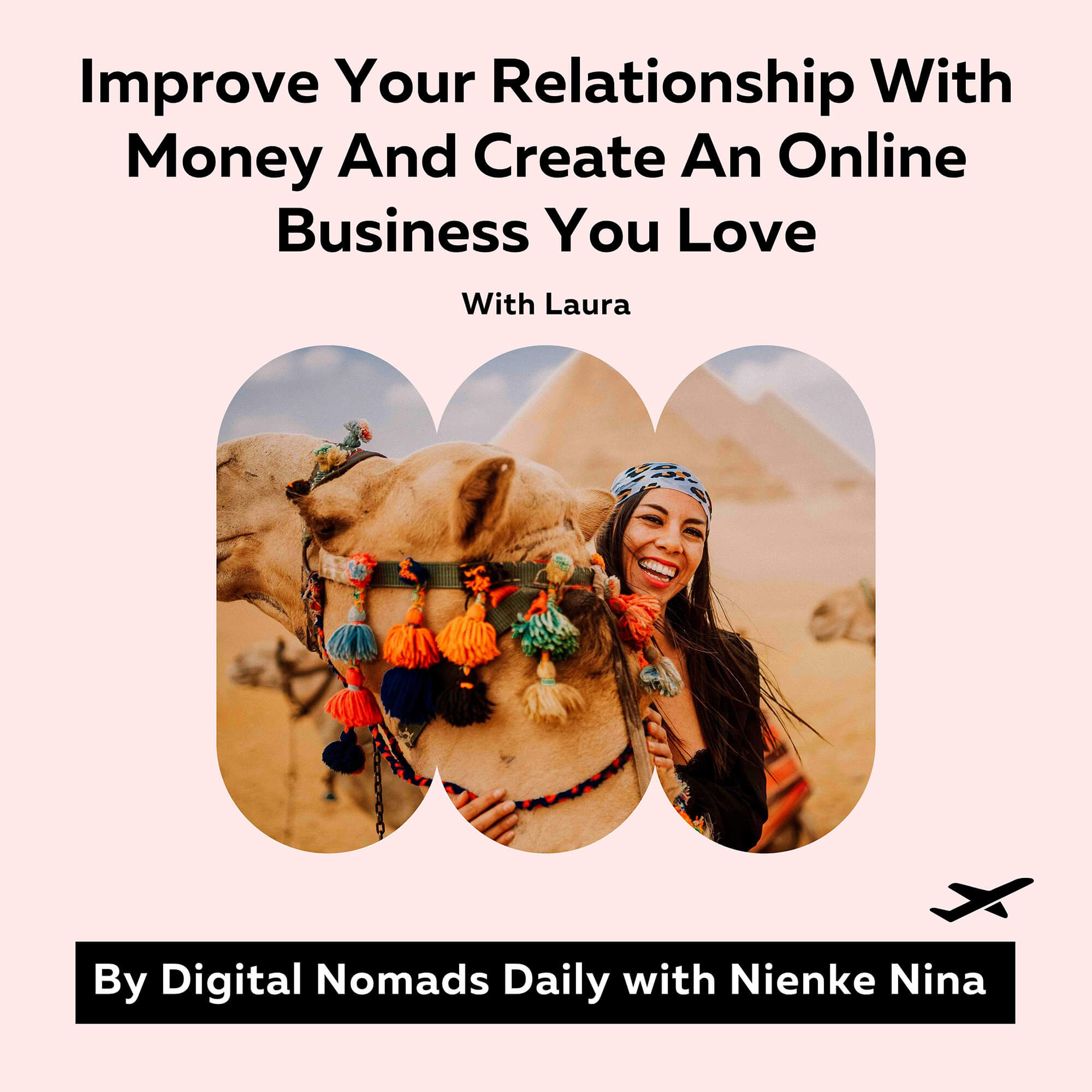 27: How To Improve Your Relationship With Money And Create An Online Business You Love With Laura
Building a business from scratch is challenging, especially if your relationship with money doesn't speak confidence. Digital nomad entrepreneur Laura takes us on her journey from making money as an online English teacher to running a 5-figure business. In this episode, we dive deep into what she did to shift her mindset so she could build a business she loves and hit her financial goals and beyond. Get ready for digital nomad insider tips and an exploding of high energy and motivation.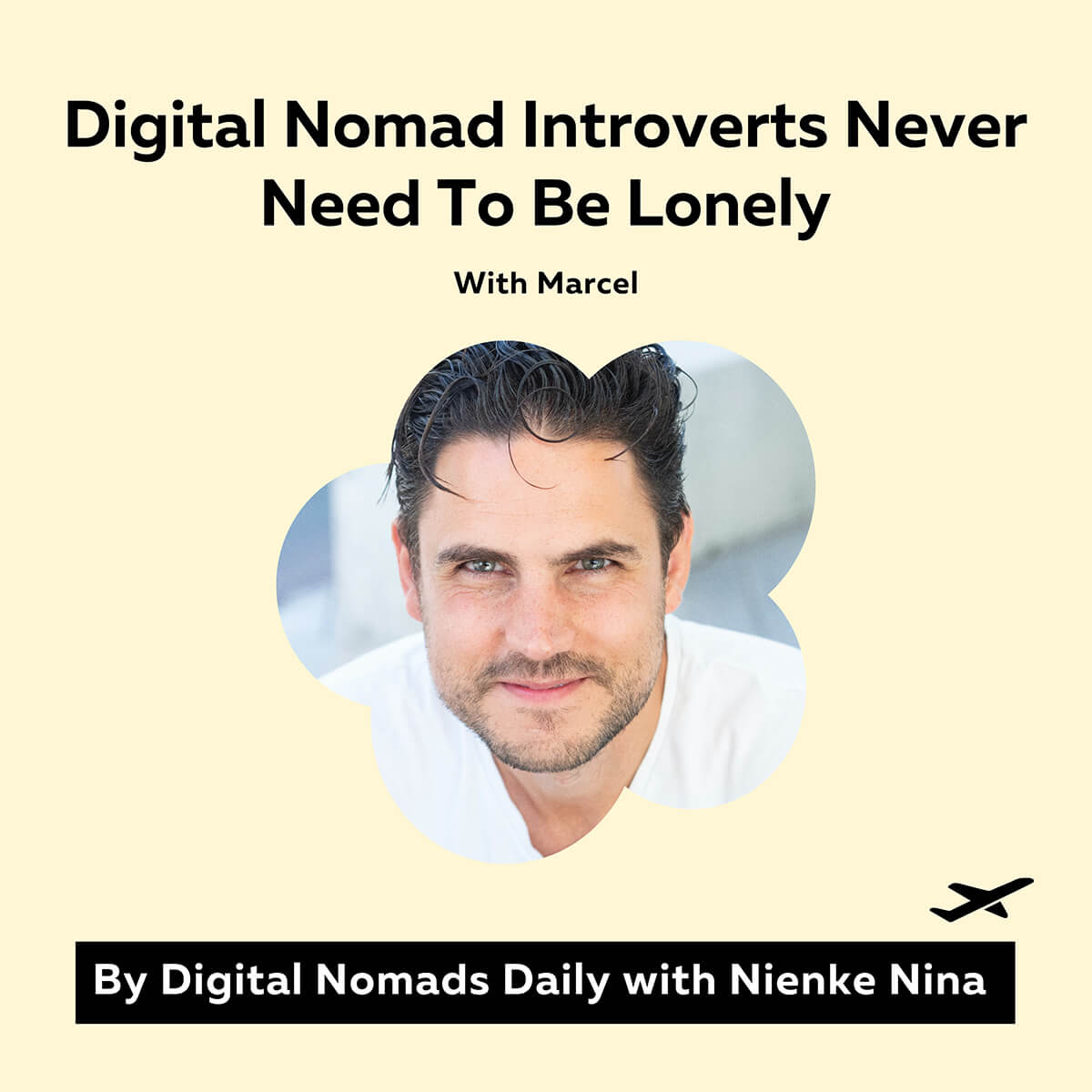 26: Digital Nomad Introverts Never Need To Be Lonely With Marcel
Wondering how traveling introverts make meaningful connections all around the globe? Marcel started his digital nomad lifestyle in 2016 and fully transitioned into a full-time digital nomad in 2019. He identifies himself as an introvert and shares his story about how he built a global community for himself. This episode talks about his biggest learnings in overcoming typical digital nomad challenges such as loneliness. We also dive into hacks on how to create new friendships and overcome shyness. So if you want to make meaningful connections with like-minded people this episode is for you!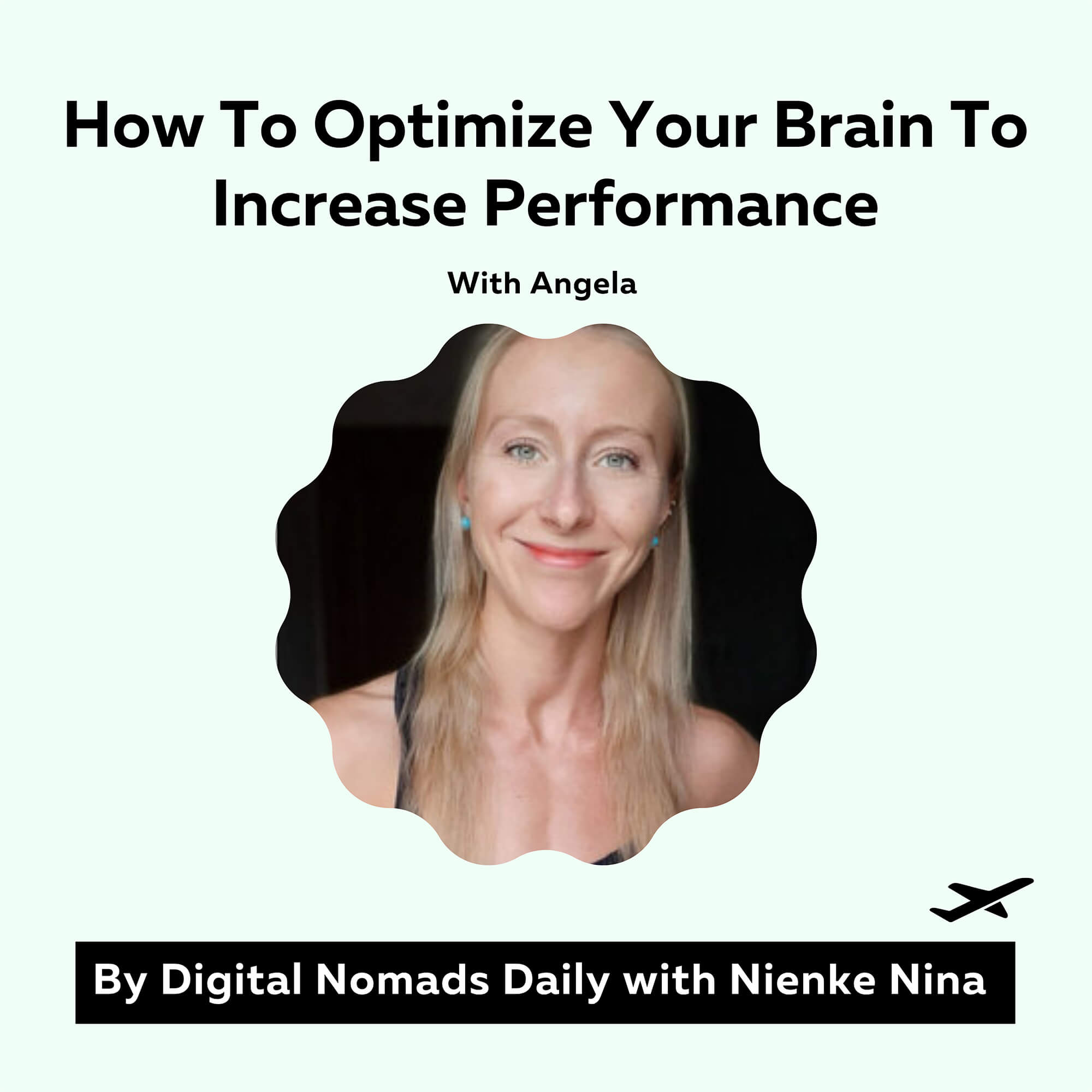 25: How To Optimize Your Brain To Increase Performance with Angela
Digital nomads face many small uncertainties and must always make decisions. Think about where to go next, from finding your home to creating a new workspace. With so many changes this lifestyle can be challenging. Still, there are ways to decrease the feeling of being overwhelmed. Hence, you get to live the digital nomad lifestyle with more confidence. In this episode, digital nomad and brain performance coach, Angela, shares how digital nomads and entrepreneurs can improve their brains and feel their best selves every day. She shares simple brain hacks from routines to nutrition that are super beneficial for those who travel and work from anywhere.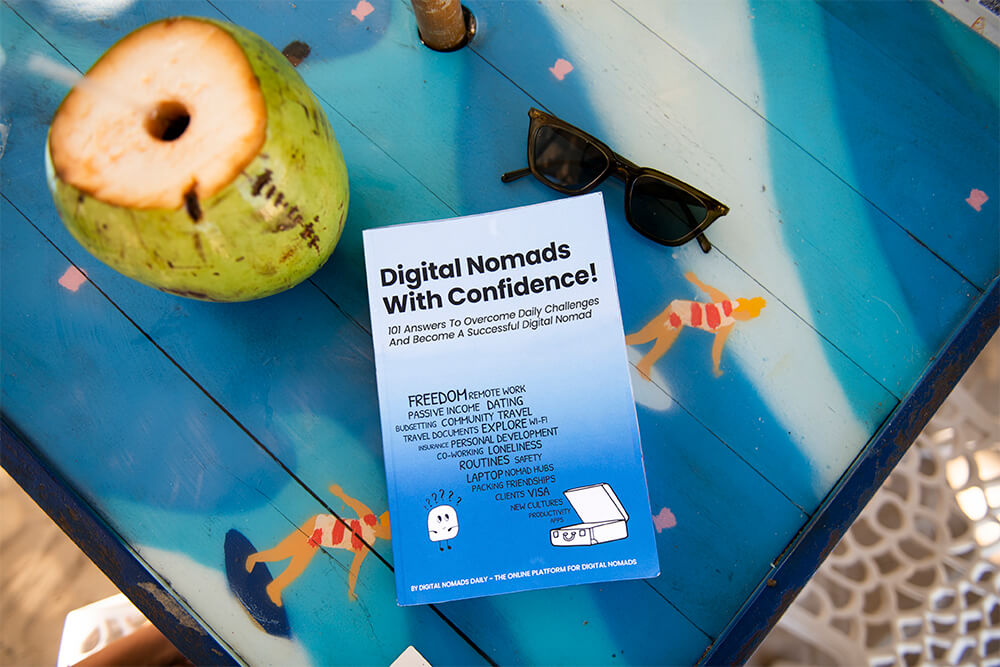 The newest digital nomad book is now availble!
Learn from 22+ experienced digital nomads how to live a successful digital nomad lifestyle with confidence! This book covers 101 typical questions digital nomad freelancers, remote workers and online entrpreneurs have.