Why digital nomads travel with a Kindle book
As travelers, one of our best activities is reading. We can do it from anywhere at a given time, and it doesn't require an internet connection. The only thing you really need is a great book. Most travelers prefer to travel light and carrying around books isn't very practical. It's almost impossible because of the weight. This is why every nomad should have a Kindle book.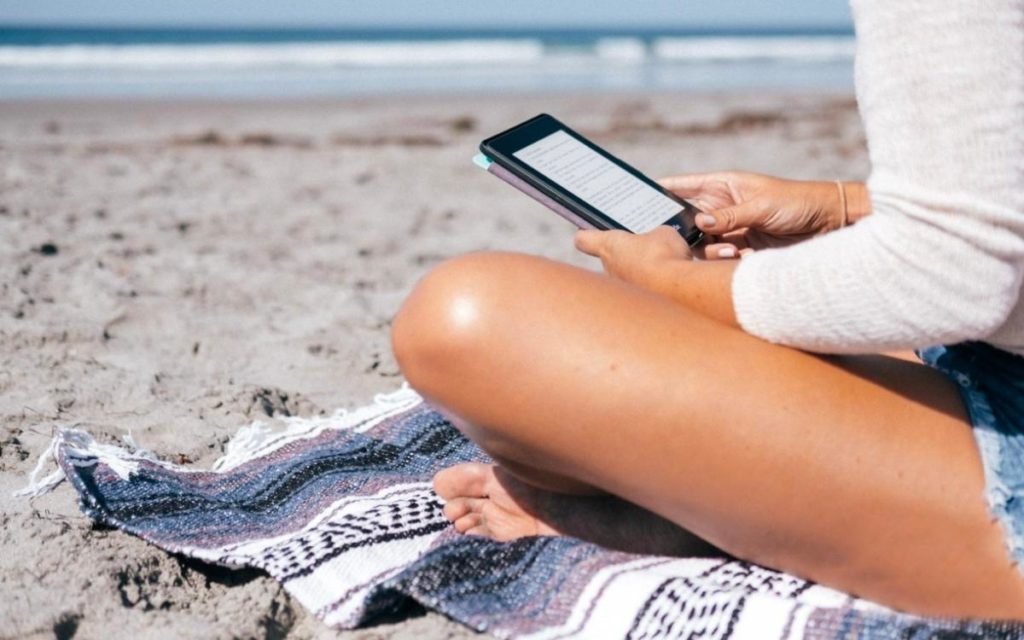 Digital nomads love kindle books
We love paper books and holding a book, that familiar smell, and flipping the pages – it feels like no other. As you move around, you will realize the hassle of carrying books around. Perhaps you find free books in hostels to borrow but you will never have certainty of reading the books you love. Eventually, this will make you lose interest in reading and completely give up reading.
The Kindle books library enables digital nomads to read all kinds of books whenever they want without caring about the extra weight!
Easy to set up and buy, with an intuitive use
Setting the Kindle up is as simple as possible. Sign in with your Kindle Amazon account, and it's ready to use. Connecting to any WI-FI network is effortless and fast, and in the Amazon library on your Kindle, you will find thousands of books. Select books from bestsellers to timeless books in any genre. The library also shows reviews, ratings, and suggestions of books written by the same author and the average time spent reading. You can get books directly on your device with only a couple of clicks, and the price of a kindle book is much lower than a paperback book.
Lightweight and storage
Digital Nomads usually have every gram and inch of their luggage planned out. The best advantage of a Kindle is that it's lightweight and easy to carry around. It's like traveling with a library the size and weight of a card deck.
The Kindle screen isn't harmful to your eyes
Working crazy hours and being behind the screen all the time isn't healthy for your eyes. The Kindle books don't have an LCD screen and are less harmful to your eyes. Instead, they use a display that's broadly described as e-paper and quite comfortable. It also allows you to read for a more extended period, not interfering with your sleeping patterns.
The screen's brightness is adjustable to your needs and you can adapt it today and add a night light. Another benefit is the adjustable font size which is a great feature when your eyes are tired, and you still want to read for a little while.
Amazing battery life
Unlike other electronic devices, one thing that makes the Kindle so unique is its battery life. It lasts for an incredibly long time. Of course, this depends on your reading time. Generally, it goes for 1-3 months. According to Amazon, the battery can last for up to ten weeks with one charge based on the assumption that you read thirty minutes every day.
When the battery dies, even with a five-minute plug, it gives you an hour of reading. You can quickly charge it with any Micro USB cable, which is typical for digital nomads and remote workers to have.
An easy and comfortable reading experience everywhere
A Kindle is small and light, and holding it for long periods doesn't become uncomfortable. Unfortunately, with a book, it could get less comfortable. 
The newer models that have been released are waterproof and don't overheat quickly in the sun. This makes the Kindle the ultimate companion for a sunny beach day or hangout session at the pool. Since the pages won't go wild with the wind, it's perfect for any weather conditions like windy, sunny, or cloudy.
Ready to buy Kindle books?
We love paperback books, but as you can read, there are some real benefits of using a Kindle rather than a book while traveling.
If you like to read and go from one place to another with limited space, you really need to get a Kindle book. Some people enjoy the read a book to relax but the Kindle is also great for study purposes. This small device makes your digital nomad life so much better!
Looking for books to learn more about the digital nomad lifestyle? Read the article "7 digital nomad books to jumpstart your digital nomad journey".
Order your Kindle book today and enjoy reading!!