Why we wanted to write the best book for digital nomads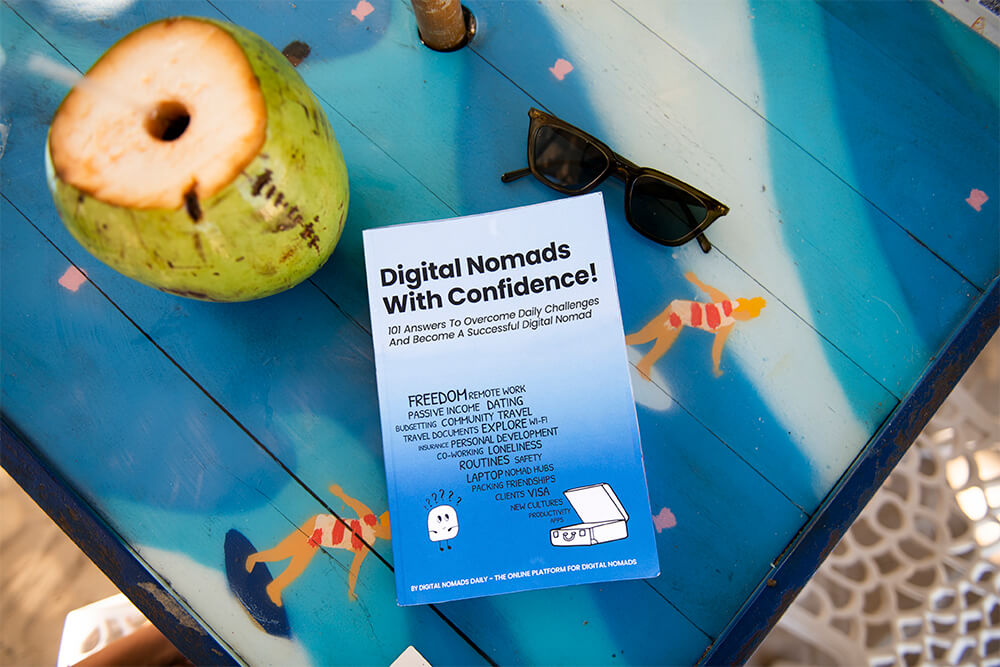 One of the most exciting things we do at Digital Nomads Daily is to reveal real stories about the digital nomad lifestyle. Every Wednesday, Nienke Nina interviews digital nomads and entrepreneurs to talk about the not-so-sexy stuff of this lifestyle and share helpful tips. What is great about the podcast is that you can tune in anytime and read the biggest takeaways in the show notes. Sometimes though, it's easier to have all questions answered in one place. This is how the idea of creating the best book for digital nomads came together. In this article, you'll read why we created our book Digital Nomads With Confidence and its contents.
Why the digital nomad lifestyle is so challenging
We named our book Digital Nomads With Confidence because we want everyone to feel confident in this lifestyle. So our goal was to write the best book for digital nomads by gaining this much confidence consistently doesn't come naturally for many people. While the travel and work remote lifestyle offers plenty of adventures and learning opportunities, it also comes with many challenges.

The majority of these challenges are daily struggles from simple things like how to find your next home to make meaningful connections. There are also bigger challenges that have a direct impact on your success and the biggest of all is achieving financial stability. Typically digital nomads do not face these challenges one by one but all at the same time. Navigating through so many daily questions is what makes this lifestyle overwhelming and puts a dent in your confidence.

Our mission at digital nomads daily is to help people live this lifestyle with confidence and this is why our book title is Digital Nomads With Confidence! 101 Answers To Overcome Daily Challenges And Become A Successful Digital Nomad. We believe that this is now the best book for digital nomads because it covers various topics and different perspectives.
This is the best book for digital nomads because it's a collaboration and collection of solutions
The introduction of this article shows one part of how this book came together but there is more to the story. In 2019 when Nienke Nina interviewed digital nomads she created the website. Back then, it was a project with a website and small activities. Today Digital Nomads Daily is the online platform for digital nomads and remote workers who want to learn about this lifestyle and share their personal experiences.
Two strengths of Digital Nomads Daily have always been collaboration and community. It was during one of the podcast interviews that Nienke Nina got the idea to create a book to make it easier for digital nomads to find answers to daily questions. We wanted to create something tangible that could be the companion to travel and work remotely from anywhere. Perhaps the best book for digital nomads?
The goal of this book is to offer different solutions and perspectives on how someone can build a successful remote lifestyle using both strength collaboration and community. Together with the Digital Nomads Daily Community, we selected 101 questions to answer. While we love podcasting, the book is an engaging and informative way of learning. We found this important especially if there are specific topics you want to learn more about or need help with.
Another important part of why Nienke Nina wanted to create the best book for digital nomads was the lack of honesty and realness found on social media. It;s a fact that this lifestyle often gets glamorized on social media. Many nomads, like Anne and Elle, shared this on the podcast and why it's important that we shine an honest light on what this lifestyle is really about and how people are becoming successful. As a digital nomad herself, Nienke Nina experienced this by firsthand and the motivation to create a practical book with tips and stories was a personal dream.
Digital Nomads With Confidence offers the perspective you need to become a successful digital nomad
What you will find in this book are simple daily questions people commonly ask or wor practical questions about this lifestyle gathered in one place. Digital Nomads With Confidence is not intended to be a guide or checklist that tells you how to become a digital nomad. We learned that a big part of success is you doing the work so we can only showcase what has worked for others so you can do it too. Question #101 does show a 5 step decision-making plan that you can apply to any transformation, like becoming a digital nomad.
What you will find inside the newest book for digital nomads
This book is a collection of experiences and important life lessons by our digital nomad podcast guest and it includes some of Nienke Nina's personal stories. As you will discover in the book, it shows how to deal with nomad uncertainties and build the lifestyle you desire. It offers you the practical advantage of designing a lifestyle with confidence that is catered to your needs. So avoid the nagging and overwhelming feeling of nomadding by diving right into the following chapters:
😎 Chapter #1 Understanding Common Fears and Overcoming Anxiety
😎 Chapter #2 Remote Work & Online Entrepreneurship
😎 Chapter #3 A Thriving Community Where The Magic Happens
😎 Chapter #4 Creating Routines To Become Your Best Self
😎 Chapter #5 Finding The Perfect Digital Nomad Home
😎 Chapter #6 Setting Up Your Ideal Remote Office
😎 Chapter #7 Packing Like A Pro
😎 Chapter #8 Dating, Love & Digital Nomad Couples
😎 Chapter #9 Master How To Manage Your Money
😎 Chapter #10 Choosing Your Next Location
😎 Chapter #11 Digital Nomad Visas & Travel Document
😎 Chapter #12 Giving Back To Local Communities
😎 Chapter #13 What's Next?
Get a copy of Digital Nomads With Confidence!
Are you excited to read the newest best book for digital nomads? We will leave it up to you if this is the best for digital nomads and we would love for you to give it a read. Grab your copy on Amazon!