When you travel, work online, and keep switching locations it can be tough to create a sense of home. You might not really crave any of this when you are just starting out but as your nomad journey goes on and live in different places you start to get a feel of what type of home works best for you. Things like what house works for you, the neighborhood you want to stay in, if you need a proper desk or prefer a co-working space around the corner slowly become key things to look at. This article covers 6 questions that help you find your next digital nomad proof accommodation.
How do you find the perfect digital nomad home
How long will you stick around?
Some people visit a place and have no clue for how long they will stay while others prefer to plan their trip. We see that some places are great for just two weeks and other places are nice to stay for 1 up to 3 months. The duration of your stay impacts your type of stay. A hostel, hotel, or small apartment might be good for 2-4 weeks. If you're sticking around, say longer than a month, you probably need a more comfortable space.
Co-living spaces – often come with a co-working space
Hostels – sometimes have common spaces
Apartments –
Houses
There are different places to find your nomad accommodation. Hostelworld.com is great for hostels and co-working spaces. For longer stays up to 1 to 3 months we recommend using Airbnb. You often get a 20% to 40% discount on long terms stays (1 month) and there is room to negotiate the price.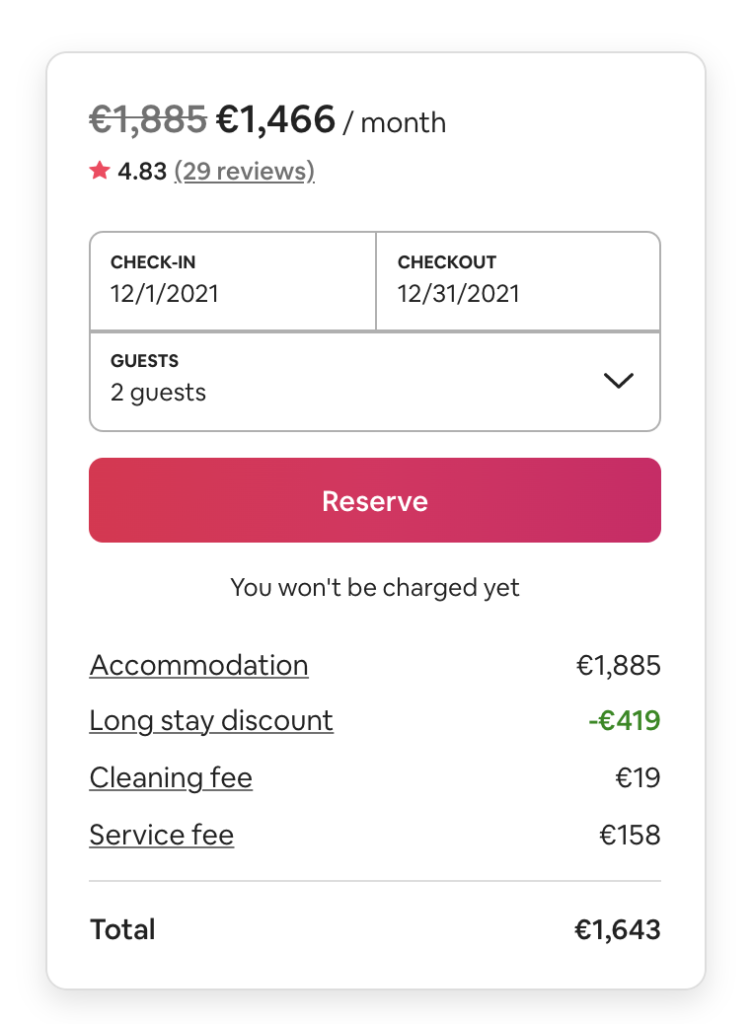 What is your monthly budget?
Picture yourself living in a pumping neighborhood with a ton of restaurants, cafes with wifi, co-working spaces, and bars. If this is where you feel most at home and you want to fully experience the nomad location, you probably spend more money than when you are working from home and prepping your own food.
The question is what is your monthly budget for rent, food, going out, shopping, and working outside the house. If your next location has great food and bar culture and you can't wait to experience it, just allocate more money to going out and lower your rent budget. You also want to have a look at the conversion rate and find out the cost of living. It's pretty easy to find out how much a coffee costs, a beer, lunch and dinner.
Budgeting is challenging because you deal with different cultures, currencies and just because someone else can afford it doesn't you can afford it. Even places like Bali can become pricy depending on how you live your life. In this article, we give tips about how you can work on your finances 😉
Are you working from home, a wifi cafe or a co-working space?
Some people like to work from home and others prefer to work in a co-working space. You can also mix it up. The real question is that you know where you get your best work done. This also circles back to what type of house you will be looking for. If you love working from a co-working space and there are plenty around in your next nomad location, a good desk or table isn't really necessary. On the other hand, when you do work from home you need to find a place with at least a desk and chair you can use for 6-8 hours a day.
Working from home → Is there a decent chair and table
Working from a co-working space → are there any good co-working spaces in the area
Working from wifi cafes → what are the wifi cafes in the area and can I work from here
Tip: whether you're working from a cafe or co-working space, don't forget to add it to your budget. Even a coffee a day can add up your bill 😉
Is this neighborhood right for me?
Thanks to the internet this question is probably very easy to answer. We recommend doing a little research and having a look at what the neighborhood has to offer. One mistake I once made was booking a house in front of a nostalgic bar. From Wednesday to Sunday people were drunk on the street and super loud until 2 am in the morning. You can use Google maps to see what is around
Other things to consider are daily restaurants, groceries stores and, if there is a gym around or open space to workout outdoor. Feeling safe is important, especially when you are traveling on your own. Nomad List has shown an overview of different digital nomad locations across the world and rates the safeness based on fellow nomads experiences. They rate if it's female friendly, LGBTQ+ friendly, Friendly to foreigners and the lack of crime.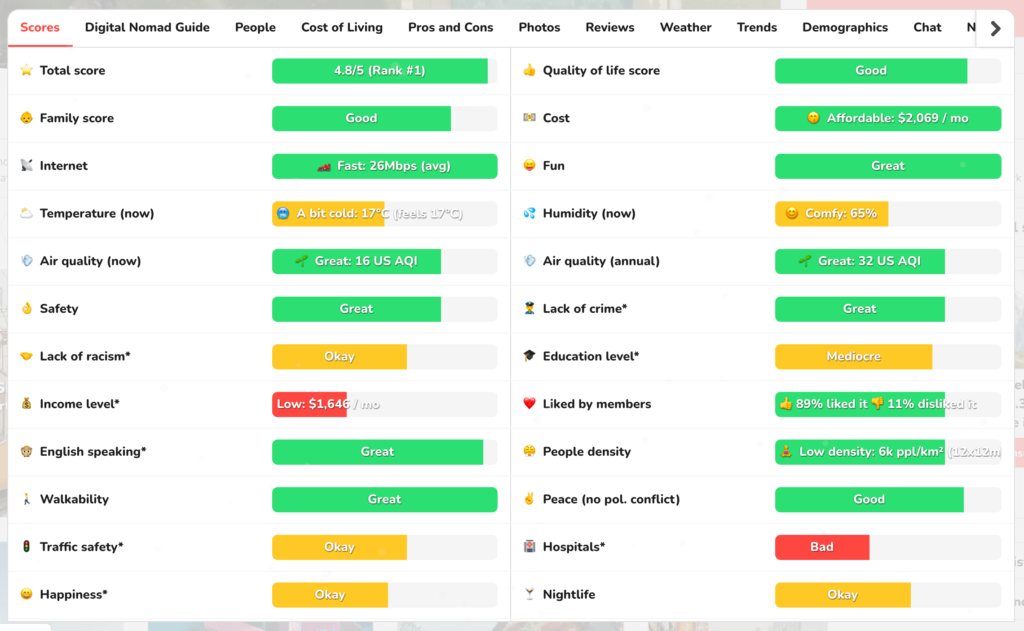 Find a nomad home that matches your lifestyle and daily habits
We all have different habits and needs and your home needs to match those. After years of traveling and switching houses, you get a pretty good sense of what home works for you. Think about are key things that make you feel comfortable throughout the day. We listed down a couple of examples
Daylight
Balcony or a garden
Separate bedroom
Comfy couch
Is there space for indoor workout & yoga
Park or gym around
Good TV
Does the kitchen has everything I need
Not so much of a kitchen princess? You still want to keep continuing reading. Even if you don't cook often you will need a fridge to keep leftovers, a microwave, and perhaps a blender to make shakes. Especially when you stick around for a while and work from home you want to peek into the kitchen before booking a place. Things you can look out for are:
Size fridge
Waterboiler
Blender
Microwave
Oven
Dishwasher
Water filter
If you can't tell from the photos, for example on Airbnb, you can always send a message and enquire what kitchen equipment is available.
Your next nomad accommodation
We covered a lot of things that you can keep in mind when you're searching for your next nomad accommodation. Each person has different needs. Finding a good nomad accommodation starts with identifying what you need to feel comfortable on a daily basis. This includes creating a positive work environment, a place that helps you sustain your lifestyle and allows you to do the things you seek to do.
When you are just starting out and this is all new to you, save this post and use it as a reference. If you have specific questions about nomad homes or something else feel free to get in touch with the Digital Nomads Daily team via Instagram.
Listen to nomad stories on the Digital Nomads Daily Podcast
*Cover photo by Nextvoyage from Pexels