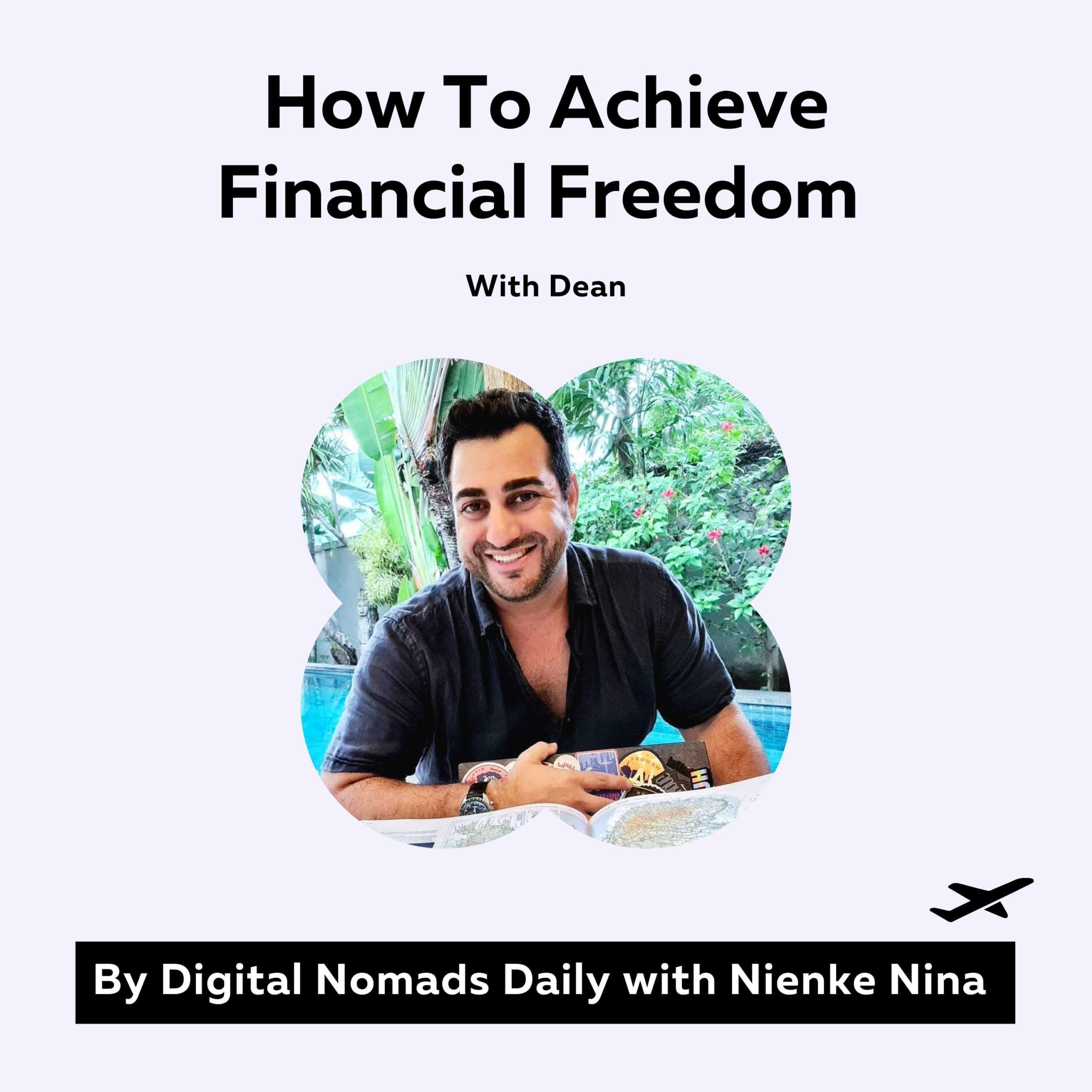 09: How To Achieve Financial Freedom With Digital Nomad Dean
When you're constantly traveling and working remotely, achieving financial liberty can be tough. Though, every person has different definitions of wealth and freedom means. According to Dean Kuchel, the Founder of the Israeli Digital Nomads Community, wealth revolves around friends and knowledge. While freedom is the digital nomad lifestyle. Having visited over 103 countries, Dean outlines his 8-year nomadding journey. As a previous consultant that recently quit his job, he currently lives on passive income. In this episode, he provides tips on financial planning from passive income, investing, and saving to the biggest challenges in his nomad lifestyle.
"Wealth in terms of money and for me the most important part of it is to be able to say no to something like declining a job offer."
How digital nomad Dean stared his digital nomad journey
Dean, the Founder of an Israeli Digital Nomads Community, has been nomadding for eight years. Previously, he was a consultant focused on customer success for various tech companies – e-commerce, security, etc. Though, he built enough savings to sustain him and allow him to shift to the digital nomad lifestyle – which is the fate he desired. Dean did not choose to become a digital nomad. Initially, he moved to San Francisco for a career, worked remotely for a few months, and met people at coffee shops who inspired him to discover the digital nomad lifestyle. Eventually, he found himself traveling around 103 countries while working remotely.
In this article we cover:
Achieving financial freedom through passive income, investing and saving
What is wealth and freedom
Tips and recourses to achieve financial freedom
Biggest challenges of digital nomad lifestyle
Achieving financial freedom through passive income, investing and savings
This episode covers some great tips about how to achieve financial freedom. Passive income is a popular topic also within the digital nomad community. Dean is not the only podcast guest who talks about this. Anastasia and Tomar also created passive income streams before starting their digital nomad journey. You can find this episode and the show notes here.
We would love for you to listen to the entire conversation with Dean. Here we list some of his tips about creating passive income and what he did to achieve financial freedom:
Passive income streams worth $5k per month. It does fluctuate, and his goal is to bring it up to $30k a month.
Build a 6-9 months emergency fund so you can say no
Equity and dividends by investing in real estate and boutique hotel groups
Investing in the foreign stock exchange
He lives a comfortable life, but he doesn't purchase things to show off. His number #01 piece of advice to everyone is to invest every dollar and start today. Even if you haven't started yet, it's never too late.
The meaning of wealth and freedom
Every person has their meaning of wealth and freedom. To a majority of people, wealth measures how financially comfortable you are.
For him, wealth goes beyond that. It is about being able to say no and being comfortable with declining a job offer. Dean fears working in a job he does not genuinely like. Instead, his driving force is being confident to reject that offer and focus on where his passions lie.
Dean believes freedom stems from a digital nomad lifestyle. He may prefer visiting places he's familiar with and meeting past friends, but Dean states exploring every beautiful corner of the world is what he truly enjoys.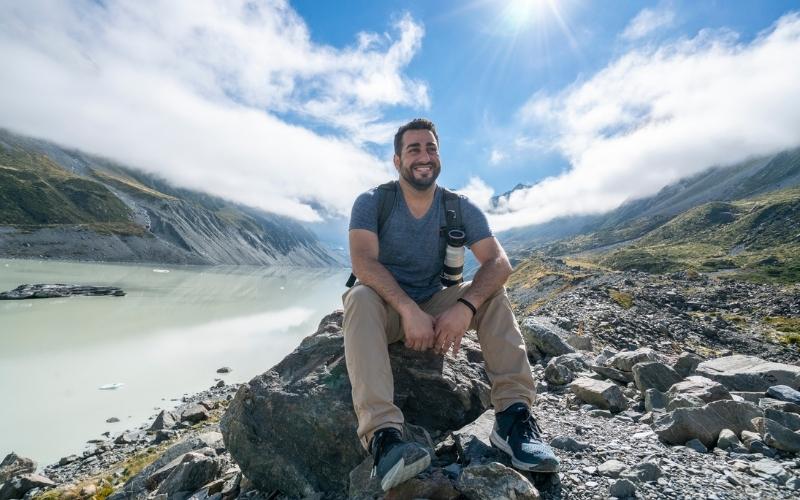 Tips and recourses to achieve financial freedom
Dean claims that his pursuit of nomadic experiences is what helped him garner his own financial independence. In other words, by going to various places and learning from all walks of life, he recognized how to save money wisely while traveling and working remotely.
He offers personal tips and recourses for digital nomads to achieve this financial freedom. First, he suggests reading several relevant books a week, connecting with digital nomad communities, and listening to podcasts from men who drop their financial independence tips – e.g., how to invest like a boss. Next, he recommends how to manage your passive income as well as invest and save:
Create passive incomes
Keep in mind that this can always fluctuate – e.g., Dean's is at $5k/month, but his goal is to reach $30k per month.
Investing for digital nomads
Set a 6-9 months emergency fund.
Invest every dollar – whether that'd be the foreign exchange or elsewhere. Aim for investments that generate 10%-15%. Rely on doing real estate in syndicates and boutique investment groups as the equity and dividends are in the companies.
Digital Nomads and saving
Start saving as young as possible!
Don't bother flaunting or showing off your wealth through luxurious goods – nice cars, shoes, watches, clothes, etc.
You're mistaken if you think it's too late to begin saving your money. The best time to pursue a dream is now.
Overall, Dean encourages digital nomads to constantly scout for investment opportunities as they can easily lead you to that desired financial freedom. With saving, it is never too late to start. Make sure also to enjoy the process, travel the world, and have fun.
The biggest challenge in his nomad lifestyle
On the surface, a nomadic lifestyle may appear luxurious and facile. However, that is not the case. Like every other lifestyle, it comes with its challenges. Dean shares some of his difficulties in the digital nomad lifestyle. Even when achieving financial freedom goals, he emphasizes how some other aspects will always suffer.
The depth of connections
The pain of leaving friends and family
Building strong relationships
Nevertheless, even the darkest obstacles lead to fortune. For instance, Dean mentions how saying yes to every socializing opportunity is what brings light to those difficulties. The beauty of a nomadic lifestyle blesses you with longtime and meaningful friendships that you would never anticipate. Meeting someone new is like his first step remedy to overcoming some of these challenges, as you never know what can blossom from those interactions.
Quick takeaways for nomads that want to achieve financial freedom
Achieving financial freedom
Take every chance you have to invest every dollar. But obviously, be conscious of the trends, understand how it works. Prepare a 6-9 month emergency fund and start saving from a very young age. Avoid showing off and flaunting your wealth and Rely on others for help and inspiration – digital nomad communities, books, and podcasts.

Everyone has different definitions of wealth and freedom.
Don't shy away or be afraid to say no to a job offer – especially when it is not truly something you want.
Nevertheless, say YES to every opportunity you have where you can meet new people. Some days, it can lead to amazing friendships!
Don't underestimate the challenges of the digital nomad lifestyle.
It comes with a lot of emotional pain as you foster great new connections, then you can leave abruptly. You also must leave your family and friends as you're constantly on the go.