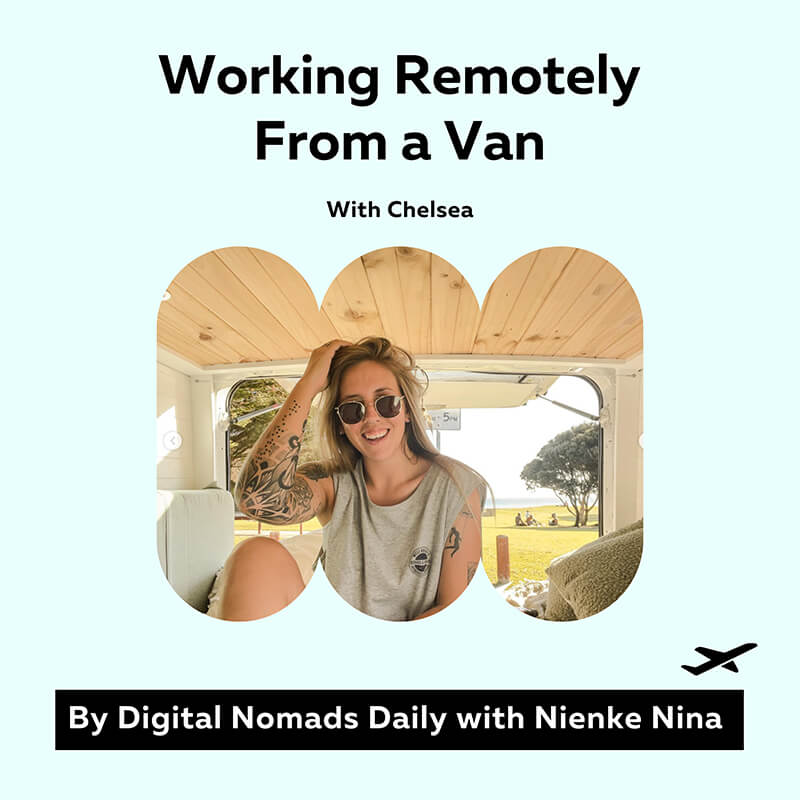 10: Working Remotely From A Van With Digital Nomad Chelsea
Digital Nomad and van-lover Chelsea talks about the perks of working remotely from her van. She built her online business in website design while exploring the beautiful corners of Australia. Chelsea combines her office on wheels with her home office. She has found the perfect "balance" between working and travel and has the best of both worlds. In this episode, you'll learn how she built her online business and tips about living the nomad lifestyle for the run.
"I have got the best of both worlds. It's really great because I can come into the office, and then I can go and just jump in the van and drive north or south…"
How Chels became a digital nomad
At 18, Chelsea began her nomad journey when she graduated high school and decided to drive across the country in the summer. Since then, her love for traveling has continued to grow as she lives in a part-time van to explore every corner of the world. After high school, she dropped out of her university nursing program to pursue her photography and travel passion.

Building an online business in web-design and social media
She makes a living through web design, social media strategies, and SEO without any college degree. She agrees that many of her communication, time management, and organization skills come from her experiences at University and working in fine dining.
She has been running her travel and photography business part-time from her van and part-time from her house for three years now. This allows her to feel the security of having a home established somewhere. But at the same time, when she feels bored or in need of adventure, she hops on the van, and off she goes for a few weeks. As she calls it, "the best of both worlds."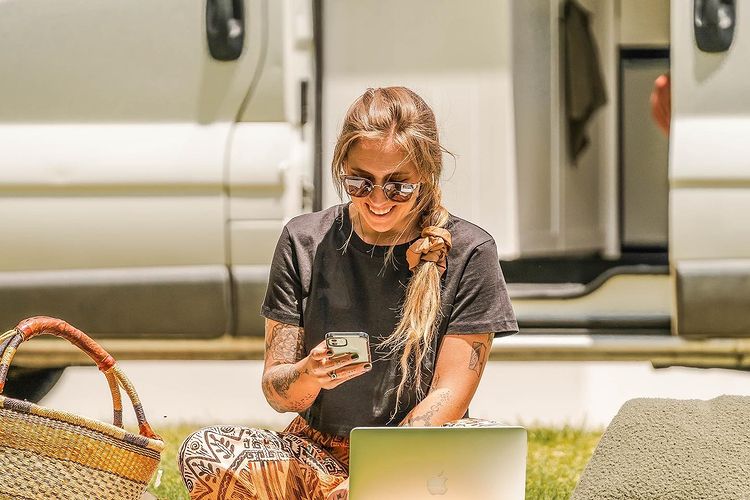 Challenges of the van life and finding balance
Even though the van life looks glamorous on social media, the reality can be very different. Chelsea faced many challenges, such as the separation between home and work/travel. She realized that she had to find a balance between the two to make it work. Chels also talks about the mindset shift in the episode. For example, to be disciplined with her work hours and time management. Another challenge was to build the van in a specific way so she could be comfortable working inside, and there was power.
Essential belongings & relationship with material stuff
When she started this lifestyle, Chelsea mentioned that she was one of those who had too many clothes and other stuff. Today she travels with a backpack and a carry-on enjoying the minimalist lifestyle. As a non-materialist person with a minimal amount of space, Chelsea shares her essential tech belongings for her home office and van.
Must-haves for her home office:
Sit-stand desk because she wants to be able to go from sitting to standing
The second screen helps her work, and everything is more visual
A laptop stand and a separated keyboard and mouse
Airpods (no cables getting in the way while working)
An external hard drive is a must for her.
USB to attach her laptop to her second screen
Must-have items for her remote van life:
USB cord
Phone charger
Power cord
Quick takeaways from Chelsea's episode
Try to find your passion instead of going for the safest option
This lifestyle is a process, and you don't have to go all in at once.
You can find a balance as a part-time nomad/ part-time house owner
Listen to your personal need and how you can reach them step by step