Find work in 2022 with the best remote job platform for you
Working from home and finding a remote job is what many people seek. Working remotely not only gives you more freedom to work from home but it can be an improvement in your overall health. This new way of working is a rapid change in the workforce. Therefore finding remote work can be very stressful and overwhelming. In this article, we share a list of 15+ best remote job platforms to help you find a remote job.
The best remote job platforms
This is one of the most famous job boards. Nowadays it holds more than 20,000 remote job and digital nomad postings. With more than 60 job categories to choose from, which include full-time, part-time, freelance gigs, and careers with any experience level.
An effortless and intuitive online remote job platform, which lists jobs in development, customer service, HR, marketing, and design. You can select if you'd like a permanent position inside a company or prefer a short-term position.
Is one of the biggest remote work-from-home communities around… It works with big companies such as Amazon, Basecamp, and Google. This virtual job board includes various positions from web design, programming, marketing, customer service, and more.
This remote job platform is exclusively for remote job openings. The intuitive filter lets you choose between the entry-level, type of paying, full/part-time, and, freelance positions. You can find all types of job categories like customer service, recruiter, sales jobs, teaching, and much more.
Remote Ok is an online job platform that focuses exclusively on remote jobs and work from home opportunities. You can seek jobs based on job types, filter through tags for specific requirements plus your experience level.
This remote work job board works with big companies such as Trello, WordPress, and Zapier. A lot of the job positions are U.S based, but it also includes positions that work from anywhere. This website allows you to upload your resume and this makes it easier to be seen by potential employers.
Remote job platforms for freelancers
This remote job platform is specific for remote freelancers, perfect if you are a digital nomad or working from home. It is a paid service that, based on preferences you set up, sources freelance jobs from the web, and delivers them directly to your inbox. They are high-quality leads and you just have to apply.
This site features freelance remote jobs in a wide range of categories, such as developers, copywriters, sales, marketing, and virtual assistance. Some of the companies that this website works with are Dropbox, Airbnb, Microsoft, and Zendesk.
This remote job platform is for freelancers focuses more on punctual-small jobs or "gigs". It's a great way to start getting into the industry, meeting new clients, and a way to build your portfolio.
Here there are more than 44 million employers and freelancers connected from all over the world. It's one of the biggest freelancing marketplaces.
The downside of using these large Freelancer websites is that you compete with a global community of freelancers, including lower-wage countries. This makes it harder to find gigs that pay well. The platforms are aware of this and they created features to improve your profile. For example, anyone looking for a freelancer can see how many jobs you completed via de platform. Our piece of advice is to put your eggs in one basket and use more than one platform.
Female friendly remote job platforms
The Remote Woman is relatively new but we heard some great things about it!. It connects women to remote positions for female-friendly companies. They have several categories including developer roles, marketing, design, sales, and customer support.
It was born to help moms stay active in the workforce. It helps women have a remote job or work from home which allows them to be closer and more present in their house.
This is centered on helping women find remote jobs, most of them are in the tech industry, but they count on more opportunities. Positions go from accounting to analytics, developers Working with companies like Deloitte, BuzzFeed, and Expedia.
Remote job platform for designers & creatives
This remote job platform offers hundreds of new positions in categories like design, operations, and IT. One of the great advantages of using Pangian is that you can be part of their online community.
It's perfect if you are a freelancer looking for a remote job in categories like UX designer, web designer, illustrator, or product designer. Aside from using Dribbble to find remote positions, the company also has a great remote work culture! You might want to head over to the careers page and see if they have any job openings.
Best job posting sites to use when hiring for startups
VentureLoop is the leader in startup jobs worldwide. They work with venture capital firms like Sequoia Capital, Kleiner Perkins, Benchmark Capital, Sigma Partners, and VantagePoint. Perfect to start your remote work lifestyle.
It's great for people interested in working in tech startups. Easy to use and it counts with new daily offers.
Also known as Angellist is one of the most used online remote job search platforms for people that want to work in startups. Startups from all over the world join this platform and by using the filters you can narrow down a list to your preferences. Here you can find not only remote jobs but as a startup owner you can connect with potential investors, CEO's CFOs, and more.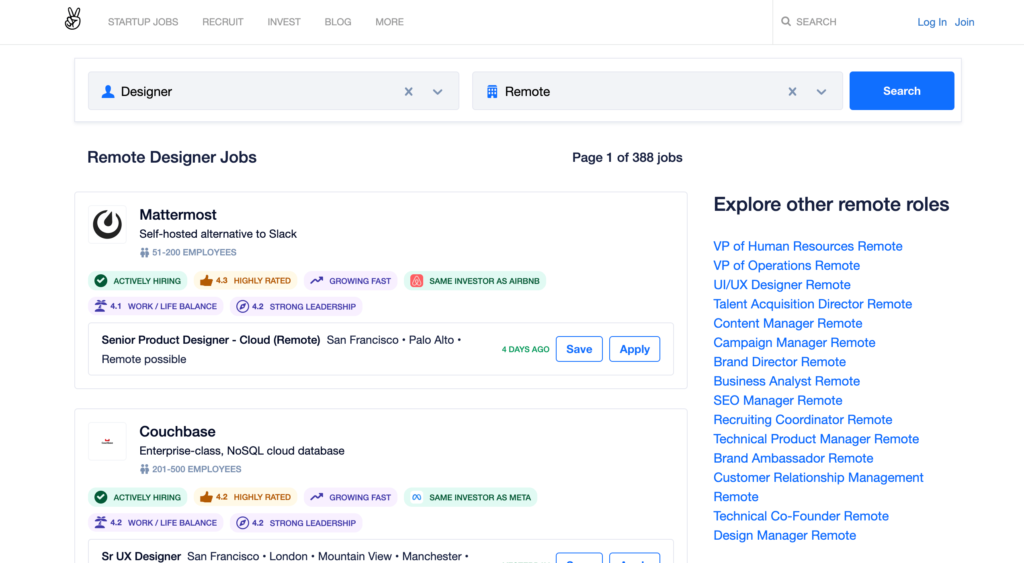 How to find a remote job on LinkedIn?
If you are not on LinkedIn yet, you definitely want to change that. LinkedIn is a professional online platform that helps you connect with people from all over the world. Once you created a profile you can follow pages and join groups. LinkedIn doesn't sound that exciting for many people but you can see it as an online resume and search engine for remote jobs. On LinkedIn, you can specifically search for remote jobs, check out company pages, and find out if you have any connections with people inside your desired company. If you are a freelancer you can share your work and updates so people get to know what your superpower is.
Ready to find your remote job in 2022?
If your goal is to work from home or start your way up as a digital nomad by getting a remote job, this is the right time! There are so many remote job platforms and remote opportunities, it's a matter of starting to look in the right ones, and sticking to it. Another great tip that we want to share is that you invest some money in getting the premium version in a couple of them when you are starting. Other great ways to find remote jobs are Facebook groups for digital nomads and freelancers and updating your LinkedIn Profile. Commit to those platforms, apply to the jobs that you are passionate about, and you will see results.